Update for 2022
The planning committee is working hard to put together another exciting Sister to Sister event for 2022. Mark your calendar for Sun., March 13 for the event and be watching this page for more information soon.
Sister-to-Sister 2021: Sunday, April 18, 2021, On-line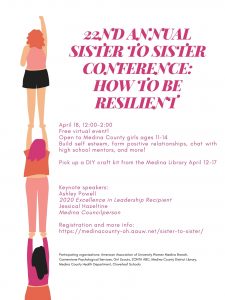 We were very pleased to host the 22nd Sister-to-Sister Girls' Conference, a forum for Medina County girls ages 11-14, on Sun., April 18, 2021. Our theme this year was: "How to be Resilient". This year we were delighted to have the Medina County Junior Leaders take on our program as one of their projects. The young women involved breathed life into an event that would have otherwise been cancelled since we cannot bring a large group together. Their theme: How to Be Resilient, captured the spirit of this past year.
This year's program was held virtually and supported by the teens from local high schools and from the Junior Leadership team. S2S included two guest speakers: Medina Councilperson, Jessica Hazeltine, and Branch member Ashley Powell, 2020 Excellence in Leadership Recipient. The teens then moved into breakout rooms and activities with high school mentors. A grab-and-go craft kit was also be available for pick up at the Medina Library.
Sister-to-Sister, (S2S), has been reaching out to young women for more than 20 years. The original S2S project was initiated in 1997 by the national American Association of University Women in an effort to understand the concerns of our nation's young women and how these concerns affected their educational experiences.
Sister-to-Sister is open to all Medina County young women, ages 11-14, and there is no fee to attend. The virtual event was made possible by AAUW Medina, Cornerstone Psychological Services, Girl Scouts of America, ZONTA ABC, Medina County District Library, The Medina County Health Department and Cloverleaf schools. 
Resilience means strength to cope with yesterday's slights, courage to stand up to face today's challenges, and hope for better things tomorrow. It is a skill that has made this last year bearable, but resilience is learned. Sister to Sister fosters relationships, and helps young women build resiliency in the face of life's obstacles.
Sister-to-Sister 2020: March 8, Medina Hospital  
21st Annual Sister-to-Sister Conference for Girls ages 11-14 was held at Medina Hospital, Sun., March 8, 2020. This free event has been totally funded by contributions from AAUW members and the community. The conference was the subject of an article in a recent Medina Gazette.
This year's program, "Be the TRUE you,"  focused on building self-esteem and confidence as it is influenced by peer pressure and relationships. The keynote speaker and featured presenter was Stefanie Robinson, Director of Hope Recovery Community. We welcomed Junior Leadership from Leadership Medina County this year to help on our planning board. Adult and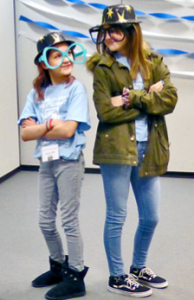 teen coalition members coordinated the day's activities including "chat rooms," ice-breakers and a hands-on project. We also included a fun exercise component.
The original S2S project was initiated in 1997 by the national American Association of University Women in an effort to understand
the concerns of our nation's young women and how these concerns affected their educational experiences.
A separate program for parents reviewed concerns and ideas relating to the theme, held concurrently in an adjoining room during the last part of the S2S session.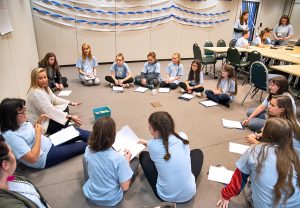 ---
I was a participant for 2 or 3 years of Sister-to- Sister back in 2004-2007ish. It has been so long since I have thought of this program and what it did for me, but it came up as I was helping a friend put together a presentation about female empowerment for a group of teens.
When I was growing up, my evangelical home with traditional gender roles followed closely along traditional rules and restrictions on female sexuality. As a young, adventurous, rambunctious teenager full of creativity and life, I was certainly born as the black sheep in my family.
Sister-to-Sister was my first experience of feminism, and the first time someone explained to me the functioning of my body, my freedom and autonomy in it. It was so powerful for me and helped me root down into who I was and what I wanted to do with my life.
I just wanted to share with you how grateful I am for my experience back then and how happy I am to see you all still doing this work for all these little girls! It makes my heart soar to think of all the girls walking away from the conferences feeling as elated as I did.
I've grown up to be a life-long feminist and pursued an education in political science from Kent State and now work in community service and democracy building in Cleveland. I wouldn't be the strong woman I am now without the strong women back then!
I am grateful for all that this program inspired in me as a young girl and for all the little girls who continue to benefit from it! Just wanted to drop in and give a big thumbs up to you all.
—–LW
Editor's note: This unsolicited letter from a S2S alumna was received by the registrar just before the 21st annual event. Testimonials like this strike a positive note for the program and make all the work and planning worthwhile!
SISTER-TO-SISTER 2019: "Confidence is Key," OUR 20TH YEAR!
S2S celebrated its 20th year with this year's conference, "Confidence is Key," on Sunday, March 10 at Cleveland Clinic Medina Hospital.
The program featured Kent State University sophomore Samantha Ponomarenko who shared information on how she started the Blanket Buddies project when she was a student at Buckeye High School. The project is run by students who buy fleecy material and make blankets which they fill with personal health items and toys for children who are transitioning to foster care or are at the Children's Center. Also on the program was Susan Russell, a social work supervisor and counselor and certified personal trainer who led participants in a PiYo session. Ice breakers, blanket making, planning skits, networking with girls from different schools, problem solving — these activities were all a part of Sister-to-Sister. Snacks, beverages and a lunch, a free T-shirt, and swag bags to take home rounded out the afternoon.
Sister-to-Sister 2018:  Be Your Best Selfie"
The 19th Sister-to-Sister Conference for and about girls was held March 11 at the Medina Hospital Conference Center.
This year's theme, "Be Your Best Selfie," incorporated presenters and activities that helped make girls aware of how to safely navigate the Internet and utilize social media. Keynote speaker was Deputy Sharon Centner, DARE representative at Highland Schools for the Medina County Sheriff's Department.
Forty-three girls representing 14 area schools and homeschools participated this year thanks to the support of community contributors and AAUW members. Ten high school student facilitators assisted with the program and planning.  All enjoyed icebreakers and hands-on activities, snacks and pizza and received  free t-shirts and goodie bags to take home.
---
Sister-to-Sister 2017: " Stay Strong on the Journey," The 18th S2S Conference 
This 2017 program," Stay Strong on the Journey," provided tips and strategies for girls to map their way through middle school, avoiding "road hazards" along the way. Presenters included Ashley Powell, founder of "So Now What", an organization dedicated to the advancement of youth in all areas of life, and Brooke Kaylor, personal trainer and fitness coach.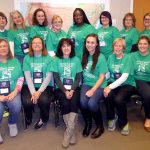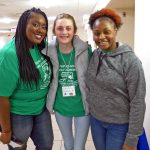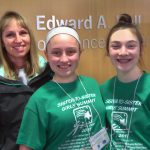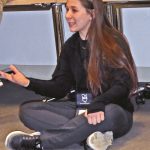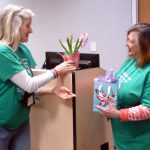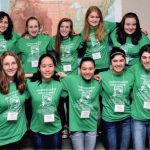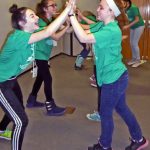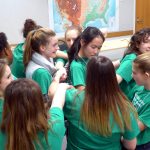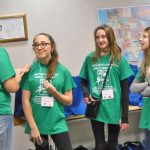 Green and white were the colors this year – bright and cheery, as were our participants!
---
Sister-to-Sister 2016: "Lights, Camera, Action: Middle School!"  featured special guest presenter Sarah Hider, Miss Ohio.
Photos from the event:
Sister-to-Sister 2015: "Be-YOU-tiful Reality"
The theme was: "Be-YOU-tiful Reality". Our goal was to encourage our participants to be themselves, develop self-confidence and create their own style.
The educational staff of Kiki Magazine to discussed how they use fashion to tap into girls' creativity and helped the girls make their own style boards;
an interactive yoga session encouraged attendees to stretch, bend, relax and meditate.
About 15 parents attended the "Parent-to-Parent" session held in an adjacent room at the end of the afternoon to learn from our presenters. Co-Chairs of the 2015 event were Cindy McQuown and Christie Becker.
Here is a link to Kiki: http://www.kikimag.com
---
Sister-to-

S

ister 2014  

"SURVIVOR: MIDDLE SCHOOL"
Pink survivor T-shirts were distributed as girls checked in. In addition, 12 teen facilitators and 13 adult team members participated and 21 parents joined the Parent-to-Parent session held during the last hour of the program. Christie Becker, of the Ohio State University Extension Office, Diane Dockrill of Solutions Behavioral Healthcare, Inc., and Cindy McQuown, of Cornerstone Wellness Center, served as co-chairs of this year's event.
The program included a "Survivors' Panel" of young women who offered thoughts from personal experience on how to get through the challenges of middle school: Tiffany Emerson Kosman, a wife, mom and kindergarten teacher and alumna of the Sister-to-Sister program; Veronica Bagley, a senior at Buckeye H.S. who also has junior status at the University of Akron, and Micalah Yovanovich, a sophomore at Norton H. S.
Two guest presenters highlighted the afternoon's activities. Kathy Magistri, health and physical education teacher in the Cleveland Metropolitan Schools as well as self-defense instructor in Highland Schools after school classes, holds a 5th Degree Black Belt in Taekwando.  She discussed strategies and demonstrated self-defense moves that girls could use to overcome an attacker. Brooklyn Whitmyer, a high school sophomore who is the founder and CEO of a small incorporated business, talked about how she turned around a crisis in her life to motivate herself to help others in need. For her business, Brooklyn's Bridge of Love, she makes and sells chocolate covered pretzels with the profits going to people in our area who need an extra helping hand. The girls then had the opportunity to dip their own pretzels, fruit and marshmallows in the chocolate fountains provided by the S2S committee.
Chat rooms led by teen facilitators focused on "making and keeping friends," "time and scheduling," "finding your style," and "finding your interests", topics that encouraged the girls to discuss attitudes and characteristics that were important in succeeding socially and academically. Afterwards, the girls presented skits representing what they learned during the afternoon.
Panelists in the Parent session included Amber McLain and Tia Payne of the Rape Crisis Center, Kathy Magistri and Brooklyn Whitmyer. Pieri Levandovski was the moderator.
Members of the planning committee repesent community organizations that have the well-being of young women in mind: The American Association of University Women, Medina County Branch; Cornerstone Wellness Center; Medina County District Libraries; Medina Hospital; Ohio State University Extension; the Rape Crisis Center of Summit and Medina Counties; Solutions Behavioral Healthcare, Inc., and Zonta Club International of Akron-Barberton-Cuyahoga Falls. Teen facilitators represent Brunswick, Buckeye, Cloverleaf, Highland, Medina and Norton high schools.
Sister-to-Sister is a national dialogue for girls initiated by the AAUW to help understand the concerns of our nation's young women and how these concerns affect their educational experiences. It provides an opportunity to network with girls from other schools and learn from older role models in a non-threatening atmosphere.
M
edina County's Sister-to-Sister Conference, having completed its 15th session, is one of the longest running programs of its kind in the country and has involved over 700 young women participants.
Sister-to-Sister 2013: "Building Your Best Future"