Arts & Excursions
We hope each of our members will find something of interest this year and will join with others in our organization in an excursion that will offer the opportunity for fellowship, enrichment, enjoyment, and education.
Please peruse excursions as listed, add the dates to your calendar, and make a note of the deadlines and details.  From time to time, last-minute events like movie screenings are posted. We hope to see YOU on a future A&E outing.  Guests and potential members are always welcome. Feel free to contact me at any time with questions or suggestions for future events.
—–Jill Heck   Phone: 330-725-4429
Coming Attractions:
As many events may have been cancelled or postponed due to restrictions imposed by the current health advisories, we will post activities next month. Check your e-mail, our branch website and our Facebook page.
Virtual Rally for Public Schools
Wednesday, March 18, 2020 • 3:30 PM
Host Contact Info: info@rallyforpublicschools.org
On Wednesday, March 18, public school parents, students, teachers, education support professionals, school administrators, business officials and community members from across Ohio will hold a "virtual rally" to kick off two weeks of action in support of the students in our public schools. Use this link if you are interested in registering for the on-line rally.
Tiffany in Bloom, Cleveland Museum of Art, Feb., 2020
Nine members had the opportunity to not only see a beautiful exhibit of lamps and
accessories from the Cleveland Museum of Art's Tiffany collection – but also learn more about the chief designer from Tiffany Glass Studio's Women's Glass Cutting Department, Clara Wolcott Driscoll.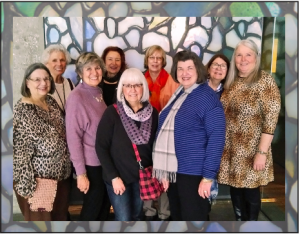 Driscoll was from Talmadge, OH, and attended the Western Reserve School of Design for Women (Cleveland Institute of Art) when it was newly opened. Her experience and technical skills led her to create many of the famous lamp designs that brought nature and art into the home; the much acclaimed "Wisteria", "Poppy" and "Dragonfly" lamps have been attributed to her. At a time when men dominated art and indus- try, she made a mark as a "new woman" in the work force. Women shed their corsets, went on indepen- dent outings on bicycles, entered colleges and univer-sities and marched for suffrage. Driscoll was part of this movement at the turn of the 20th Century.
With curators from the museum and faculty from the CIA, the lecture we attended was further enhanced by comments from a cousin of Driscoll who has been researching family letters and papers to shed light on the artist's life. The letters are now archived at Kent State University.
Those attending the excursion are shown in the photo above, left to right: Donna Hamilton, Judy Lucas, Lee Nichols, Kathy Kraus, Jeri Penn, Pat Cha- loupek, Susan Holbrook, Katherine Baker and Latricia Gerhart.
"Tiffany in Bloom" continues in the CMA's first floor Focus Callery through June 14.
Other Area Attractions:
FEBRUARY ACTIVITIES
Fri., Feb. 7, 6:30 – 8 pm., Highland Library: Wine and Canvas Night. Bring your own wine and snacks and go home with an original painting by YOU! $15 supply fee. Limited seats. Register on line at MCDL.org, events calendar.
Sun., Feb. 9, 2 pm., Wadsworth Public Library: ORMACO presents Medina based vocalist Val Jones with Songs of Love, a special Valentine's Day program. Free; reservations suggested: 330.722.2541. Check out ORMAO's popular Party Bus excursions. Dates and destinations vary. Upcoming events include Anastasia at Playhouse Square, and trips to The Toledo Museum of Art and New York City. More information on line at http://ormaco.org/upcoming_events/ .
Fri. Feb. 14- Mon., Feb. 17: MEDINA ICE FESTIVAL, on Medina Square. Fri. evening: speed carving competition followed by lighting of the fire and ice tower.
Sun., Feb. 23, 3:30 pm, Medina Performing Arts Center, 851 Weymouth Rd.: Lunasa, acoustic band, one of contemporary Irish music's leading voices, will present a concert.
Wed. Feb. 26, Medina County Library, Medina, 6:30-8 pm: The Blockbusters of Puccini: Love, Death, Passion, and Violence. Cleveland Opera Theater discusses the operas of Puccini and what makes them timeless Registration required: 330.769.2852, or email: sabol@mcdl.info.

Now through March 1, Cleveland Botanical Gardens, 11030 E. Boulevard, Cleveland: Orchid Mania, featuring Vibrant Vietnam. Enjoy gorgeous tropical plants in unusual colors and shapes and experience crafts and culture from this lush nation. Admission. Go to the garden website for hours and to book tickets.
MOVIE SCREENINGS:
Members and guests attended the Montrose movie showing of The Current War and came away with insight into the "battle" which decided the form of current — AC or DC — that would prevail as the dominant supplier of electricity for this country during the last part of the 19th Century. While three talented actors played the roles of inventors Thomas Edison, George Westinghouse and Nikola Tesla, their interaction seemed forced and superficial. The overall impact was not very dramatic. Read the book The Last Days of Night, by Graham Moore– which gave impetus to the making of the movie– for a fascinating and well-put together story. Prior to the screening, a number of us had lunch at The Mustard Seed.
Members viewed the Oscar nominated films, Three Billboards Outside Ebbing, Missouri, The Post and Darkest Hour in January.
Look for movie screenings to be posted.
RECENT E

XCURSIONS
To go along with the current special exhibit, "Tiffany in Bloom," The Cleveland Museum of Art is offering a lecture, "Art in Context: Clara Driscoll and the Women of Tiffany Studios", on Sat. Feb., 29 at 2 pm. If you are interested in attending, please contact Pat Chaloupek, 330.321.3292; tickets are free, but must be ordered ahead and may be limited. For this A&E event, we will meet at Buehler's parking area for a 10:30 am. departure, see the exhibition, do lunch at the museum cafe and attend the lecture. Home before rush hour.
Sat., January 18, 9-12 noon., at Discover Church, 1825 Reimer Rd., Wadsworth. Wayne County and Medina County Anti-Human Trafficking Coalitions join forces to educate the public on human trafficking. Come learn the FACTS about human trafficking, including the impact on Ohio. This is a FREE event. Refreshments will be provided.
Kinky Boots has closed on Broadway and Baldwin Wallace is the only college that has been given permission to perform this Award winning musical. "Kinky Boots" features a joyous, Tony-winning score by Cyndi Lauper and a hilarious, uplifting book by four-time Tony-winner Harvey Fierstein."
Wednesday, November 20, 2019 at 7:30
p.m., Baldwin Wallace Kleist Auditorium
 Tickets are $25. Make your reservation by Tuesday October 29 by 5:00 p.m. by calling Lee Nichols at 330 952 2445  or emailing her.  Lee will reserve the tickets.
Money is due by Tuesday, November 5, 2019.  Send your money to Mary Lou Euse at 4155 Shurell Pkwy, Medina, Ohio 44256. If you make a reservation, you will be required to pay for a ticket. Carpooling available leaving Medina at  6:15 p.m. This is a great opportunity to see this outstanding musical!
2018 EXCURSIONS
Nov. 1, Members and guests viewed the special exhibit Jazz Age at the Cleveland Museum of Art. After the exhibit, we had lunch at the museum's Provenance Café. Jazz Age is the first major museum exhibition to focus on American Taste in art and design during the dynamic years of the 1920's and early 1930's.
Sept. 14, members and guests had a guided tour of Medina Creative Housing Therapy Ranch on Lake Road. The ranch offers therapeutic horse riding for individuals with disabilities. We toured the barn, met the horses and observed a group of adults during a riding session. We will also heard about a recent competitive event and toured the Lodge, which is used for life-skills training
Sept. 9, A visit was scheduled to the Northern Ohio Railway Museum in Seville. Highlight was a ride on the newest feature at the museum: the 100-year-old trolley car.
Aug. 4, Ohio Light Opera production of Cole Porter's Anything Goes, Freedlander Theater, College of Wooster.
Aug. 31, Wooster campus information tour of ATI/ OARDC and Secrest Arboretum, operated by The Ohio State University.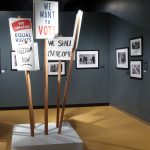 On Wed., March 8: members toured the special exhibit, "This Light of Ours: Activist Photographers of the Civil Rights Movement," at the Maltz Museum of Jewish Heritage in Beachwood. Highly recommended, poignant and insightful, the exhibit will remain open through May 14.
Sat., February 11, members attended an outstanding performance of Le Vent du Nord, Quebec's popular folk music group.
Sat., February 18, was theater night for AAUW members and guests at the Medina County Show Biz Company performance of the musical "Guys and Dolls."
---
On Tues., January 31 members visited the Medina County Historical Society's John Smart House to see some of the antiques and vintage items that played a part in the history of Medina County. The docent-led  private tour highlighted ten of the museum's most interesting pieces – from a spectacular arrowhead collection to a Revolutionary War discharge paper signed by George Washington. Thanks to Joellyn Leget for organizing!
PAST EXCURSIONS 2015
For a change of pace,  A&E scheduled two hands-on culinary sessions with Chef Paul Ondo at the Giant Eagle Marketplace Cooking School in Strongsville. For the first class in October, AAUW chefs-in-training learned proper chopping techniques and prepared Halibut with Tartar Sauce, Delicata Squash-Three Apple Hash and Carmelized Mushrooms with Warm Spinach Salad. The second session in January focused on a heartwarming winter lunch with Shrimp Bisque, Pasta e Fagioli and Rosemary Foccaccia. In both sessions, cooks dined on their creations (accompanied by wine or other beverage) and had left-overs to take some home to share. Delicious!
AAUW members attended the popular exhibit, "Painting the Modern Garden: Monet to Matisse", at the Cleveland Museum of Art in November.
On Wed., August 5, A&E scheduled a cultural day at Oberlin. Members visited the Allen Memorial Art Museum, had lunch at the Oberlin Inn, and attended the Oberlin Summer Theater matinee performance of "Crumbs from the Table of Joy."
---
2014-2015
Members joined with the Cleveland and Lorain AAUW branches for a tour of the historic Dunham Tavern in downtown Cleveland in June. Once a stagecoach stop on the old Buffalo-Cleveland Post Road, Dunham Tavern is the oldest building still standing on its original site in Cuyahoga County.
A private tour of the Women's Air and Space Museum at Burke Lakefront Airport (Cleveland) was arranged by one of our members in late April. Fascinating displays of the women pioneers in aviation and an excellent perspective on their contributions to flight.
In September, we visited the Northern Ohio Railway Museum, Seville. The museum collection includes streetcars, interurbans and rapid transit equipment from Ohio, 1895-1970. After a docent-led walking tour around the grounds, we were directed to the restoration shop where we saw how these grand treasures of our past were  disassembled and restored to like-new condition by skilled craftspersons.