Arts & Excursions
We hope each of our members will find something of interest this year and will join with others in our organization in an excursion that will offer the opportunity for fellowship, enrichment, enjoyment, and education.
Please peruse excursions as listed, add the dates to your calendar, and make a note of the deadlines and details.  From time to time, last-minute events like movie screenings are posted. We hope to see YOU on a future A&E outing.  Guests and potential members are always welcome. Feel free to contact me at any time with questions or suggestions for future events.
DIVERSITY BOOK CLUB FIELD TRIP: ISABEL WILKERSON IN CLEVELAND, 2022
–Submitted by Kristie Thomsen 
"July 4, 2022, is the first time the United States will have been a nation for as long as slavery lasted on US soil. It will be 2111 before Africans will have been free in this country for as long as they were enslaved." 
The crowd at the Maltz Performing Arts Center in Cleveland on June 23 audibly gasped in response to this observation by author Isabel Wilkerson. Among those fortunate enough to be there were three members of the Medina AAUW Diversity Book Club and a friend. 
Ms. Wilkerson wrote The Warmth of Other Suns: The Epic Story of America's Great Migration and Caste: The Origins of Our Discontents. The latter was a recent book club selection. She was hosted by the William N. Skirball Writers Center Stage Series, presented by the Cuyahoga County Public Library Foundation and Case Western Reserve University. 
Along with observations from her two books, Ms. Wilkerson's hour-plus conversation included references to the modern consequences of 246 years of black slavery followed by decades of Jim Crow abuse. More than once, she noted the need for a better grasp among Americans of our own history.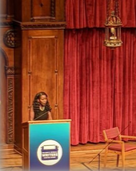 "If we knew our full history then we'd know our country is like a patient with heart disease," she said, noting that once heart disease is diagnosed, we act quickly to fix the damage and prevent it from getting worse. She used similar metaphors in Caste, comparing our country to an old house. 
"In an old house, the work is never done. We choose not to look at the basement, the gutters, or the roof at our own peril. But we did not build the house, just as we did not build the country the way it is now. We didn't build the frayed wires and the rusting pipes. But once we take possession, we're responsible for maintenance and repairs. In the United States, there have been decades of inattention to this old home." 
She added that not enough of us know our history, which is the foundation of our social and political order. 
"Slavery in the United States lasted for 12 generations," she said. Because the vast majority of black Americans were never able to live out their dreams and talents, the country was unable to make the most of its population. It represents a massive loss to people, the country, and the world. 
Revisiting the language of hierarchy that she used in Caste, she said, "If a distinction can be made, humans will find it. Who can be bought, sold, or mortgaged are the metrics of what we now see as race. Enslaved people were assigned to an industrial role in the hierarchy before they even got to America." 
Her event ended with a question-and-answer session moderated by Margaret Bernstein of WKYC Studios. Among the highlights: 
A question about the commercialization of the Juneteenth holiday prompted a revealing story about the symbolism of watermelon in black culture. Enslaved people worked in fields under relentless sun for long days with no pay, no relief, and no water; they ate watermelon to stay hydrated. 
"It was a survival mechanism," said Ms. Wilkerson. Watermelon salad, as featured on an Indiana museum menu on Juneteenth weekend, ridicules this survival strategy, as do many offensive depictions of black people eating watermelon. 
In response to a question about reparation, Ms. Wilkerson said that if people really knew our country's history, they would demand reparations, which would be part of our legal system. 
"Redlining was a response to the great migration," she said. Blacks were excluded from the economy and the American dream. While white families were paying off mortgages and building equity, black families were denied access to the ability to build wealth. 
"Every other group in this country that has been harmed has received reparations," she said, including Jewish people compensated for atrocities related to the Holocaust and Indians driven from their tribal land. Reparations, which of course do not reverse the damage that has been done, should focus on the harm done by Jim Crow. 
Regarding restrictive voting laws, Ms. Wilkerson implored the audience to work with what they know. "Warmth of Other Suns demonstrated that people literally lived the serenity prayer," she said. "That is, recognize what you can change, and change it. We all need to take inventory of our lives, our strengths, people we know, our spheres of influence. In whatever group you are in, it is your responsibility to work there. We're in a space of existential crisis. We need to come together, not as a country but as a species."
The evening ended with a standing ovation from an appreciative crowd. 
Tiffany in Bloom, Cleveland Museum of Art, Feb., 2020
Nine members had the opportunity to not only see a beautiful exhibit of lamps and
accessories from the Cleveland Museum of Art's Tiffany collection – but also learn more about the chief designer from Tiffany Glass Studio's Women's Glass Cutting Department, Clara Wolcott Driscoll.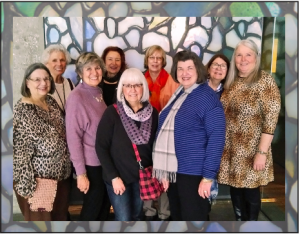 Driscoll was from Talmadge, OH, and attended the Western Reserve School of Design for Women (Cleveland Institute of Art) when it was newly opened. Her experience and technical skills led her to create many of the famous lamp designs that brought nature and art into the home; the much acclaimed "Wisteria", "Poppy" and "Dragonfly" lamps have been attributed to her. At a time when men dominated art and indus- try, she made a mark as a "new woman" in the work force. Women shed their corsets, went on indepen- dent outings on bicycles, entered colleges and univer-sities and marched for suffrage. Driscoll was part of this movement at the turn of the 20th Century.
With curators from the museum and faculty from the CIA, the lecture we attended was further enhanced by comments from a cousin of Driscoll who has been researching family letters and papers to shed light on the artist's life. The letters are now archived at Kent State University.
Those attending the excursion are shown in the photo above, left to right: Donna Hamilton, Judy Lucas, Lee Nichols, Kathy Kraus, Jeri Penn, Pat Cha- loupek, Susan Holbrook, Katherine Baker and Latricia Gerhart.