We hope each of our members will find something of interest this year and will join with others in our organization in an excursion that will offer the opportunity for fellowship, enrichment, enjoyment, and education.
Please peruse excursions as listed, add the dates to your calendar, and make a note of the deadlines and details.  From time to time, last-minute events like movie screenings are posted. We hope to see YOU on a future A&E outing.  Guests and potential members are always welcome. Feel free to contact me at any time with questions or suggestions for future events.
Phone:  330.598.1660 (home); 216.390.0315 (mobile)
Coming Attractions:
Look for more information here soon. Hold this date: Wed., March 14, for a visit and tour of the Medina County Career Center  followed by lunch at the on-site restaurant operated by students in the Chef and Restaurant Management School.
MOVIE SCREENINGS:
Members viewed the Oscar nominated films, Three Billboards Outside Ebbing, Missouri, The Post and Darkest Hour in January.
Look for movie screenings to be posted.
RECENT E

XCURSIONS
Nov. 1, Members and guests viewed the special exhibit Jazz Age at the Cleveland Museum of Art. After the exhibit, we had lunch at the museum's Provenance Café. Jazz Age is the first major museum exhibition to focus on American Taste in art and design during the dynamic years of the 1920's and early 1930's.
Sept. 14, members and guests had a guided tour of Medina Creative Housing Therapy Ranch on Lake Road. The ranch offers therapeutic horse riding for individuals with disabilities. We toured the barn, met the horses and observed a group of adults during a riding session. We will also heard about a recent competitive event and toured the Lodge, which is used for life-skills training
Sept. 9, A visit was scheduled to the Northern Ohio Railway Museum in Seville. Highlight was a ride on the newest feature at the museum: the 100-year-old trolley car.
Aug. 4, Ohio Light Opera production of Cole Porter's Anything Goes, Freedlander Theater, College of Wooster.
Aug. 31, Wooster campus information tour of ATI/ OARDC and Secrest Arboretum, operated by The Ohio State University.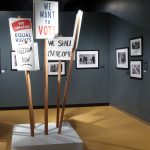 On Wed., March 8: members toured the special exhibit, "This Light of Ours: Activist Photographers of the Civil Rights Movement," at the Maltz Museum of Jewish Heritage in Beachwood. Highly recommended, poignant and insightful, the exhibit will remain open through May 14.
Sat., February 11, members attended an outstanding performance of Le Vent du Nord, Quebec's popular folk music group.
Sat., February 18, was theater night for AAUW members and guests at the Medina County Show Biz Company performance of the musical "Guys and Dolls."
---
On Tues., January 31 members visited the Medina County Historical Society's John Smart House to see some of the antiques and vintage items that played a part in the history of Medina County. The docent-led  private tour highlighted ten of the museum's most interesting pieces – from a spectacular arrowhead collection to a Revolutionary War discharge paper signed by George Washington. Thanks to Joellyn Leget for organizing!
PAST EXCURSIONS 2015
For a change of pace,  A&E scheduled two hands-on culinary sessions with Chef Paul Ondo at the Giant Eagle Marketplace Cooking School in Strongsville. For the first class in October, AAUW chefs-in-training learned proper chopping techniques and prepared Halibut with Tartar Sauce, Delicata Squash-Three Apple Hash and Carmelized Mushrooms with Warm Spinach Salad. The second session in January focused on a heartwarming winter lunch with Shrimp Bisque, Pasta e Fagioli and Rosemary Foccaccia. In both sessions, cooks dined on their creations (accompanied by wine or other beverage) and had left-overs to take some home to share. Delicious!
AAUW members attended the popular exhibit, "Painting the Modern Garden: Monet to Matisse", at the Cleveland Museum of Art in November.
On Wed., August 5, A&E scheduled a cultural day at Oberlin. Members visited the Allen Memorial Art Museum, had lunch at the Oberlin Inn, and attended the Oberlin Summer Theater matinee performance of "Crumbs from the Table of Joy."
---
2014-2015
Members joined with the Cleveland and Lorain AAUW branches for a tour of the historic Dunham Tavern in downtown Cleveland in June. Once a stagecoach stop on the old Buffalo-Cleveland Post Road, Dunham Tavern is the oldest building still standing on its original site in Cuyahoga County.
A private tour of the Women's Air and Space Museum at Burke Lakefront Airport (Cleveland) was arranged by one of our members in late April. Fascinating displays of the women pioneers in aviation and an excellent perspective on their contributions to flight.
In September, we visited the Northern Ohio Railway Museum, Seville. The museum collection includes streetcars, interurbans and rapid transit equipment from Ohio, 1895-1970. After a docent-led walking tour around the grounds, we were directed to the restoration shop where we saw how these grand treasures of our past were  disassembled and restored to like-new condition by skilled craftspersons.
2013
We attended the Black River Comedy Club's "26th Annual Slapstick Musical Family Entertainment" or "Westward Ho!", on Sun., March 30 at 3 p.m.  Proceeds from the show benefits local groups and schools.
A day at Chatauqua: Mon. July 29 was AAUW Day at the Chatauqua Institute (NY) hosted by the Jamestown, NY AAUW Branch. We were invited to attend and meet U.S. Supreme Court Justice Ruth Bader Ginsburg as she presented the day's lecture. Four branch members drove, spent the night and enjoyed programming and beautiful grounds at the Institute.
Eight branch members visited Lawnfield, a National Historic Landmark, in October, 2013.  Lawnfield, in Mentor, Ohio, is the home of President James A. Garfield. Garfield was the subject of the March, 2013 book discussion selection, Destiny of the Republic:  A Tale of Madness, Medicine and the Murder of a President.
Members and friends toured the Rembrandt in America exhibit on May 16 of last year at the Cleveland Museum of Art as an Arts & Excursions event led by group co-chair Beth Lawton. The exhibit contained over 50 works by Rembrandt as well as others thought to be by the artist when they entered American collections – including the CMA.
2012
A&E visited the Kent State Museum of Fashion Design in August for special exhibits "On the Home Front: Civil War Fashions and Domestic Life" and "A Day at the Beach: A Selection of Seaside Costumes from 1865 – 1915".
In September the group made an excursion to The Cleveland Museum of Art's "Youth and Beauty: Art of the American Twenties".
Wed. October 3, film screening and discussion of the newly released movie, "Won't Back Down."
On October 5, Beth Lawton led an excursion to the exhibit, "Gravity and Grace" by African sculptor El Anatsui at the Akron Art Museum.
November 3: 25th Annual Buckeye Book Fair, OARDC in Wooster
December 16: Mighty Wurlitzer Radio Hour "Best Christmas Ever" broadcast
February 2: The University of Akron Steel Drum Band gave a rousing concert to a nearly full house.The ensemble's latest DVD "Hammer on Steel" has been nominated for 8 Emmy awards! Check their web site to watch a video: http://www.uasteelband.com .
February 21: A half dozen members toured the First Ladies National Historic Site and Ida Saxton McKinley House in Canton.  Following the tour, the group had lunch at the historic 110-year-old Bender's Tavern.
We were guided through the new Medina Creative Pet Play Facility, operated by Medina Creative Housing, by MCH Executive Director Dianne DePasquale-Hagerty in March. In addition to providing a safe environment for pets, the business provides employment for the special needs residents of the county.