The book discussion group has been in our line-up of interest groups since 1991. Stimulating discussions are the norm, whether it be on a historic novel, biography, socially critical book, mystery, play, poetry or any other genre. We have looked at what children are reading – Harry Potter and the Sorcerer's Stone, Alice's Adventures in Wonderland – and have combined the reading of a play with a theater excursion to see that play in production —The Importance of Being Earnest, The Seagull. We have done an entire year with a focus on China and we have chosen our favorite poems to bring and share during National Poetry Month. We are eclectic as well as classic, and enjoy diversity in our selections.
The group meets on the second Monday of the month, at 1 p.m., at members' homes, unless otherwise noted.
This is a total participation group: members recommend titles for the group to read and vote on the recommendations; they are asked to read each month's selection; members are asked to volunteer to take turns leading the discussion and in hosting the group. Our chairperson coordinates the efforts and represents the group on the branch board of directors.
For a complete list of books read during the 26-year history of the group, click Book-List-1991-2020 to open/ download it in a pdf format. For additional reading, we recommend AAUW's ADELANTE BOOK LIST, monthly selections that stress AAUW's commitment to diversity.
Come and try us out! Contact our chairperson, Donna Hamilton  to let her know if you would like to attend.
Other Book Group Options
We also have a second book club, Conversations on Diversity Book Club. Find out more about this group and what they are reading on our Diversity page.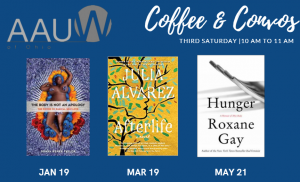 The state also offers a monthly Coffee and Convos book discussion. More information on this group can be found on their webpage.
---
Summer 2022
"Reading brings us unknown friends." By Honore de Balzac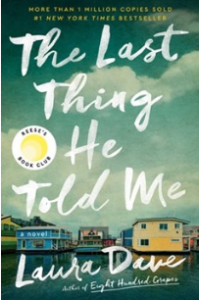 Book club will not be meeting until Monday, September 12, 2022. The summer reading selection is The Last Thing He Told Me by Laura Dave. It is a current New York Times Best Seller. It is a good fiction mystery and romance. We may add another book choice later in the summer if we get a good suggestion. Send suggestions to Donna Hamilton at clover725@ymail.com.
It has been challenging holding this group together with ZOOM through the Covid 19 times. We lost many of our members because of the technology challenges, but we also kept some out-of- town members because they could participate on ZOOM. But I think it is time to get back to meeting in person. I will be glad to host a September 12 meeting at my home.
I have been chairwoman of book club for many years and it is time for some new leadership with fresh ideas. I hope to see a rejuvenation of membership. This book group has a long history. It is fun, has an abundance of member ideas, is not at all difficult to manage, and is very rewarding with our group of avid readers. Please contact me and consider chairing this group. 
April, 2022
"How many a man has dated a new era in his life from the reading of a book."  Henry David Thoreau
By Donna Hamilton
Book Club meets the second Monday of each month at 1:00pm from September through May. For the last two years we have been meeting on ZOOM, but in September we may try to again meet in a member's home. There are so many readers in our group that I have missed.
On April 11 we shared poems that we each found on an Earth Day theme. Following is an exam- ple of a part of a poem we shared written by Annette Miller:
"I see you are failing in your one most important goal here with me. Your landfills are full, your oceans teem with plastic particles inside our sea creatures. Your babies with their plastic and silicon bottles and pacifiers have them too.
Your goal should be to keep me safe for future generations. Pick those among you with the same goal to lead you in the right direction. Reject those that pillage my gifts. "
For May we are reading Wonder of Wonders by Aimee Nezhukumatathil. The Last Thing He Told Me by Laura Dave will be our summer reading book to discuss in September.
To be placed on the list to receive information and ZOOM links to join us, contact Donna Hamilton (330-388-9175 or clover725@ymail.com).
February, 2022
The Night Watchman, by Louise Erdrich (Harper)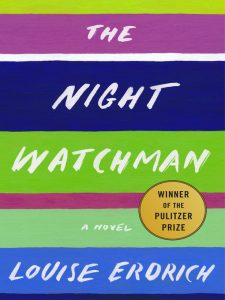 A majestic, polyphonic novel about a community's efforts to halt the proposed displacement and elimination of several Native American tribes in the 1950s, rendered with dexterity and imagination. Winner of the 2021 Pulitzer Prize in Fiction.
And an added bonus from Pat Chaloupek: I am passing on a link to the "Fresh Air" audio program that featured Louise Erdrich, author of this month's book discussion selection, The Night Watchman. Even if you were not able to participate, you might enjoy her insights into the story for this Pulitzer Prize winning book. It runs 36 minutes. If you want to read more from this author, she has 16 other books to her credit – including Book Award winners, volumes of poetry, short stories, non-fiction and more.
We had a good discussion among those of us who attended, not only on the assigned novel, but also managing to catch up with one another.
Thanks, Donna, for being our group coordinator!
Link: https://www.npr.org/2020/03/04/812085201/louise-erdrich-on-her-personal-connection-to-native-peoples-fight-for-survival
January, 2022
For January 10, 2022 we will be discussing Into the Beautiful North by Luis Alberto Urrea. This is a beautifully written story of Nayeli, a nineteen year old Mexican girl working in a taco shop, who travels North to find seven men to defend her town against the bandidos who are taking it over. It is a story of unforgettable characters on both sides of the border. Carol Thombs will lead the discussion on this book.
December, 2021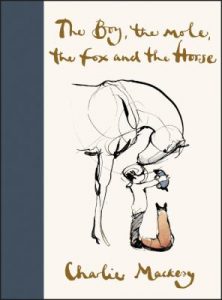 December 13, Bernice Goertzen will lead the discussion on The Boy, the Mole, the Fox and the Horse by Charlie Mackesy. This book speaks to readers ages 8 to 80 in the universal language of love, friendship, kindness, and understanding. In addition to being thought-provoking, it is also a work of art with Mackesy's illustrations. It is a lesson in how to be a good person. This is a great book to share with your grandchildren.