The book discussion group has been in our line-up of interest groups since 1991. Stimulating discussions are the norm, whether it be on a historic novel, biography, socially critical book, mystery, play, poetry or any other genre. We have looked at what children are reading – Harry Potter and the Sorcerer's Stone, Alice's Adventures in Wonderland – and have combined the reading of a play with a theater excursion to see that play in production —The Importance of Being Earnest, The Seagull. We have done an entire year with a focus on China and we have chosen our favorite poems to bring and share during National Poetry Month. We are eclectic as well as classic, and enjoy diversity in our selections.
The group meets on the second Monday of the month, at 1 p.m., at members' homes, unless otherwise noted.
This is a total participation group: members recommend titles for the group to read and vote on the recommendations; they are asked to read each month's selection; members are asked to volunteer to take turns leading the discussion and in hosting the group. Our chairperson coordinates the efforts and represents the group on the branch board of directors.
Come and try us out! Contact our chairperson, Donna Hamilton  to let her know if you would like to attend.
For a complete list of books read during the 26-year history of the group, click Book-List-1991-2020 to open/ download it in a pdf format. For additional reading, we recommend AAUW's ADELANTE BOOK LIST, monthly selections that stress AAUW's commitment to diversity.
---
May Book Club Meeting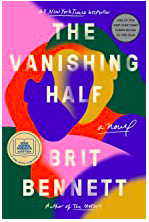 Our book discussion group met Monday, May 10 for our last get together until September. We discussed The Vanishing Half by Brit Bennett. This book is rich in so many themes—identity, choices, family, race, education, trauma, running away, exposure– as it weaves together the lives of these strong characters. The characters take us from a 1950's small unique town of Mallard, Louisiana to New Orleans, New York, and Los Angeles of the 1980's. This book is one of the most popular book club choices for 2020 and provided us with a meaningful discussion of current issues today. The main character, Stella, "hadn't realized how long it takes to become someone else or how lonely it could be living in a world not meant for you."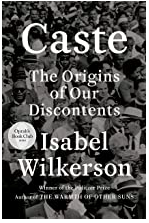 Our summer book choice is Caste by Isabel Wilkerson. In this nonfiction book, Isabel Wilkerson argues that "the current social and political landscapes in America derive from the infrastructure of human hierarchy developed 400 years ago when Europeans first came to this land. This hierarchy placing whites at the top and black people at the bottom is the American caste system, and although no one alive today is responsible for starting it, we have inherited it and perpetuated it for generations. Wilkerson examines the different caste systems around the world and how they damage the lives of everyone involved, even those at the top. She believes that to understand how to move forward, we must examine the past and the racial structures that keep progress as a nation at bay." Carol Thombs will moderate this discussion on September 13.
April Book Club Meeting
Bernice Goertzen organized a unique and interesting poetry program for the month of April. We shared the following four poems:
Louise Gluck– "At the end of my suffering there was a door,"
Rhiannon Giddens—"Build a House—Juneteenth Song" (this is the musician we know mostly by her first name only) She performs this selection with YO-Yo Ma.
Billy Collins—"I Go Back to the House for a Book" Bob Dylan—"The Times They Are a Changin'"
In a podcast by Oliver Fox we examined Billy Collins's Six Elements of a Poem comparing poetry to a "museum housing a history of the human heart." These elements are shape (building), title (marquis), first lines (welcome mat), stanzas (rooms), turning toward the abstract (the discovered subject), and the final word (the flagship exhibit).
Poet Amanda Gorman stole the show at President Biden's inauguration, and poet Brandon Leake won last season's America's Got Talent competition. Poetry is alive and well today and is enjoyable reading.
PBS has been showing a really good two part documentary on Hemingway that you may enjoy if you are a fan.
We will be meeting via Zoom at 1:00PM on May 10. The link to join us will be sent out a day ahead of time. We will be selecting this book when we meet in April. Please join us for our last meeting until next September. We need recommendations for a summer reading book. Contact Donna Hamilton if you have any questions or suggestions.
March Book Club Meeting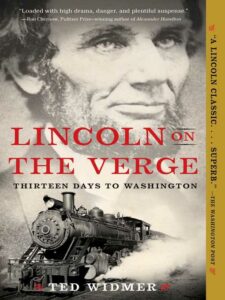 For March, we are reading Lincoln on the Verge by Ted Widmer. Gloria Brown will lead this discussion of the 13 day train journey of Lincoln from Springfield to Washington D.C. to be inaugurated.
I hope you will join us on March 8, at 1:00PM on ZOOM. Let Donna Hamilton (clover725@ymail.com) know if you would like to be added to the Book Club list to receive the ZOOM codes and other information. There is nothing as pleasant and stimulating as reading a good book and sharing it with friends.
February Book Club Meeting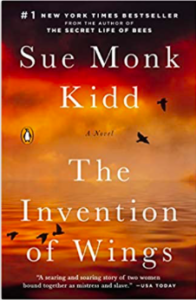 For February we will be reading The Invention of Wings by Sue Monk Kidd. This historical fiction novel examines the contrasting lifestyles of slave owners and the enslaved in Charleston, South Carolina. It is loosely based on the life of Sarah Greinke, a leader in both the abolitionist and women's suffrage movements.
January Book Club Meeting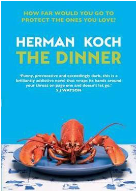 Annette Miller led the discussion of The Dinner by Herman Koch. This novel takes place during one dinner in a Dutch restaurant. The main characters are competitive and very different brothers dealing with difficult decisions about their children's actions. "What would you as a parent do in this situation?" is the haunting question as you read this book.
December Book Club Meeting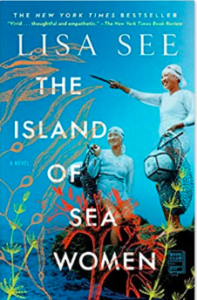 In December the AAUW book club met via zoom to discuss Island of Sea Women by Lisa See. It was a lively discussion of the Japanese takeover of Korea and the Korean War as they affected the female dominated culture of the traditional diving women of Toju Island. It is a fictional story of friendship, love, family, and forgiveness. We would highly recommend the book.
November Book Club Meeting
We are reading the non-fiction book, What Can I Do by Jane Fonda. Carol Thombs is going to lead the discussion of this book about the environmental challenges we are facing today. If you are joining the new environmental group, this book will be good background of information. Grab a drink or snack of your choice, and join us for an always stimulating exchange of ideas.
October Book Club Meeting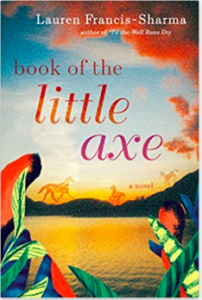 For October 12, we had a Zoom discussion of The Book of Little Axe by Lauren Francis-Sharma. This book spans three generations of the Renard family from the oceans of Trinidad to the American Northwest Indian tribes in the 1800's. It was quite a journey from colonial oppression to westward expansion.
September Book Club Meeting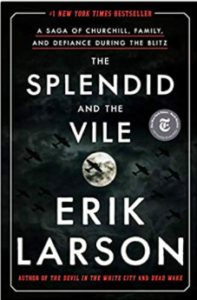 Book Club met Monday, September 14  via Zoom. We had a stimulating discussion of our sum- mer read, The Splendid and the Vile by Erik Larson. This is a detailed and very personal biog- raphy of Winston Churchill and the family and staff who surrounded him. It covers Churchill's first year as prime minister–from May 1940, the beginning of The Blitz in England, to May 1941 when the United States entered WWII. We highly recommend the book.
Book List for 2020-2021
October 12––Book of Little Axe by Lauren Francis-Sharma. Ambitious and masterfully-wrought, Lauren Francis-Sharma's Book of the Little Axe is an incredible journey, spanning decades and oceans from Trinidad to the American West during the tumultuous days of warring colonial powers and westward expansion.
November 9– What I Can Do by Jane Fonda. I thought this would be a good choice to examine the environmental issues we are facing today. It will be a good start of the new Environmental Group that Carol Thombs is organizing.
December 14— Island of Sea Women by Lisa See. This book is set in the mid 1900's on Toju Island, Korea.  It takes us through the political changes in Korea and features the traditional diving women of the island.
January 11– The Dinner by Herman Koch. A gripping fiction story of two couples each with a fifteen year old son involved in unutterable violence.  They meet at a restaurant in Amsterdam and need to make the most difficult decisions parents would ever have to make.
February 8-–The Invention of Wings by Sue Monk Kidd. This book depicts the contrasting lifestyles of slave owners and the enslaved in Charleston, South Carolina. The book is loosely based on the life of Sarah Greinke; how one woman and her sister became leaders in both the antislavery and women's suffrage movements.
March 8— Lincoln on the Verge by Ted Widmer. This was the book that got the most votes. It describes the 13 day train journey Lincoln took from Springfield to Washington DC to be inaugurated. There were assasination plots against him and he had to arrive secretly in disguise. The South had seceded and the country was in danger of falling apart. The book is a sort of social history of the U.S. on the verge of collapse, and of how the one man who would eventually save it, arrived safely in Washington.
April 12—Absalom, Absalom by William Faulkner.  This will be a challenging book and it follows the two previous books because it will give a Southern perspective. First published in 1936. Taking place before, during, and after the American Civil War, it is a story about three families of the American South, with a focus on the life of Thomas Sutpen.  It contains the most mature and profound examination of his greatest themes: the South's mixture of horror and pride in its own history, the interrelationship of incest and miscegenation, the tragic legacy of slavery, and, as always at the heart of it all, the family drama.
May 10-–The Saddest Words: William Faulkner's Civil War by Michael Gorra. The issues of race and history so central to Faulkner's work have grown only more urgent. How should we now regard this pathbreaking, Nobel Prize–winning author, who grappled with our nation's racial tragedy in ways that at once illuminate and disturb—that reflect both startling human truths and the limitations of a white southerner born in 1897 into the stifling air of Mississippi's closed and segregated society? In our current moment of racial reckoning, Faulkner is certainly ripe for rigorous scrutiny.
---
Author Attends February Meeting, Paula Banks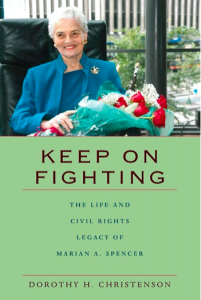 Last month, the Book Group met to discuss the biography Keep on Fighting: the Life and Civil Rights Legacy of Marian A. Spencer, by Dorothy H. Christenson. Marian A. Spencer was the granddaughter of a former slave and was the first African American woman elected to Cincinnati City Council. She was the first female president of the Cincinnati NAACP. She fought to desegregate schools and end discrimination. We were fortunate to have the author with us to discuss her friendship and personal knowledge of Marian.
At first, the book was a project for Dorothy and Marian. Both women had served on a variety of boards together and had known one another for many years. Marian and Dot (as she likes to be called) had both been recently widowed and enjoyed spending time together. Marian recorded her stories and Dorothy transcribed the tapes for Marian's family. They met weekly to work on the year-long project.
They copied the "book" for the family and close friends and sent it to the Ohio University Press. The publisher recommended editing. Dot worked on add- ing content and editing out the personal. When Marian was in a care facility, Dot acted as her caregiver and was able to secure the rights to tell Marian's story. Marian died last year at age 99; her twin sister is still living and resides in Washington D.C.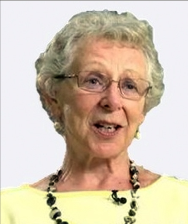 Last year, Dot kicked off the drive to raise funds for a tribute statue of Marian to be placed in the park in front of the Cincinnati Freedom Center. It is scheduled to be dedicated this June on what would have been Marian's 100th birthday.
We enjoyed Dot's presence and really appreciated her driving from Cincinnati to Medina for our discussion. Arrangements were made by Nancy Sprowls, who is a friend of the author and whose niece is married to Dot's son Dave
READING LIST FOR 2020-2021
September: The Splendid and the Vile, Erik Larson
October: The Book of Little Axe by Lauren Francis-Sharma
November: What Can I Do, Jane Fonda
December: Island of Sea Women by Lisa See.
January: The Dinner by Herman Koch
February: The Invention of Wings by Sue Monk Kidd.
March: Lincoln on the Verge by Ted Widmer
April: Absalom, Absalom by William Faulkner
May: The Saddest Words: William Faulkner's Civil War by Michael Gorra
READING LIST FOR 2019-2020:
September: Alexander Hamilton, by Ron Chernow
October:
Where the Crawdads Sing
,
 Delia Owens
November: Dreamland by Sam Quinones led by Pat Chaloupek, at the home of Donna  Hamilton
December: Faith Club by Ranya Idiby
January: Commonwealth by Ann Patchett, at the home of Judy Smith
February: Keep on Fighting: The Life and Civil Rights Legacy of Marian A. Spencer by Dorothy H.                   Christenson
March: The Muralist by Barbara Shapiro, at the home of Pat Chaloupek
CANCELLED – April: Poetry selections
May: The Testaments by Margaret Atwood, on Zoom
READING LIST FOR 2018-2019:
The Seventh Most Important Thing by Shelley Pearsall
The Secret Chord by Gwendolyn Brooks
Hillbilly Elegy: A Memoir of a Family and Culture in Crisis by J.D. Vance
The Secret Gift by Ted Gup
Educated: A Memoir by Tara Westfield
Salvage the Bones by Jesmyn Ward
Showdown: Thurgood Marshall and the Supreme Court Nomination That Changed America by Wil Haygood
Bury Your Dead by Louise Penny
READING LIST FOR 2017-2018:
The 100-Year-Old Man Who Jumped Out the Window and Disappeared, by Jonas Jonasson
Tender is the Night by F. Scott Fitzgerald. We selected this Jazz Age novel to partner with an AAUW visit to the Cleveland Art Museum which was hosting a Jazz Age exhibit.
Last Days of Night by Graham Moore
No Pretty Pictures: A Child of War by Anita Lobel
The Secret Wife by Gill Paul
Walking with the Wind: A Memoir of the Movement by John Lewis
A Gentleman in Moscow by Amor Towles
Little Fires Everywhere by Celeste Ng
READING LIST 2016-2017:
All the Way, by Robert Schenkken
Madame DeStael: the First Modern Woman, by Francine DuPlessix Gray
Luncheon of the Boating Party, by Susan Vreeland
The Other Wes Moore by Wes Moore
My Life on the Road by Gloria Steinem
A Thread of Grace by Mary Doria Russell
READING LIST 2015-2016:
The Goldfinch, by Donna Tartt
The American Empress: The Life and Times of Marjorie Merriweather Post by Nancy Rubin Stuart
A Spool of Blue Thread by Anne Tyler
The Secret Garden by Frances Burnett
How the Garcia Girls Lost Their Accent by Julia Alvarez
Between the World and Me, by Ta-Nehisi Coates
The Sandcastle Girls by Chris Bohjalian
My Brilliant Friend, by Elena Ferrante
READING LIST 2014-2015:
The Little Foxes, a play by Lillian Hellman at the Medina County District Library in Medina: a collaborative evening with artistic personnel from the Cleveland Playhouse.
Boys in the Boat — Daniel James Brown
Flight Behavior — Barbara Kingsolver
The Giver — Lois Lowry
Jayber Crow — Wendell Berry
Mrs. Lincoln's Dressmaker — Jennifer Chiaverini
The Hare With the Amber Eyes — Edmund de Waal
All the Light We Cannot See — Anthony Doerr
READING LIST 2013-2014:
Cloudsplitter – Russel Banks
The Group – Mary McCarthy
Dear Life – Alice Munro
The Little Prince – Antoine de Saint-Exupery
Enrique's Story – Sonia Nazario
Things Fall Apart – Chinua Achebe
The Man in the White Sharkskin Suit – Lucette Lagnado
The Unlikely Pilgrimage of Harold Fry – Rachel Joyce

READING LIST 2012-2013:
Catherine the Great: Portrait of a Woman, by Robert K. Massie
The History of the World in Six Glasses by Tom Standage
The Wilder Life: My Adventures in the Lost World of Little House on the Prarie by Wendy McClure
Julie and the Wolves, by Jean Craighead George
The Light Between Oceans by M.L. Stedman
The Warmth of Other Suns by Isabel Wilkerson
Destiny of the Republic by Candace Millard
The Great Gatsby by F. Scott Fitzgerald
The Last Runaway, by Tracy Chevalier (for Project LEARN's Reading Rally on the Square)
READING LIST, 2011-2012:
One Man Great Enough – John C. Waugh
The Paris Wife – Paula McClain
The Slave Across the Street – Theresa Flores and Peggy Sue Wells
Alice's Adventure in Wonderland – Lewis Carroll
Thinking in Pictures: My Life with Autism – Temple Grandin
Wench – Dolen Perkins-Valdez
The Importance of Being Earnest (play) – Oscar Wilde
Maisie Dobbs – Jacqueline Winspear
Four Quartets (poetry) – T.S. Eliot