AAUW's Diversity Statement
In principle and practice, AAUW values and seeks a diverse membership. There shall be no barriers to full participation in this organization on the basis of gender, race, creed, age, sexual orientation, national origin, disability or class.
Message from National AAUW CEO, Kimberly Churches
We join the country in mourning the losses of George Floyd, Ahmaud Arbery, Breonna Taylor and countless other people of color who have been unjustly killed across our nation. Our country needs healing. But healing will only come with racial justice.
In addition to taking care of yourself and your loved ones, today we are asking you to do three things: listen, learn, and then vote.
First— listen. Listen to the Black and Brown leaders and members of your community when they speak. Remember that many people are struggling with enormous pain and despair, so we urge self-educating instead of asking Black and Brown people to work for the benefit of your learning. (If you need somewhere to start, we recommend "New Era of Public Safety: A Guide to Fair, Safe, and Effective Community Policing" with the Leadership Conference on Civil and Human Rights and "Racism 101" with Showing Up for Racial Justice.) When listening, minimize questions to a simple, "Is there anything I can do to help you today?"
Second— learn. Read our recent statement highlighting AAUW's stand against racism and this Washington Post article by 2016-17 AAUW American Fellow alumnae Keisha Blain about the problematic history of policing in this country. Systemic racism is firmly rooted in the United States— from police brutality to the disproportionate impact of COVID-19 on communities of color. Then talk to your family, children, and friends. Talk to them about how today's injustices mirror our own country's shameful history. Saying "Black lives matter" is important and needed. This is an historic moment that requires your vocal support.
Third— vote. And make sure everyone is able to access and exercise this important right. Our democracy works when everyone can fully participate, but people of color often experience discrimination at the ballot box. With a pivotal election ahead, persuading policymakers to expand voting rights is a powerful way to support marginalized communities.
Change begins with understanding and ensuring that all are being heard.
New Diversity Book Club
This can be a difficult experience. But it's incumbent on all of us to do the hard work. We at AAUW also acknowledge as an organization that we have work to do. We invite you to join us in learning and supporting this work towards long-term and lasting change.
AAUW is a powerful and positive force for change— let us truly listen, learn and ensure everyone's voices can be heard.
As a next step to the collaborative Conversation on Race, AAUW Medina County Branch has started a new book club.  Its goal is to provide a forum for conversation.
The books that have been chosen present stories about human relationships – love, friendships, families – and show how racial and cultural imprints influence the characters and their actions.
Monthly discussions about the books can lead to readers comparing their reactions to the story line and characters. The hope is to create new connections across neighborhoods and strengthen relationships within Medina County.
Find out more about an inter-racial book club here:
Manasota Interracial Book Club |
GUEST EDITORIAL: Manasota Interracial Book Club, learning to read one another
WHEN:  Monday, September 21st, 6:30 pm to 7:30 pm
WHERE: ZOOM. A link will be sent on request. Email your interest to Kim Oliver at klo44321@yahoo.com
BOOK ACCESS:  Medina County District Library, Book Club Agent, Jeannine Murray. Call her at (440) 759-8806 to arrange for contactless book pick up at 562 Wadsworth Road, Medina (3 blocks south of the library).
We hope you will join us for our first ZOOM  book discussion on Monday, September 21st, 6:30pm to 7:30pm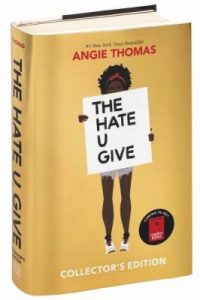 "THE HATE U GIVE", by Angie Thomas
This story is about a young woman from a poor neighborhood who attends a white preparatory school. She witnesses a crime and is then torn between the two different worlds she in which she lives. The book was made into a movie in 2018, and was nominated for several NAACP Image Awards.
Congratulations!
Diversity Chairperson, Kim Oliver was awarded First place for "Diversity and Inclusion", for 2020 at the AAUW annual meeting. Thank you Kim for all your hard work!
AAUW and Community Organizations Host a Virtual Racism Discussion
The Medina Diversity Project, American Association of University Women (AAUW) Medina Branch and Leadership Medina County jointly hosted a community conversation on race, that took place virtually July 23, that was just as much about listening as it was about talking. During the session, participants were split into small groups for discussions. 

"We need to be listening," said Medina Diversity Project Chair, and AAUW member Pamela Miller. "We need to get others engaged so we can come together as a community." The facilitated format will allow community members to talk person-to-person.
"I believe listening and awareness are the first step towards a solution, and that is what we are aiming for here," said AAUW Diversity Chair Kimberly Oliver.
18th Black History Month Program Salute to Veterans: The Fight for Freedom
Feb., 2020
"This year's event acknowledged and saluted the Black Veterans of the United States of America Armed Forces who fought and continue to fight for all of our freedom even when they had or have none of their own," announced Kim Oliver, Medina Branch Diversity Chair. The program was highlighted in a recent edition of The Medina Gazette.
The Black History Month program, which has become a tradition in our community, was held Thurs., February 20, at the Second Baptist Church, 451 Bronson St., Medina. Co-sponsors with AAUW were the Second Baptist Church and Fellowship Baptist Church.
From Civil War regiments to Tuskegee Airmen and in present day military incursions, black soldiers have distinguished themselves with valor; they were celebrated in song, poetry and historical readings.
The Claggett Middle School Choir, the Medina Community Choir, and Local VFW #5137 also participated in the program. A "pick-up" community choir sang that evening, having come to the church an hour before the program for practice. AAUW members brought plated snacks and dessert items to the Fellowship Hall for serving following the program.
Oliver chaired the program with assistance from branch members Kathy Kraus and Alanna Arnold, and Pastors John and Senesa Peterson of Fellowship Baptist Church and Arthur Ruffin, of Second Baptist Church.
FEBRUARY 2019, BLACK HISTORY MONTH PROGRAM
The 17th Annual Black History Month Program was held in partnership with Second Baptist and Fellowship Baptist Churches on February 21.  The program celebrated African-American culture in song, dance and personal contributions. The middle school choir, a "pick up choir", a praise group and little dancers highlighted the evening.
2018 Annual Black History Month
Sponsored by AAUW Medina Branch an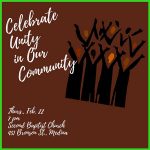 d Second Baptist Church, drew a record crowd of over 300 enthusiastic persons of all ages. The "Celebrate Unity in Our Community" theme was highlighted by musical presentations from the Diversity Choir, elementary and middle school choirs and drum corps, a local soloist, and several community business persons–all who inspired us to catch the spirit of the evening. More on the Programming page.
2017 Black History Month Program was a huge success: a record crowd attended the 15th annual event held on Feb. 23, 2017.
---
How does Medina County score on Title IX compliance? See a commentary from our October 2016 program and panel discussion on Programming page.
13th ANNUAL BLACK HISTORY MONTH PROGRAM:  Medina County Branch AAUW and the Second Baptist Church hosted "A Community Conversation: Does Race Matter?" o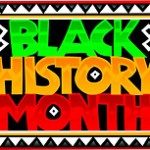 n February 12. At the end of the program, a number of persons expressed interest in continuing the dialogue. Branch member Pamela Miller and the Rev. Cornell Carter met with community members. From these sessions, the "Medina Diversity Project" was conceived. Contact Miller for more information.