Nontraditional Women Student's Scholarship
APPLICATIONS FOR THE 2020-2021 ACADEMIC YEAR
The Medina County Branch of the American Association of University Women awards two  $1000 scholarships to "non-traditional" women undergraduate students who are attending an accredited college or university. Applicants must be residents of Medina County and at least 25 years of age. Previous winners are eligible.
A "non-traditional" student is a woman who is returning to college to finish an undergraduate degree, or a woman who has delayed entering college for several years after completing high school or earning a GED.
Scholarships are awarded on the basis of financial need, academic achievement, and clarity of stated goals and objectives. The two named scholarships are the Pat Chaloupek AAUW of Medina County and the AAUW of Medina Founders' Scholarship.
Applications for the awards are available at this link: Akron Community Foundation
The application process will open in January, 2020.
For more information, contact Cheri Ingraham, Scholarship Committee Chair.  Scholarships are administered through the Akron Community Fund.
This year's scholarship recipients were recognized at the May Annual Meeting. They will be receiving $1500 each in their accounts for continuing their degree studies. Recipients are Ashley M. Powell and repeat winner Jeanne Merchant. Powell has junior status at Liberty University and is seeking a Bachelor of Business Administration in Healthcare Management. Merchant is also a junior; she is continuing to work on her Organizational Leadership degree at Cleveland State.
Two scholarships of $1500 each were awarded to our outstanding recipients for 2018 at the Annual Meeting in May: Jeanne Merchant, of Brunswick, and Susan Toth, of Seville. Toth is a senior at the University of Akron who is studying Interior Design and Merchant is working on her degree in Organizational Leadership at Cleveland State University
Two $2000 scholarships were awarded in May, 2017. Recipients were AnnMarie Miesowitz, of Brunswick, and Brankica Balaban, of Medina. Miesowitz is attending Cuyahoga Community College to obtain her Associate of Applied Science Degree in Radiography. Balaban attends Lorain County Community College and is a sophomore majoring in science, with intent on earning a degree as a Physician Assistant.
Karen Knerem received the 2016 Scholarship. She is the only person to have received this award three times. She said that looked forward to completing her degree in social work with an emphasis in Gerontology at the Univ. of Akron, not only to further her career, but also to be a role model to her children. Congratulations, Karen! 
Recipients of the 2015 Scholarships are Arlena Lockard, of Valley City, an English major at the Univ. of Akron, and Karen Knerem, of Medina, an undergrad in social work also at the Univ. of Akron, and who is a repeat winner.
Winners of the 2014 Scholarships are Sara Burgett, of Valley City and Karen Knerem of Medina. Both women are enrolled at the University of Akron.
Local scholarship recipients for the 2013-2014 academic year are Laurie Beal, of Wadsworth, on the right, and Carla Kaczmarski, of Brunswick, on left.
Recipients for the 2012 scholarships were Nicole Dannery, of Seville, and Megann Welsh, of Brunswick.
---
---
"BeWISE" Campership

Hey, girl! Are you currently a sixth or seventh grader interested in a fun week at a university in Ohio with girls your own age exploring science, math and environmental aspects of life around you? Would you like to try some hands-on experiments and experiences using a microscope, find ways to "reduce, reuse and recycle", learn how to save money, earn interest and shop with your own credit card? This is all part of the curriculum at the BeWISE Camp – Where Girls Succeed!
Medina Branch AAUW sponsors two camperships each year to be awarded to applicants from Medina County for the camp, held at Kenyon College, Gambier, Ohio, in mid-June. The camp registration is limited to 130 residents for the 6-day session.
For applications/ information on the Medina County Branch AAUW CAMPERSHIPS for next year, return to this page for postings in January, 2020. To learn more about the camp go to:   http://www.bewisecamp.org
 Congratulations to our 2019 campership winners:  
Adrienne Raglow, of Willets Middle School, Brunswick
Sarah Keller, of Edwards Middle School, Brunswick
---
Winners for the 2018 camperships were: Madison Penvose, Edwards Middle School, Brunswick, and Kayla Kerstetter, Wadsworth Middle School. Congratulations, ladies!
---
In 2017, Medina Branch was able to sponsor three girls to attend BeWISE Camp: Rebecca Keller, of Brunswick, (Edwards Middle School), Olivia Ortiz, Medina, (Buckeye Jr. High School), and Mollie Sracensky, Brunswick, (St. Ambrose).
The girls had a fabulous time at the week-long residence camp, were inspired by their  experiences, and shared their impressions with branch members and guests at the August Carry-in Dinner and Picnic at Krabill Shelter.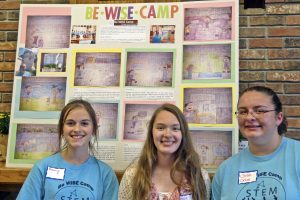 2017 BeWISE campers Rebecca Keller, Mollie Stracensky and Olivia Ortiz with a poster from camp.
To learn about BeWISE Camp, its goals and programming, visit the web site at: http://www.bewisecamp.org .
---
The two recipients for the 2016 camperships  were: Maeve Gaffney, a seventh grader at Sacred Heart in Wadsworth, and Kamiah Gibson, a seventh grade student at Buckeye Junior High.
Camperships were awarded for BeWISE Camp 2015 to: Gabriella Jackson, who attends Buckeye Junior High, and Jacklyn Turk, a student at Sacred Heart in Wadsworth. Below, is a photo of the girls and their mothers when they attended the Tech Savvy STEM Workshop, April, 2015.
Winners of the 2014 camperships were Audrey Calvin, a student at Our Lady of the Elms, and Grace Schmitt, who attends Cloverleaf Middle School.
BeWISE Camp is designed to develop interest, excitement and self-confidence in young women, whether or not they decide to pursue courses and careers in the STEM courses –science, technology, engineering and math.
Learn more about BeWISE camp at their website: http://www.bewisecamp.org.