We will be celebrating our mothers on Sunday, May 9. If you are looking for a suggestion of a meaningful gift to your mother "who has everything," you might consider a direct donation in her name to our Community Foundation Fund for our scholarships. Due to the Covid 19 restrictions we have missed two of our book sales which help fund our scholarships.
This would make a special gift for any occasion such as a birthday, anniversary, in honor of, etc.
Send checks to:
Akron Community Foundation
AAUW of Medina County Scholarship Fund
345 W. Cedar St.
Akron, OH 44307
Our 2021-22 Scholarship Recipients
Mercy W Muchemi – $1500.00 – STEM- Mercy resides in Medina and has a two-year-old daughter. She works seven days a week and attends school full time. Mercy has attended For- tis University, but is transferring to the University of Texas, Arlington to complete her nursing degree.
Sarah Bullington – $1000.00 – Sarah is a sophomore in business management and is working with a transfer specialist to plan her long term goal of attending a 4 year school to major in the nonprofit field. Sarah is a hardworking artist, student, and community volunteer.
Jeanne Merchant – $1000.00 – Jeanne is a senior at Cleveland State majoring in Organizational Leadership. She is presently working with the Healthy Medina County program, a partnership supported by our own Recreation Center and the Cleveland Clinic Foundation. She is also interning providing wellness education for Leadership Medina County. Jeanne's application reveals her incredible passion for the health and wellness of her community.
Aneta Mullins – $1000.00 – Aneta lives in Medina and works as a police dispatcher for Oberlin. She is responsible for officer safety and training, but finds time to attend Cuyahoga Community College. She is President of the Medina County Women of the Military, an organization serving all branches of service. It is no surprise for Aneta to be majoring in Social Work with a specialization in Veteran Needs. We have hopes of meeting these incredible women at one of our future meetings.
BeWise STEM Camp Scholarships
Unfortunately, due to the pandemic, the Be Wise Camp Scholarship will not be available in 2021. Be looking here for more information for 2022.
Two Brunswick, OH residents have been named recipients of our 2020 Camperships. They look forward to experiencing Camp BeWise and learning more about science and technology. Congratulations, ladies!

The Medina County Branch of AAUW provides scholarships for two Medina County girls to attend the Be WISE Camp. This is a STEM (Science, Technology, Engineering, and Mathematics) camp, designed to develop interest, excitement and self-confidence in girls who are entering grades 7 or 8 in the Fall of 2020.
The camp will feature a separate curriculum for each grade level emphasizing critical thinking, problem solving and real-world activities.
Seventh graders will attend the following classes: Stream Study, Physics, Math and Ecology.
Eight graders will attend the following classes: Math, Pond Study, Astronomy and Chemistry.
Of course, what camp would be without outdoor recreational activities! A description for all classes is available at www.bewisecamp.org
This year the cost of the camp is $550.00. This includes room, board and educational materials. The Medina County Branch of the American Association of University Women (AAUW) is providing two $475.00 scholarships for Medina County girls to attend.   Scholarship recipients will be asked to pay the remaining $75.00.
The Medina County Branch of AAUW has offered many Medina County girls the opportunity to attend BeWise Camp over the years. We are proud to be able to foster interest in STEM studies in the next generation of young women.
Note: Unfortunately, due to the current health crisis, the BeWise Camp is being cancelled for 2020. Branch chairperson Jeri Penn has advised our two campership recipients, Mia Staab and Samantha Keller, of the closure and all funds have been returned.We are disappointed, but feel certain that our scholars will continue to pursue their interests in Science, Math, Engineering and Technology in the future.
This would have been the 32nd year that the camp has been in operation. It was founded under the direction of several members of the AAUW Ohio Board of Directors with assistance from a National AAUW grant and served as a prototype for other STEM camps.
Nontraditional Women Student's Scholarship
 THE 2020-2021 Scholarships Awarded
The Medina County Branch of the American Association of University Women awarded two $1,500 scholarships to "non-traditional" women undergraduate students attending an accredited college or university. To be eligible, applicants must be residents of Medina County and at least 25 years of age.
Aneta Mullins has been awarded our AAUW scholarship. Aneta attended Midview High School, received an Associates of Liberal Arts degree in 2006 from Lorain Community College, and is presently a junior at Cuyahoga Community College majoring in Psychology/Social Work.
I must share Aneta's work experience because our committee finds her to be an incredible recipient of our award. She was in the United States Army Reserves from 2000 to 2008, including a deployment to Iraq from 2003-2004. She has worked at the Oberlin Police Department since 2002 and remains with the department as a police dispatcher responsi- ble for officer safety as well as public safety. During the eighteen years serving the City of Oberlin, fifteen of those years have been as a training officer. She is the TAC Officer and on the Wellness Committee.
Aneta also finds time to be active in the community of Medina. She has been the President of the Medina County Women of the Military since 2012. This is a nonprofit woman's veteran group serving women in Medina County. The group has recently sponsored Oasis of Hope and Birth Care.
We hope to meet this mother of two girls in person in 2021. She plans to use her new degree to help Veterans returning to civilian life.
Mercy W Muchemi is our STEM Scholarship recipient. Mercy graduated from State House Girl's School in 2007. She went on to the United States International University-Africa and received her Bachelors in International Relations in 2012. Presently, Mercy is working on a degree in nursing at Fortis College.
Mercy's experiences have included working at the Ministry of Foreign Affairs in Kenya, for Americorps VIP, volunteering at Mama Fauzia Children's Orphanage, and now she is with Visiting Angels in Medina.
Mercy's resume is all about her passion for children and families.
From Mercy, "After I came from Africa, I became a health aide for several years. I then decided to change my career from diplomacy to nursing because I realized I was needed in that field. Throughout this past year, I have had a long journey of raising my one-year-old daughter, working seven days a week, and going to school full time. I believe better days are ahead, and nothing good comes easy."
Mercy's story is very compelling and we will meet with her in 2021.
A "non-traditional" student is a woman who is returning to college  to finish an undergraduate degree or a woman who has delayed entering college for several years after completing high school or earning a GED. For more information email Jill Morton, Scholarship Committee Chairperson.
Scholarships are administered through the Akron Community Fund. Donations to support our scholarship program can be made to the the Akron Community Foundation and selecting AAUW of Medina County Scholarship Fund.
Scholarships, 2019
This year's scholarship recipients were recognized at the May 2019 Annual Meeting. They will be receiving $1,500 each in their accounts for continuing their degree studies. Recipients are Ashley M. Powell and repeat winner Jeanne Merchant. Powell has junior status at Liberty University and is seeking a Bachelor of Business Administration in Healthcare Management. Merchant is also a junior; she is continuing to work on her Organizational Leadership degree at Cleveland State.
Two scholarships of $1,500 each were awarded to our outstanding recipients for 2018 at the Annual Meeting in May: Jeanne Merchant, of Brunswick, and Susan Toth, of Seville. Toth is a senior at the University of Akron who is studying Interior Design and Merchant is working on her degree in Organizational Leadership at Cleveland State University
Two $2,000 scholarships were awarded in May, 2017. Recipients were AnnMarie Miesowitz, of Brunswick, and Brankica Balaban, of Medina. Miesowitz is attending Cuyahoga Community College to obtain her Associate of Applied Science Degree in Radiography. Balaban attends Lorain County Community College and is a sophomore majoring in science, with intent on earning a degree as a Physician Assistant.
Karen Knerem received the 2016 Scholarship. She is the only person to have received this award three times. She said that looked forward to completing her degree in social work with an emphasis in Gerontology at the Univ. of Akron, not only to further her career, but also to be a role model to her children. Congratulations, Karen! 
Recipients of the 2015 Scholarships are Arlena Lockard, of Valley City, an English major at the Univ. of Akron, and Karen Knerem, of Medina, an undergrad in social work also at the Univ. of Akron, and who is a repeat winner.
Winners of the 2014 Scholarships are Sara Burgett, of Valley City and Karen Knerem of Medina. Both women are enrolled at the University of Akron.
Local scholarship recipients for the 2013-2014 academic year are Laurie Beal, of Wadsworth, on the right, and Carla Kaczmarski, of Brunswick, on left.
Recipients for the 2012 scholarships were Nicole Dannery, of Seville, and Megann Welsh, of Brunswick.
---
---
"BeWISE" Campership
 Congratulations to our 2019 campership winners:  
Adrienne Raglow, of Willets Middle School, Brunswick
Sarah Keller, of Edwards Middle School, Brunswick
---
Winners for the 2018 camperships were: Madison Penvose, Edwards Middle School, Brunswick, and Kayla Kerstetter, Wadsworth Middle School. Congratulations, ladies!
---
In 2017, Medina Branch was able to sponsor three girls to attend BeWISE Camp: Rebecca Keller, of Brunswick, (Edwards Middle School), Olivia Ortiz, Medina, (Buckeye Jr. High School), and Mollie Sracensky, Brunswick, (St. Ambrose).
The girls had a fabulous time at the week-long residence camp, were inspired by their  experiences, and shared their impressions with branch members and guests at the August Carry-in Dinner and Picnic at Krabill Shelter.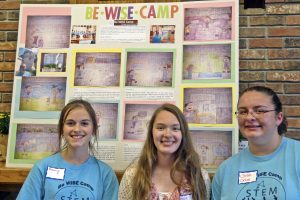 2017 BeWISE campers Rebecca Keller, Mollie Stracensky and Olivia Ortiz with a poster from camp.
To learn about BeWISE Camp, its goals and programming, visit the web site at: http://www.bewisecamp.org .
---
The two recipients for the 2016 camperships  were: Maeve Gaffney, a seventh grader at Sacred Heart in Wadsworth, and Kamiah Gibson, a seventh grade student at Buckeye Junior High.
Camperships were awarded for BeWISE Camp 2015 to: Gabriella Jackson, who attends Buckeye Junior High, and Jacklyn Turk, a student at Sacred Heart in Wadsworth. Below, is a photo of the girls and their mothers when they attended the Tech Savvy STEM Workshop, April, 2015.
Winners of the 2014 camperships were Audrey Calvin, a student at Our Lady of the Elms, and Grace Schmitt, who attends Cloverleaf Middle School.
BeWISE Camp is designed to develop interest, excitement and self-confidence in young women, whether or not they decide to pursue courses and careers in the STEM courses –science, technology, engineering and math.
Learn more about BeWISE camp at their website: http://www.bewisecamp.org.