Upcoming Programs 2022-2023
Medina County AAUW
2022 – 2023 Programs
September 15, 2022, 5:30 p.m. Reading and Writing in English
Sully's Irish Pub
117 W. Liberty Street
Medina, OH 44256
Meet at Sully's back room and hear from Jennifer Brenner, Executive Director of Project Learn. She will talk about their English as a Second Language and citizenship programs and how they are helping immigrants arriving from the Ukraine. After the presentation, we will get a tour of the Project Learn office next door.
October 20, 2022, 5:30 p.m. Committed to Inclusion
Medina County Board of Developmental Disabilities
4691 Windfall Road
Medina, OH 44256
Medina County Board of Developmental Disabilities will discuss their newest project: Committed to Inclusion.
Learn about the small ways in which people, businesses, and organizations can take steps to make everyday activities more inclusive for those with different abilities. It is easy to include people with disabilities as a part of our community each and every day.
January 19, 2023, 5:30 p.m. Personal Pronouns and What They Mean
Medina Library
Community Room A
210 Broadway Street
Medina, OH 44256
Amy Demlow and Sandy Ferdinand Varndell from Out Support will talk about personal pronouns and why they matter as well as other LGBTQ+ topics.
March 16, 2023, 5:30 p.m. Affordable Housing in Medina County
Habitat for Humanity
233 Lafayette Road
Medina, OH 44256
Meet Ruth Patton, Construction Coordinator at Habitat for Humanity of Medina County and learn about their mission and find out what sweat equity means to them.
Current Programs, 2021-2022
Program chair, Joyce Rynearson has put together a strong slate of programs for this year. Our current program can be found on our homepage.
Past Programs, 2020-21
June 24, 2021 – Election and Annual DinnerMembers enjoyed a gorgeous evening dining outside at the Corkscrew Saloon on Thursday. The Branch celebrated adapting and surviving all the changes brought by 2020-2021, while enjoying each others company and a delicious dinner.Out-going chapter officers Alanna Arnold, Susan Holbrook, Anne Gates, Kathy Kraus, and Katherine Baker  were recognized for their outstanding work over the last two years. Also presented were the new branch officers for 2021-2022, pictured: Vice-President Membership Bernice Goertzen; Kimberly Ortiz, Secretary; President Kim Oliver; Vice-President Programs Joyce Rynearson.   
---
April 29, 2021 – The World We Live In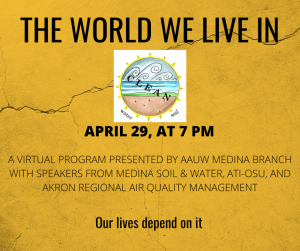 Hopefully, you were able to join the "The World We Live In" zoom meeting on April 29. The three experts were very informative about our Medina County environment and provided very positive suggestions as to steps we should be taking. A very big thanks goes out to our three presenters: Ryan Haden, professor of soil science at OSU-Agricultural Technical Institute; Abby Costilow, Medina Soil and Water Conservation District; and Dawn Meyers of the Akron Regional Air Quality Management District.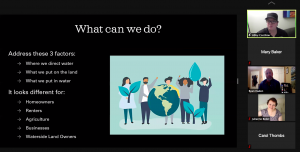 A special thanks, also, to a very dedicated committee that worked so well and efficiently to put this program together: Alanna Arnold, Julianne Bedel, Lor Breyley, Mary Lou Euse, and Marcia Paladino. Look for more from this group that is passionate about saving our environment. More information on how you can be part of the solution and about upcoming events will be in our newsletter.
March 25, 2021 – Music, Musings and Memories with Joyce Rynearson
AAUW member Joyce Rynearson spoke about " music, musings and memories," providing recollections of a journey that began at the age of ten when a teenage boy, playing duets on an old upright piano, changed her life. From taking lessons at the Cleveland Music Settlement, to jamming at Kent State, joining a dance band, working as a church accompanist, playing at a hotel in Mexico, entertaining visitors in the Cleveland Clinic lobby— all of these opportunities and more were made possible by that chance meeting years ago.
Joyce and her piano took us on a musical journey of her varied experiences with a lifetime love of music. We traveled with her from classical to jazz, to gospel and show tunes. We enjoyed her rendition of "Maple Leaf Rag," a Scott Joplin tune, and "This Little Light of Mine." She also played "What I Did for Love" from "Chorus Line" and "Sea of Love."
Joyce reminded us of the importance of music in our lives by sharing several beautiful quotes about music:
"Music produces a kind of pleasure which human society cannot do without." (Confucius)
"There are two means of refuge from the misery of life—music and cats." (Albert Schweitzer)
"A painter paints pictures on canvas, but a musician paints pic- tures on silence." (Leopold Stokowski)
Joyce will be playing at the Cleveland Clinic in Medina when Covid 19 restrictions are lifted. We will post her schedule when it is available. Thank you for the special program on music that we all enjoyed.
February 25, 2021 – The Green Book: Driving While Black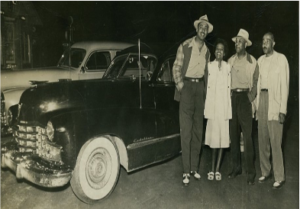 Our Feb. program highlighted Victor Hugo Green, the African American postal worker best known for developing, writing and publishing The Negro Motorist Green Book, later known as The Negro Traveler's Green Book. This book, published from 1936 to 1966, provided information on lodging, restaurants, gas stations and the like which African Americans travelling during Jim Crow and racial
segregation could use to safely travel throughout the United States. Kim Oliver, AAUW Diversity Chair, served as Mistress of Ceremony. The presenters, AAUW members or community volunteers, were Alanna Arnold, Jill Heck, Allison Hoff and Minister Senesa Peterson. Many thanks to Colleen Rice and Leadership Medina County for their help hosting the program on Zoom. 
 January 28, 2021 – Sarah Krieger, Medina Battered Women's Shelter
Sarah Krieger, Advancement Specialist of Hope and Healing, will speak at our AAUW meeting on Thursday, January 28th at 7:30 p.m. She will discuss the progress of the Medina project and then answer your questions about the Battered Women's Shelter.
As you are aware, this has been a very difficult time for families. Please attend the Zoom meeting to hear how the needs of these families are being addressed.
December 3, 2020, Meet Mercy Muchemi
Our December program will again be a zoom meeting with our STEM Scholar- ship recipient, Mercy W. Muchemi. Mercy is currently working on a bachelor degree in nursing at Fortis college. She has a one- year-old daughter and is working with Visit- ing Angels in Medina while going to school full time.
Mercy has a bachelor degree in International Relations from the United States international University in Africa. She has worked at the Ministry of Foreign Affairs in Kenya, at Americorp VIP, and at Mama Fauzia Children's Orphanage. She is changing to a nursing career because she has a passion for helping families and children. Her story is very uplifting.
Thursday, Oct. 22, 2020, 1 pm, Treasures in the Attic
Our October Zoom program will be hosted by Brian Feron on October 22nd at 1:00p.m. Brian will share with us the treas- ures found in the attic of the McDowell- Phillips house which is being restored by the Medina County Historical Society. The items include an invitation from Abraham Lincoln to attend his inauguration.
There will be no business meeting just half an hour of fun learning about this histori- cal house where everything was saved. Guests can ask questions on Zoom by using the "Raise Hand" feature. Alanna Arnold will set up the Zoom meeting and will send the link to join the meeting to all members by October 21.
Thursday, Sept. 24, 2020, 1 pm, Elections and Your Vote
Thursday, September 24. at 1:00 PM Carol Lawler from the Medina County Board of Elections will speak about the many methods of voting and how your vote is secured.
This will be a Zoom meeting with Alana Arnold as host. There will be a question and answer session after Carol's presentation. In order to participate in this you will need to use the "raise your hand" feature in zoom.  Please join us for this non-partisan look at our voting system.
Past Programs, 2019-2020
June Meeting: Basics of Investing, June, 25 at 7 pm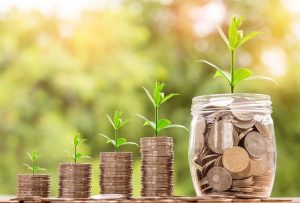 There was a virtual meeting on Thursday, June 25, 2020, at 7:00 p.m. The Zoom meeting was hosted by our speaker Sue Kozak who discussed "The Basics of Investing."
May 28, 2020 – 6:00 p.m. — Spring Banquet –
Our annual Spring Banquet is when we can enjoy a sit-down dinner while we recap our year, announce our scholarship winners for 2020 and install our officers for the next year. Unfortunately, this year, our Branch Annual Meeting and Dinner has been cancelled due to the current health crisis.
March, April and May Meetings have been cancelled.

February, 2020 – The 18th Annual Black History Month Celebration 
"This year's event acknowledged and saluted the Black Veterans of the United States of America Armed Forces who fought and continue to fight for all of our freedom even when they had or have none of their own," announced Kim Oliver, Medina Branch Diversity Chair. The program was highlighted in a recent edition of The Medina Gazette.
The Black History Month program, which has become a tradition in our community, was held Thurs., February 20, at the Second Baptist Church, 451 Bronson St., Medina. Co-sponsors with AAUW were the Second Baptist Church and Fellowship Baptist Church.
From Civil War regiments to Tuskegee Airmen and in present day military incursions, black soldiers have distinguished themselves with valor; they were celebrated in song, poetry and historical readings.
The Claggett Middle School Choir, the Medina Community Choir, and Local VFW #5137 also participated in the program. A "pick-up" community choir sang that evening, having come to the church an hour before the program for practice. AAUW members brought plated snacks and dessert items to the Fellowship Hall for serving following the program.
Oliver chaired the program with assistance from branch members Kathy Kraus and Alanna Arnold, and Pastors John and Senesa Peterson of Fellowship Baptist Church and Arthur Ruffin, of Second Baptist Church.
Also, our thanks to The Foundry (formerly High Voltage Indoor Carting) for allowing us to use their parking lot for overflow parking.
January, 2020  – Healthy Choices for YOU (and the Environment).
With guidance from branch member Carol Thombs, a dedicated environmentalist and former science teacher, thirty of our members learned to discern what materials can be recycled, what can be reused, what is safe for the environment and what products should be avoided.
The program, held January 23 at the home of Cheri Ingraham,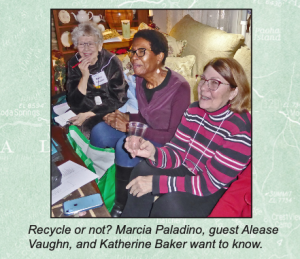 was a "hands-on" learning experience for all. Thombs assigned people to groups, and armed them with a bag (reusable) with various kinds of trash items from "paper" plates to wrapping paper. and take-home containers. They were to decide how these products would be classified and record data on their whiteboard. They considered paper with/without coatings, stamped recycle markings on the bottom of the product, shape and condition.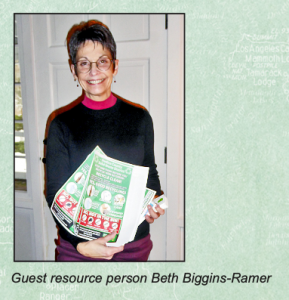 On hand to answer questions on what is being recycled locally was Beth Biggins-Ramer, Solid Waste Coordinator at Medina County Solid Waste District. "Recycled items are commodities, and as such are bought and sold so they need to conform to certain standards," she stated.
Thanks to Carol Thombs for preparing the program, Beth Biggins-Ramer, Solid Waste Coordinator, Cheri Ingraham for hosting in her lovely home (she used regular plates and table service and cloth napkins) and to the members who provided snacks/ treats with no single-use plastics.
DECEMBER MEETING- AAUW Medina Branch December Diversity Dinner

Thank you to everyone who generously gave money or gift cards to The Children's Center last month. The final total, $530, helped provide Christmas presents for children served by the Center during the holiday. Our members really came through again!

Guest presenters with the International Student Exchange program – Garance Deret, from France, and Pareeda (Beam) Techawongprasert, from Thailand—were welcomed at the branch Diversity Dinner, held Dec. 10 at the lovely holiday decorated home of President Alanna Arnold.

Deret, enrolled as a senior at Medina High School, is from Joinville de Pont, France, a commune in the SE suburb of Paris. She has a special interest in graphic art and has taken Advanced Drawing and 3-D Art and Design as courses this year. Outside of school, she was enrolled in ballet at Medina Centre for Dance Art and was preparing for an upcoming recital. She has four siblings and has been studying English since grammar school, with the hopes of teaching English. Duret is staying with Kate Owen and family on East Washington St. in Medina.

From a city with a metro area population of over 14 million persons, Pareeda (Beam) Techa- wongprasert calls Bankok, Thailand home. Beam, as she likes to be called, is being hosted by the Lorton Family and is a senior attending Wadsworth High School. Her favorite subjects are math and science and she is considering a career in engineering. She, too, is interested in dance, and has had training in traditional Thai dances.

She commented about her new "American look" –blonde hair, which she has been trying out, and which her parents would be surprised at. "Our schools are more strict back home; kids wear uni- forms and cannot change their hair color."

American kids more dependent on using cell phones, the girls stated, saying that in their home schools, electronic use was more regulated. Both young women are finding Americans friendly and hospitable and have enjoyed being a part of the international experience. They were looking forward to school vacation and getting to participate in more activities, including some opportunities to travel out- side the area.

The ISE has been bringing together ex- change students and volunteer host families for nearly 40 years. Students arrive in August for the 10-month program and stay through the school year, Hamilton has been with ISE since 2007 and currently has 12 exchange students that she is responsible for in Medina and Summit County.

The branch thanks Alanna and Jack Arnold for generously opening their home for the dinner meeting and Jill Heck and her assistants for setup and prep work: Mary Lou Euse, Donna Hamilton, Jill Morton, Jeri Penn, Judy Smith and the Arnolds. Moravian Star table favors were made by Euse.

October, 2019

 –

Victoria Woodhull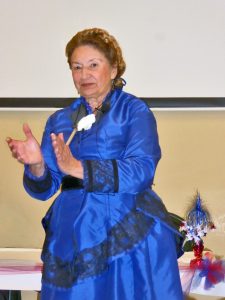 Women did not yet have the right to vote but one outspoken woman, Victoria Woodhull, seeking equal rights and empowerment for her gender put her name out there for president of the United States in 1870.
At the October 24 branch meeting at A.I Root Community Room, Kathy Kraus, our past president (of Medina Branch), who has enlightened many in Ohio with her historical role playing of women who have made a difference, dressed the part of Woodhull to let us Kathy Kraus as Victoria       know about the brash and innovative woman who was first in so Woodhull                             many things.
Not only was she the first woman to have her name on the ballot for president, she was also the first woman to speak before Congress, and the first woman to open her own brokerage firm. After losing to U.S. Grant, she became a staunch advocate for women's health and suffrage. "She was a chaismatic reformer, a wife, a mother, an entrepreneur and a visionary," Kraus added.
"The women who came before us lifted us up. Eleven million women voted in the first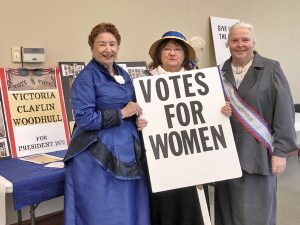 presidential election after they earned the right, including my own mother," stated Annette Barzal. She went on to say that young people of today take these rights for granted and need to realize the struggle that took place.
Barzal introduced Laticia Gerhard, who volunteers with her at the Sharon Township Heritage Society. The women have researched suffragette leaders to create a display at the Society's 1840 House on the Circle  Kathy is Joined by member Annette  Sharon Center (Rtes. 94 and 162). Call for hours to see      Barzal and Sharon Township Historical when it is open at 330- 239-1755.                                            Society Member, Laticia Gerhard 
Prior to the program which was open to the public, members and guests enjoyed a bufet lunch organized by Jeri Penn and provided by ParTake Kitchen Catering. Appreciation goes out to Jill and Bill Heck, Jill Morton and Diane Novotny for help with set up; Alan Penn for technical assistance, A.I. Root for use of the community room, and Alyssa Alfano for her follow-up article and photos in The Gazette.
September, 2019 – 

"

Breaking the Glass Ceiling

", a panel discussion featuring five women in positions of prominence in business and non-profit organizations kicked off the programming for the chapter for this year, Thursday, September 26 at the Medina Library
The program offered insights into how these women rose to their current positions, their thoughts on how to be successful in engaging men and women to find solutions and meet goals, and their views on trends regarding female leadership in Medina County.
We kicked off our year with a lovely Summer Picnic held at the Pavilion at Bunker Hill. While enjoying the great food, this year's BeWISE campers, Adrienne Raglow and Sarah Keller, and family members were our special guests, describing 

their experiences at the week-long STEM camp held at Kenyon College in June. BeWISE camp was started in 1989 by members of the board of directors of AAUW Ohio to encourage girls' interest in science, technology, engineering and math, and was one of the first of its kind in the country.
Past Programs, 2018-2019
May Annual Meeting & Dinner, 2019
The year end banquet was held May 23 at The Tasting Room in Wadsworth. Hospitality Chair Jill Heck made the room sparkle with white and silver balloons table decorations.

President Kathy Kraus took us on a "trip down memory lane" as she reminisced about the two years of her presidency. She announced the awards we earned from AAUW Ohio, including the Daffodil Diversity Award, second place for newsletter, an award for promoting
AAUW activities, and a citation from the city of Medina for our participation
in Bicentennial activities. She thanked all the board members and committee members for their help by giving them a beautiful rose. Past President Cindy Weisheit officially installed our officers: Alanna Arnold, President; Jeri Penn, Vice President for Program; Kathy
Kraus and Anne Gates, Co-Vice Presidents for Membership, and Katherine
Baker, Secretary. We are looking forward to an exciting biennium
with their leadership. 
Cheri Ingraham, Scholarship Committee Chairperson, introduced our scholarship winners: Jeanne Merchant and Ashley Powell. Each will receive $1500 for academic expenses. This is the second year we are helping Jeanne, and she expressed her sincere gratitude
for the support. Mary Baker showed a power point with photos of past AAUW events and projects. The video was made for our 50th anniversary and was updated to the present.
It was a lovely evening to look back at all we have accomplished this year and also to look forward to new challenges. Our Medina Branch is strong and well. We are a group of women who know how to get things done. We are an important advocates for women in our community. 
April 7, 2019 – Baldwin Wallace Senior Showcase.
Members and quests had a full day planned that featured:
a delicious buffet luncheon at Strosacker Hall,

a pre-Broadway showing of the Musical Arts Department's Showcase with talented seniors ready to make their marks in the entertainment world,

and a tour of the Boesel Muscial Arts Center and the Conservatory of Music by the dean of the department. Thanks to Lee Nichols for arrangements.
SISTER-TO-SISTER CONFERENCE FOR GIRLS, March 10, 2019
The 20th Sister-to-Sister Conference was held at Medina Hospital. With co-sponsorship from eight other organizations, this year's program focused on the theme, Confidence Is Key. Featured presenters were Samantha Ponomarenko, founder of Buckeye Blanket Buddies project, and Susan Russell, Psychologist, certified trainer and PiYO instructor. See Sister-to-Sister
FEBRUARY 2019, BLACK HISTORY MONTH PROGRAM
The 17th Annual Black History Month Program was held in partnership with Second Baptist and Fellowship Baptist Churches on February 21.  The program celebrated African-American culture in song, dance and personal contributions. The middle school choir, a "pick up choir", a praise group and little dancers highlighted the evening.
JANUARY 2019 BRANCH MEETING/ PROGRAM
We met at the home of member Alanna Arnold to hear about "The WOW of Wetlands." Carol Thombs, branch member and retired science teacher, presented an interactive session on the importance of these natural resources in maintaining global balance.
Earlier meetings:
December 6, 2018. Annual Diversity Carry-in Dinner was held at the home of Jill Heck. Members showed off cooking skills with various ethnic dishes on the buffet table. Guest speaker for the evening was Tanaka Chingonzo, a student from Zimbabwe attending the College of Wooster.
September 27, 2018.  We met at the University of Akron's Medina County University Center to learn about how AAUW's national outreach programs, START SMART and WORK SMART, are improving women's lifetime economic earnings potential. Members expressed interest in pursuing this outreach effort further in cooperation with a local university.
Past Programs, 2017-2018
In May, Members enjoyed an end-of-summer picnic at the pavilion at Bunker Hill Golf Course. Highlights of the evening included hearing from our BeWISE Campers.
In April, members and guests celebrated our year's activities, recognition of the 2018 Non-Traditional Scholarship Winners and elected officers. Beverly Jones, Master Gardener Volunteer from the OSU Extension Office presented on "Gardening like Monet."
"Testing Orion: The World's Next Crewed Vehicle" was presented by Cloverleaf alumna and NASA Senior Project Manager, Nicole Smith on March 22. She discussed the Orion spacecraft — NASA's new interplanetary spaceship that will launch atop the world's most powerful rocket to take astronauts on a journey of exploration throughout our solar system. The Space Launch System rocket with Orion is targeted to launch from Kennedy Space Center in late 2019.
AAUW advocates for STEM education. On the national, state and local scene, we are leveling the playing field for girls and women in science, technology, engineering, and mathematics.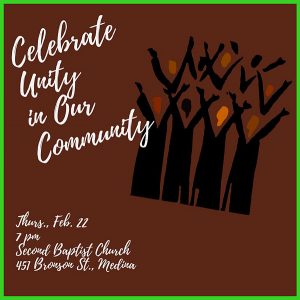 About 300 enthusiastic persons of all ages filled the Second Baptist Church on February 22 when we  "Celebrated Unity in Our Community," AAUW Medina Branch's 16th annual collaboration with members of the church for Black History Month.
An impromptu Diversity Choir formed for the evening from interested participants who came about an hour ahead of the program for a brief rehearsal. Vocal music, drumming, artwork, traditional African dress and short remembrances from several spokespersons from the community added to the celebratory spirit. Refreshments were served in the community room after the program.
Thanks go to AAUW Branch President Kathy Kraus and Vice President Donna Hamilton, Second Baptist Pastor Arthur Ruffin, Fellowship Baptist Church, Claggett Middle School, Garfield Elementary School, Sharon Elementary School, Medina Mayor Dennis Hanwell, Medina Chief of Police Ed Kinney and others for their help in planning this year's program.
EVENT JOURNAL
September 27, 2018. , We met at the University of Akron's Medina County University Center to learn more about how AAUW's national outreach efforts "START SMART" and "WORK SMART" are improving women's lifetime economic status.
The Annual Meeting and Spring Banquet on May 17, was the last meeting of this fiscal year.  Programming featured Beverly Jones, Master Gardener, on "Gardening Like Monet" at the Rustic Hills Country Club. Recipients of the AAUW Non-Traditional Women Scholarships were introduced; officers were elected.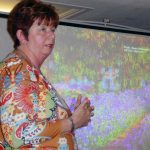 Beverly Jones
"Testing Orion: The World's Next Crewed Vehicle" , an overview of how the project came about and is moving forward, was presented in March, 2018 by local Cloverleaf alumna and NASA Senior Project Manager Nicole Smith.
January is HUMAN TRAFFICKING AWARENESS MONTH. Medina Branch is part of the Medina County Human Trafficking Awareness Coalition which sponsored the HUMAN TRAFFICKING WORKSHOP on Jan. 25. See our page Human Trafficking Awareness.
---
 Medina County Branch hosted a program on January 2018, "Ohio Tales of the Titanic," featuring author Mary Ann Whitley, co-author of a book by the same name.
She highlighted NE Ohio connections to the passengers of the ill-fated ship as well as their links to area residents. A tea table, resplendent with a silver tea service and sweet samplings of tea-time treats that could have been served on the ship was set up by branch committee persons. Annette Miller, our "resident" antique collector and expert on jewelry and accessories of the early 20th Century, brought a display for visitors to enjoy. About 100 persons attended to fill the meeting rooms at the Medina Library.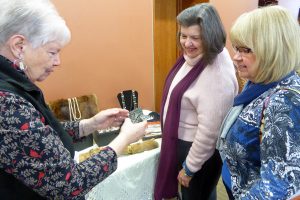 Annette Miller shows a beaded purse to attendees
September 28, 2017
Julia Shearson, Executive Director of the Cleveland Chapter of the Council on American-Islamic Relations (CAIR), presented on "Today's Muslim Women: Being Muslim in America" at the September branch meeting.
The meeting, with a catered dinner from Miss Molly's Tea Room, was held at the A.I. Root Company Community Room  with 34 persons attending the dinner and another 20+ arriving for the program which followed.
Shearson has served for 14 years as CAIR's Executive Director and focused on civil rights advocacy, educational outreach, and media and public relations. Her goal is to help dispel stereotypes of Islam and Muslims and to bring together people of all faiths to work for the common good. She holds masters degrees in linguistics from Ohio University and in Middle East studies from Harvard University, and a bachelor's degree in East Asian languages and cultures from Columbia University.
Assisting Shearson with the final part of her presentation and the question & answer session was Dr. Najia Usman, who has her endodontic practice in Medina.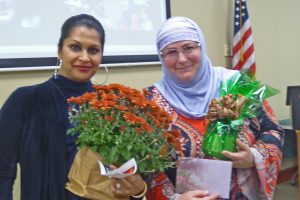 While the two women presented contrasts in appearance and family background, they were sincere in their beliefs and contributed to our understanding of a segment of our population that is becoming a larger part of the American culture.
October, 2017
"Deeper in Debt: Men, Women and Student Loans"
Download the 2017 AAUW Research Report, Deeper in Debt: Women and Student Loans.
Our panelists:    Aaron Collier-Calafato, monologist, writer, podcast host, and spokesperson/ public relations director for University Circle Methodist Church. Leah Sakacs, member of the Youngstown Branch AAUW and Younger Women's Task Force, a national director of AAUW, and volunteer Services Coordinator AmeriCorps, Habitat for Humanity/ Mahoning Valley. Barbara Taylor, retired elementary and gifted teacher at Cloverleaf Schools. As parents of twin sons who have recently graduated from college with large student debts, Taylor and her husband–also a retired educator–are now working several part-time jobs to help pay off loans. Paula Maggio, AAUW Medina Branch Co-Vice President for Programming, served as moderator. Maggio is Newsletter Editor and Communications Chair for AAUW Ohio, a writer and journalist who has taught women's studies at the University of Akron and Kent State University.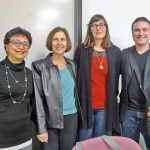 December, 2017
Diversity potluck dinner at the home of member Jill Heck. Members brought a dish to share. Guest for the evening was a student from Japan studying at the College of Wooster who discussed her transition to U.S. culture.
---
HIGHLIGHTS OF PROGRAMMING, 2016-2017
In September, Joann King, local historian and author, discussed her latest publication, Medina County Coming of Age: 1810-1900, with a focus on notable women throughout the era.
October: Info session and panel discussion on what our local schools are doing to enforce Title IX.  (See summary below.) 
November 2016, : AGENT OF CHANGE AWARDS BREAKFAST, at Williams on the Lake. (see tab for Agent of Change.)
December: ANNUAL DIVERSITY DINNER (Carry-in) at the home of member Jill Heck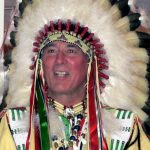 Program: John Burke, Medina County Treasurer and historian.
January, 2017: OUR ANTIQUES ROAD SHOW.
February: BLACK HISTORY MONTH PROGRAM, in conjunction with Second Baptist Church.
March: OUR WEDDING DRESSES THROUGH HISTORY.
April 26-29: ANNUAL USED BOOK SALE. All members.
May 18, : ANNUAL DINNER MEETING, Officers and Committee chairs reported on events of the past year; officers were elected; annual Non-traditional Women Students Scholarships were awarded; program – "Children as Songwriters" with Thomas Sigel.
Summary of Title IX Panel Discussion and Program, October, 2016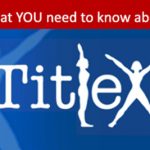 Three educators in varied levels of leadership in Medina County schools offered a candid appraisal of Title IX for members and guests attending the October 27 general meeting at Medina Library.
Under the guidance of moderator and organizer Paula Maggio, Co-vice President for Programming, Dr. Andrew Hill, Wadsworth City Schools Superintendent, Jeff Harrison, Medina High School Principal, and Jessica Toocheck, girls head softball coach and teacher at M.H. S., presented an enlightening panel discussion.
Hill, in his third year as superintendent, is capping his career in education as an elementary school teacher, middle school principal and school district superintendent. He earned a BS and M. Ed from the University of Toledo and his doctorate from Seton Hall University. He and his wife Dawn, also a teacher, live in Wadsworth.
With eight years at Medina H.S., Harrison served as Athletic Director and now Principal. He also held various positions within the Cuyahoga Falls City School District. He holds an undergraduate degree from the University of Akron and a Masters from Kent State. He resides in Montville Township with his wife Pamela and sons Ty and Ryan who attend Medina City Schools.
Toocheck played softball at MHS, went on to become Mid-American Conference Player of the Year at Kent State, spent two years playing professionally with the Akron Racers and then returned to MHS as assistant coach. Named head softball coach in 2001, she has taken the team to the Division I State Tournament. She was inducted into the Kent State Varsity "K" Hall of Fame earlier this year.
Maggio: What do you see as the benefits of Title IX–for both girls and boys?
Harrison: It brings equity to the forefront both in and out of the classroom, it has provided a new focus as far as facilities and numbers of teams, and it has influenced our hiring practices.
Hill: It's been positive. It creates a means by which individuals can file complaints and provides a non-retaliation clause for people who do so.
Maggio: Does your school conduct a Title IX compliance review?
Harrison: There is an audit of the Athletic Department whenever a new sport is added. Medina has 22 varsity sports and we keep equal access across the board.
Maggio: What do you think is the biggest issue preventing the full implementation of Title IX in our schools today?
Toocheck: We need to push the bar higher and to have the boys rally around the girls to show support for their programs so that both can succeed. We can have more interaction and partnering.
Hill: The challenge is that we must provide a safe, secure environment for ALL students, regardless of gender. With this issue, there are many attitudinal problems to deal with. We need to keep a good balance for male and female students and teach acceptance to views that may not be so popular. It is a continual, evolving process..
—–from Medina Branch Newsletter, Nov.-Dec. 201
---
---
PROGRAMS 2015-2016
AUGUST: Membership Picnic, Krabill Shelter, Medina County District Parks
SEPTEMBER: Wine and Cheese "Meet and Greet"; special visitor Nicole Ward, member of the Cleveland Branch AAUW and AAUW-Ohio College/University Chair.
OCTOBER: AAUW community partnerships: representatives from the Children's Center, Coalition Against Human Trafficking and the Battered Women's Shelter highlighted their missions and AAUW involvement.
DECEMBER: Annual Diversity Carry-in Dinner. Members of the Medina Diversity Project joined us for dinner and discussed the progress of this community based group since its inception at last year's Black History Month's "Community Conversation."
FEBRUARY: Black History Month program in cooperation with Second Baptist Church. Margaret Mitchel, President and CEO of YWCA of Greater Cleveland led a discussion on "It's Time to Talk", a follow up to last year's session "Does Race Matter?"
MARCH: Where is AAUW going with STEM programming? Karen Sands on the latest AAUW reports and an overview of the upcoming Tech Savvy program.
MAY: Tameka Taylor, President and Owner of Compass Consulting Services on "Can Women Really Have It All"?
---