Medina Branch Collects Honors at 2020 Virtual State Annual Meeting
We did it again! Medina County Branch members have reason to be proud as once again our branch took home honors at the AAUW Ohio annual meeting.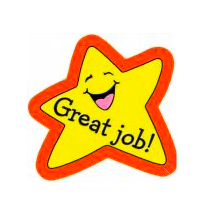 While sheltering in place rules were in effect in our state, delegates from 16 branches met online to carry on state business, elect state officers and be acknowledged for numerous awards.
Awards received by the Medina Branch this year were:
Best Website Feature Event: Sister- to-Sister; Mary Baker, website manager
Best Newsletter – large branch: (tie with Middletown Branch), Pat Chaloupek, editor
The Social Media Award: Best Facebook page. Pat Chaloupek, site manager
First place for "Diversity and Inclusion", Kim Oliver, chairperson
And the STARZ award for all-around efforts – we have won this every year since it was first given; submitted by President Alanna Arnold
Cindy Weisheit, one of the delegates, commented that because 66 people were registered, logging in on the "Zoom" meeting took a long time and the meeting lasted about two hours. Other delegates to the session were Alanna Arnold, Katherine Baker, Anne Gates and Jeri Penn.
Candidates for state office were introduced and elected at the meeting. They include: Mickey Radtkie, Toledo Branch, President; Chris Fowler and Marlene de la Cruz-Guzman, Athens, Co-Program Vice Presidents; Linda Lehman, Greater Cleveland Area, Membership Vice President; Naykishia D. Hand, Bowling Green, Fundraising Vice President; Debby Stein, Circleville, Secretary.
There was no candidate at the time for Finance Officer. A nominee has since emerged and will be voted on at an upcoming meeting of the joint Board of Directors, according to outgoing President Nancy Stellhorn.
A slideshow of projects and results of awards will be posted soon on the state website. Awards will be formally presented at the fall summit/convention scheduled for September 12.
---
AAUW Ohio Convention 2020 Rescheduled…
          AAUW Ohio is watching developments of our current health crisis as we project when we might gather for a combined Convention 2020 and Fall Summit.  Assuming now that the bans on gathering will ease by fall, the Ohio Board has chosen a September date. Please save September 12, 2020 to plan to gather at the Quest Polaris Conference Center in Columbus.
          We have confirmed the new reservation date at the venue. Our speakers are willing to change their commitment to September 12. If you were sorry to miss our keynote, Lisa Maatz, you will have a chance to renew her acquaintance on September 12. Michelle Wilson and Dr. Cynthia Anderson have also assured availability on the new date.
          The board anticipates that the cost of the combined convention and summit will remain the same as convention alone. Those who have already registered for Convention 2020 may choose to leave their registration in anticipation of the fall event or they may email president.aauwoh@gmail.com by May 1 to request a refund.
Reprinted from an email sent to the AAUW membership, March 20, 2020 by Nancy Stellhorn, President, AAUW Ohio
Convention 2019, Recognition
 Medina County Branch received honors at the AAUW Ohio Annual Convention held in Chillicothe at the beginning of April.  We were one of two in the state recognized as best "Overall Communications – Newsletter, Website, Facebook"; we earned the "Daffodil Diversity Award", a philanthropy award for contributing to Tech Savvy Funds and the Starz Award for branch practices with a maximum number of "glitter points" earned for twelve straight years. We also were acknowledged for achieving outstanding membership growth with the most number of new members in the state. "It's been a good year!" commented Kathy Kraus, branch president, "And Medina Branch has much to be proud of."
AAUW-Ohio Convention April, 2018, Chillicothe.
AAUW-Ohio Convention, May 2017
Medina County Branch was recognized by the state organization with four awards: The STARZ Award, the Daffodil Diversity Award, Philanthropy, and First Place in Communications (large branch). Attending from the branch were Paula Maggio, Jill Morton and Pat Chaloupek.
Breakout Sessions: AAUW Ohio Equity Day and Convention, May, 2017
Karen Duncan and Kali Lawrence, Presenters

Springfield Branch Spotlight: People for Safe Water
AAUW members and the local activist group PfSW (People for Safe Water) have been working to eradicate a severe pollution threat to the aquifer that serves the Springfield area and flows south towards Dayton, Cincinnati and the Ohio River. Members have been putting pressure on the Waste Management Company, the EPA and other agencies to remove or neutralize the effects caused from 55-gallon drums of hazardous industrial waste being deposited in the 1970's in a landfill on the outskirts of the city and just 3 miles from Springfield's well heads. Close to finalizing a solution which will extend protection with added liners and fill, the citizens group, Springfield Promise, reported on steps taken up to this point. Duncan offered this advice to citizens groups:
1. Be fearless and "do your homework"
2. Persevere – you can be in it for the long term
3. Celebrate any successes, victories, however small they may be
While the group and the City of Springfield are on the verge of finalizing a compromise with the EPA, no one is certain that when the plan is approved and finally placed on the "National Priorities List" for government support, the funding will be available to effect the change.
Joanie Calem, Presenter :
Concert Conversations on Autism and Inclusion
Joanie Calem used song – accompanying her original songs with guitar – to create a message about the "invisible disability" of autism. After her son was born, Calem knew that he did not have a neurotypical brain; he processed words, thoughts, and sensations in a different way from most people. When her son was three years old, she moved her family from Israel to the U.S. because she was led to believe that science here was on the verge of finding "cures" for autism. Now that her son is in is 20's, she knows that there was no cure, but rather there were only ways to find paths to trigger better understanding. Calem's songs, including "The Deer Know", "You Have No Idea", and "Everybody's Good at Something", are an attempt to teach compassion to all – not just to those with special needs. "We need to develop an introspective culture," she said, "to try to understand what those of us who see things differently are going through." She travels extensively on her mission to create awareness of sensory processing disorders.
Dr. Antoinette Miranda and Meryl Johnson, Presenters

An Inside View of the State School Board
Dr. Miranda, with a B.S. in Psychology and M.Ed. and Ph.D. in School Psychology, was elected last fall to represent District 5. She is Professor and Director of the School Psychology Program at Ohio State University and has worked as a school psychologist in urban, suburban and rural districts in Ney York City as well as Ohio and Kentucky. She decided to run for school board when she was approached by the Ohio Education Association and because she believes the board should and can help students succeed academically and behaviorally. Some of the issues she sees that need to be addressed: lack of oversight for charter schools, "vouchers", too much reliance on testing, how to get vulnerable kids to succeed, wealth inequity in school districts, and the need for students to be open to diversity in dealing with people who are different from themselves. A lot to address in a term of four years!
Meryl Johnson, a 40-year veteran teacher, is a lifelong resident of Cleveland representing District 11 on the Board of Education. She attended the Cleveland Public Schools, graduated from Kent State University with a degree in Language Arts, Oral Communication and Drama, and taught her entire career in Cleveland middle and high schools. She served in leadership positions in the Cleveland Teachers' Union. A long-time advocate for public education, she has spoken up for low income and minority children. She sees a tremendous differential in school districts because of school funding based on property taxes. "The best teachers in the world cannot make up for the inequity caused by poverty," she stated. Johnson ran for school board because there were no minorities represented on the board and "a large segment of Ohio's families are not having their stories told, and therefore are not getting their educational needs met." She was also concerned about seeing a trend to support "for profit managers" of charter schools and she was "tired of the movement to privatize education." She deems the movement to privatize schools is a campaign "by the wealthy to keep the wealth" and will push for accountability and transparency by these institutions.
These two women add diversity and new perspectives to the 19-member Board. We expect to hear more from them as they make their presence felt.
—–Summarized by Pat Chaloupek