AAUW Medina County has been in the forefront of creating awareness of this issue, both in programming to inform residents of the pervasive problem and in the formation of the Medina County Coalition Against Human Trafficking.
We maintain a membership in the Coalition, have representatives at its meetings and programs and actively work to support its mission. We sponsor teams who routinely call on area hotels/ motels to deliver recent publications of missing children and touch base with hotel staff about human trafficking information.
Due to the current health crisis, all activities with the Coalition Against Human Trafficking have been suspended, announced Carol Thombs, branch liaison, and visits by the SOAP teams to area hotels are curtailed until further notice. The summer Nate Vermote Run/ Walk for Freedom is no longer under the direction of the Childrens' Center.
At this time, the Board encourages members to renew and offer to interconnect with others in the branch by signing on to one of our active committees: membership, programming, Sister-to-Sister, or public policy.
The next Coalition Against Human Trafficking meeting will be on Thurs., February 20 at 6:00 pm at the Children's Center. A new member orientation for human trafficking will precede the meeting at 5:30 pm. This is open to all who are interested in working to eliminate this fast growing criminal activity.
The 10th Annual Ohio Human Trafficking Awareness Day at the Statehouse in Columbus will be on February 27; registration is at 8:30 am. The event is being hosted by state Senator Teresa Fedor (D-Toledo) and state Representative Tavia Galonski (D-Akron) The program will focus on how the opioid crisis has impacted and increased the risk of human trafficking and will conclude at 4 pm. There is no charge to attend, however, you must register on line and if you wish to order lunch, you must order it ahead on line. Lunch charge is $12 + a service fee. No lunches may be purchased the day or the event. Please let Carol Thombs know if you are interested in going: 330-421-1932, cgthombs98@gmail.com.
SOAP Training: A SOAP training is being scheduled to take place in Medina at 4 pm on Wednesday, February 19 at a location to be deter- mined. The training is approximately 1 to 1 1/2 hours. You are invited to become a part of this worthwhile volunteer group. Teams go out once a month to visit the hotels. Teams formed are large enough so that you aren't obligated to go each month, and times are scheduled to accommodate the team members. To sign up for training, call, text or e-mail Carol Thombs.
Trafficked girls were rescued in November and December from two hotels in Strongsville that are being serviced by one of our Medina SOAP teams.
The HT Coalition now has a agreement with the Summit/ Medina Counties Rape Crisis Center and RaHab Ministries for housing for juveniles.
The Medina County HT Coalition is considering expanding into Wayne, Holmes, and Ashland counties. Wayne and Holmes are struggling and need help and Ashland County has nothing. This expansion can happen only if we receive a grant.
Finally, totals are in for the 2019 year. The HT team has worked with 1,006 minors and 737 adults. Editor's note: SOAP (Save Our Adolescents 

from Prostitution) is an outreach program started 

by Theresa Flores, a trafficking survivor and social worker/interventionist. AAUW Medina County Branch has been a member of the local Coalition since it was started.
Past Events
2019's Human Trafficking Awareness Event was held in January at the Comfort Inn in Wadsworth. Presenters Suzanne Lewis-Johnson and Greg Colbeck represented RAHAB (Reaching Above Hopelessness And Brokenness) of Akron. Lewis-Johnson, now CEO at RAHAB is a former FBI Agent; Colbeck is Operations Manager. Attendees included paramedics, health care providers, social workers, law enforcement personnel, court officers, volunteers and hotel staff.
Medina Branch was a sponsor of the 4th Annual Nate Vermote 5K and 1 mile Run/Walk on July 29 to support the Medina County Coalition against Human Trafficking. Members and spouses participated in the walk/run and served as event assistants.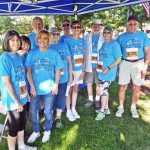 The 2018 Human Trafficking Awareness Workshop spotlighted  Dr.Tanisha L. Knighton, independent consultant and national trainer from Cleveland. Her experience with missing children, with the courts and law enforcement enabled her to share a view of human trafficking from the inside. Frank and at times "unsettling", she brought this ever-growing industry to light with photos, headlines and terminology.
The Medina Coalition Against Human Trafficking held its 2017 Awareness Workshop on April 20. Attending were over 100 teachers, social workers, EMT personnel, persons in law enforcement and other interested members of the community. Carol Thombs and Pat Chaloupek represented AAUW; Thombs is also a member of the Coalition and serves as SOAP chair, making sure that area motels are regularly visited with updates on missing children and furnishing them with mini bars of soap imprinted with the HT hotline.
Keynote speaker was Rachel Kaisk, a survivor who was trafficked from the Barberton area when she was a teenager. A need for love and attention led her into being trafficked, one of the conditions that makes teens susceptible to this crime. She gave a frank overview of her bondage and emphasized that the three ingredients for trafficking are greed, demand and vulnerability.
Important to her recovery was support and counseling given by the Renee Jones Empowerment Center on Cleveland's west wide. Founder Renee Jones also addressed the workshop, emphasizing that "awareness saves lives." The biggest needs for victims are a safe place to go and peer support and counseling. The Center provides a variety of therapies–including horse therapy–and support groups which are similar to AA programs. "It is a lifetime program," Jones said, "helping people to learn how to live normal lives again." Included is prevention, education and awareness, court advocacy and supervision to help victims.
In 2016,  the Coalition sponsored the half-day "Human Trafficking Workshop: Freeing the Modern Slaves," featuring Theresa Flores, author, advocate and human trafficking survivor. She spoke on how teens are targeted and get caught in the business of sexual slavery. She also discussed the origin of the S.O.A.P. Program (Save Our Adolescents from Prostitution) which she conceived as a hands-on outreach program to fight sex trafficking at large events and in communities. We learned how teams in our area are working to disperse information and bars of soap with contact information for the Sex Trafficking Hot Line at hotels and motels.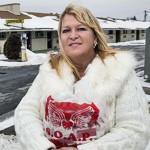 Theresa Flores