AAUW Medina County has been in the forefront of creating awareness of this issue, both in programming to inform residents of the pervasive problem and in the formation of the Medina County Coalition Against Human Trafficking.
October, 2021
SOAP is now an independent group, but it is a close partner of Human Trafficking. The Human Trafficking fundraiser, the Poker Run, was very successful, netting $1800. Alanna Arnold chaired the basket committee responsible for collecting and displaying items in baskets for a raffle. SOAP volunteers collected and/or donated materials for 15 of the 16 Poker Run baskets. The baskets brought in $1200 for Human Trafficking.
Human Trafficking will be offering HT-101 training for SOAP volunteers. A second benefit HT will provide is flash drives with HT-101 training to be given to our Medina County hotels to be used for refreshing their knowledge and to train new staff members. Our SOAP teams also service hotels in Strongsville and Wooster. We need more volunteers on our SOAP teams. We will also need to find another source for materials for hotels outside of Medina County.
September, 2021
The Poker Run was very successful. The final profits will be determined by the end of this month, but there were few expenses, so we are hoping for good results. Our own Alanna Arnold was the chair of the committee for obtaining baskets to be raffled off. Sixteen raffle baskets added significantly to earnings. The SOAP teams assembled and donated to fifteen of those sixteen baskets.
Carol Thombs was the winner of the drawing for the Gift Card Tree, valued at $220. Carol had collected $170 of the gift cards from places she frequents. Donating money for the raffle was a win-win situation for both her and HT.
The next Human Trafficking meeting will be on September 23 at 10 AM on Zoom. Please consider attending. Check with Carol for the link.
---
Two of the SOAP team leaders, Terri Helton and Melanie Sincic, have become ill with COVID, as well as Melanie's husband. While all have started on the road to health, Melanie's husband has a long road ahead to recovery. For August and September Carol is e-mailing the Missing Children Posters to their 16 hotels. There has been an up-tick in the number of COVID cases, particularly the Delta variant, and Medina County is an area of substantially increased infections. SOAP is required to follow CDC guidelines. Therefore, the Medina SOAP teams will be e-mailing the Missing Children Posters and confirming the arrival of and attention to them by phone.
Medina SOAP is now an independent organization. You can check out our Facebook page, and/or e-mail us at Medina-SOAP21@mail.com. We are still working on finalizing our strategies for reporting our hotel visits, increasing our visibility, and identifying ways to raise needed funds. There have been two donations made in the past month: one from Medina Veterinary Clinic and another from an anonymous donation. Donations are going through the Mike Kovack Family Community Fund, a 501c3 fund. We would welcome AAUW members to join our SOAP teams. Training is now available on-line. Contact Carol Thombs (330-421-1932) for more information.
May, 2021
Two of our Medina County SOAP teams visited a total of 18 hotels in Cleveland as part of making hotel staff aware of the potential for human trafficking to occur during the time of the NFL Draft. Posters of missing girls as well as cue cards indicating what to be aware of, and labeled soap and make-up remover wipes were distributed. Stopping the victimizing of girls is the passion of these volunteers. They deserve our appreciation and thanks.
The next big event of the Coalition Against Human Trafficking will be a Poker Run in September or October—date TBA. Participants will drive to different designated places to collect poker cards and to vie for prizes. This could be an AAUW fun event for members and spouses to enjoy our beautiful county and to contribute to the important goal of eliminating human trafficking.
The next meeting for the Coalition will be on May 20 at 6:00 pm. The Coalition is considering becoming a SOAP Project Chapter. Presently we are an affiliate of the Cleveland Chapter. Becoming a Chapter adds responsibilities, but it also has advantages. A vote on this is expected to be taken at the May meeting. All are welcome to join the meeting, and since AAUW has been a leader in the Coalition, our input would be welcomed. Please contact Carol Thombs (330-421-1932 or cgthombs98@gmail.com) for the zoom link.
On May 11 Carol Thombs will be speaking at the AAUW Northeast Ohio Branch (Lake County) Board Meeting. A connection was made through Pat Chaloupek's friend, Jackie Evangilista, who is on that board. A new, but very small SOAP group has been organized in Lake County. Help is needed to be able to make it a viable group. Carol will be informing their branch about the goals and re- sponsibilities of SOAP and how AAUW's mission fits with this. This collaboration is a plus for our branch and theirs as we work together for the good of girls and women.
April, 2021
Changes are happening in the Coalition Against Human Trafficking. Rhonda Wurgler has resigned from the Children's Center. Anna Guy Leach is temporarily acting in her place until a new director is found. In the absence of funds for the Coalition, Bailey Ewing and Beth Ewing have both left the Children's Center as employees. They will continue as volunteer co-chairs of the Coalition.
These events are leading to other changes. New by-laws are being written which will include the SOAP Project as well. By- laws for the Coalition are new and including SOAP is a welcome addition. Committees are needed to do the work of the Coalition. Alanna Arnold has stepped up to be "Basket Chair" to find groups to submit baskets for fundraising at HT events.
The next HT event will be a Poker Run that is planned for September or October. AAUW will consider making a basket to produce much needed funds for HT. Please support Alanna in creating the basket and also the event.
Changes are also happening in SOAP. Nine hotels in Wooster and a 5th team to cover them have been added. Flash drives with training for hotel staffs have been created. Our team members have requested these because of the high turnover in hotel staffs and for refreshers for longer term employees.
The NFL Draft will be taking place in Cleveland April 29 through May 1. An event such as this always draws more human trafficking because of attending men with time on their hands and extra cash. We have been asked to cover hotels in Cuyahoga County that do not have SOAP teams. Members of 2 of our SOAP teams have responded to do this. A big hand to them for their commitment and their passion to eliminate human trafficking.
---
March, 2021
The Coalition Against Human Trafficking began with an order and startup funding from Governor John Kasich for fighting against human trafficking. AAUW was there at the beginning as the Medina County Against Human Trafficking was established. The success of this group can be attributed to the first leader, Rhonda Wurgler, the leader of the Children's Center of Medina County. Later, as a result of a grant to support a full time Human Trafficking Coordinator, Beth Ewing was established as the leader of the coalition. Now, Rhonda Wurgler has resigned from the Children's Center. Because the monies from the grant only support about 5 hours per week for the coordinator of the Coalition and no benefits, our leader, Beth, has taken a position with Alternative Paths. Beth will still manage social media for the coalition and will continue as a volunteer for the Coalition. While Coalition funds will still pass through the Children's Center, the Coalition will belong to itself and not to the Children's Center. This means that the Coalition will be manned almost entirely by volunteers.
The SOAP project is still distributing Missing Children Posters via e-mail. It is hoped that soon we will be able to visit hotels again. A new tool we will soon have is flash drives to be delivered to the hotels. The flash drives will be used to train new hotel staff members and to be a refresher for the current staff.
Volunteers are needed. Training for hotel visits can now be done on-line. We are also looking for churches that will help to support our awareness events that we hope to have in the fall of 2021 and again in January of 2022. Anyone who would like to volunteer or know of a church that would like to help can contact Carol Thombs: 330-421-1932.
February, 2021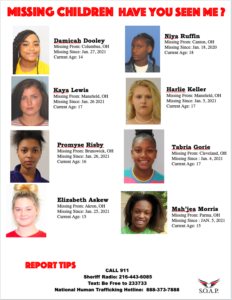 Our AAUW members are very involved in SOAP, (Save Our Adolescents from Prostitution), and the Medina SOAP Project chairperson is an AAUW member. Once a month a poster is created with photos and information about 8 girls that have been reported missing in the previous month. Their ages usually range from 13 to 18. Our 4 Medina SOAP Teams distribute these posters to hotels in Medina County plus 6 hotels in Strongsville. Take a look at the young ladies on the poster and help us rescue missing girls.
January, 2021
Pornhub prides itself for its role in doing good deeds, fighting racial inequality and offering steamy content to get people through the boredom of the pandemic. This is an internet site infested with rape videos, including child rapes and popular pornographic videos of young girls. Pornhub has become the trafficker for some girls. The girls cannot get the videos eliminated from this porn site; the negative effects are many. Reports show that many of these girls have become alienated from their teenaged peers and even their families. Some have even committed suicide. PayPal and American Express do not accept charges for Pornhub, but Master Card and Visa do. Since the Nicolas Kristof New York Times article, "The Children of Pornhub," on December 6, 2020, Master Card and Visa are exploring the use of their cards in paying for the porn. Canada, the home of Pornhub, is exploring the legality of offering the child porn. This information is very new to our Coalition. We should continue to follow this and promote ways to restrict this porn site.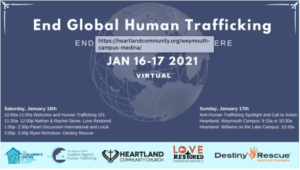 January is Human Trafficking Awareness month, and January 11 is Human Trafficking Awareness Day. Wear blue on the 11th to show your support for our efforts to eliminate human trafficking. On January 16 and 17 our Coalition will be sponsoring a 2-day virtual educational event. Times and program will be e-mailed to you later.
Carol Thombs will be on the panel discussion at 1:00PM for this event. Let's show our support for all she does for human traffick- ing and sign in to watch. You can find information to sign in
at https://hcc.events. Click on "Anti Human Trafficking Spotlight" and then click on "Attend Online."
October, 2020
What all of us need to be aware of is the false conspiracy theory about human trafficking that is being spread by social media. It is being claimed that prominent Democrats and celebrities are kidnapping girls and using them in unbelievable ways.
Unfortunately, many people are believing these QAnon group's conspiracy theories. Facebook and Instagram have decided to remove these posts, however, there are many who still believe this and want to save these girls.
A second Medina #Save Our Children meeting was scheduled for October 10. Medina County has a very successful Coalition Against Human Trafficking with knowledgeable personnel who are working to eliminate human trafficking. If you are aware of anyone who wants to help in the quest to stop human trafficking, please ask them to become involved with the Coalition. The next meeting will be on Thursday, October 15. at 6 p.m. on Zoom. The meeting times on alternate months are at 9 a.m. or 6 p.m. You may contact the Children's Center or Carol Thombs, 330-421-1932 to receive information about the meetings.
On October 3, the Coalition held a parking lot educational meeting to inform the public about human trafficking. In the near future there will be a recording of that meeting available to our interested members.
September, 2020
Last month there were "mis-guided" human trafficking events taking place in many cities, including Medina that were not sanctioned by organized local human trafficking coalitions. Their use of #SavetheChildren or #Save Our Children is meant to attract people to their rally. Save the Children is the trademarked name for an international humanitarian organization that is well known for their works to protect children and is not connected with the local events. Over 200 rallies were held the same weekend in August, and another is planned to take place in October.
This organization may have good intentions to raise awareness of human trafficking; however, the information they project isn't always accurate, and they portray a picture of how children are being kidnapped that is simply not how most children are trafficked. As Rhonda Wurgler stated in a Gazette article on September 1, "Sharing inaccurate information can cause unfounded panic within the community and cause survivors and victims of human trafficking to question if they are truly victims."
It has been reported that these groups have members who believe in QAnon, whose members believe in conspiracy theories such as the one especially circulating in 2016 in which well-known people, such as Hillary Clinton, Oprah, and others are pedophiles that are kidnapping the children. The believers in this have latched onto the #SavetheChildren name. They have spread false information to millions on Facebook and were labeled by the FBI as a possible domestic terrorist group in 2019.
Our Medina County Coalition Against Human Trafficking, which also is not affiliated with #Save Our Children, has been working to raise awareness and to save victims since 2014. Proudly, our AAUW branch has been a member and has had a big role in the success of their efforts. Many of our members have participated in awareness events, have helped raise money through the Nate Vermote Run to Freedom and have been active visiting hotels in our SOAP project. The coalition is open to all community members. There will be a training opportunity in September to learn more about human trafficking, and SOAP in the near future will be offering ZOOM training.
The next Human Trafficking meeting will be at 10 am on Thursday, September 24 at the Children's Center. For more information, contact Carol Thombs at 330-421-1932, or via email: cgthombs98@gmail.com
2019's Human Trafficking Awareness Event was held in January at the Comfort Inn in Wadsworth. Presenters Suzanne Lewis-Johnson and Greg Colbeck represented RAHAB (Reaching Above Hopelessness And Brokenness) of Akron. Lewis-Johnson, now CEO at RAHAB is a former FBI Agent; Colbeck is Operations Manager. Attendees included paramedics, health care providers, social workers, law enforcement personnel, court officers, volunteers and hotel staff.
Medina Branch was a sponsor of the 4th Annual Nate Vermote 5K and 1 mile Run/Walk on July 29 to support the Medina County Coalition against Human Trafficking. Members and spouses participated in the walk/run and served as event assistants.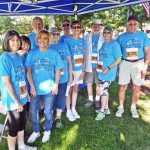 The 2018 Human Trafficking Awareness Workshop spotlighted  Dr.Tanisha L. Knighton, independent consultant and national trainer from Cleveland. Her experience with missing children, with the courts and law enforcement enabled her to share a view of human trafficking from the inside. Frank and at times "unsettling", she brought this ever-growing industry to light with photos, headlines and terminology.
The Medina Coalition Against Human Trafficking held its 2017 Awareness Workshop on April 20. Attending were over 100 teachers, social workers, EMT personnel, persons in law enforcement and other interested members of the community. Carol Thombs and Pat Chaloupek represented AAUW; Thombs is also a member of the Coalition and serves as SOAP chair, making sure that area motels are regularly visited with updates on missing children and furnishing them with mini bars of soap imprinted with the HT hotline.
Keynote speaker was Rachel Kaisk, a survivor who was trafficked from the Barberton area when she was a teenager. A need for love and attention led her into being trafficked, one of the conditions that makes teens susceptible to this crime. She gave a frank overview of her bondage and emphasized that the three ingredients for trafficking are greed, demand and vulnerability.
Important to her recovery was support and counseling given by the Renee Jones Empowerment Center on Cleveland's west wide. Founder Renee Jones also addressed the workshop, emphasizing that "awareness saves lives." The biggest needs for victims are a safe place to go and peer support and counseling. The Center provides a variety of therapies–including horse therapy–and support groups which are similar to AA programs. "It is a lifetime program," Jones said, "helping people to learn how to live normal lives again." Included is prevention, education and awareness, court advocacy and supervision to help victims.
In 2016,  the Coalition sponsored the half-day "Human Trafficking Workshop: Freeing the Modern Slaves," featuring Theresa Flores, author, advocate and human trafficking survivor. She spoke on how teens are targeted and get caught in the business of sexual slavery. She also discussed the origin of the S.O.A.P. Program (Save Our Adolescents from Prostitution) which she conceived as a hands-on outreach program to fight sex trafficking at large events and in communities. We learned how teams in our area are working to disperse information and bars of soap with contact information for the Sex Trafficking Hot Line at hotels and motels.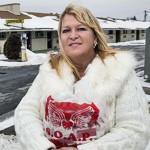 Theresa Flores