The American Association of University Women (AAUW) is a nationwide network of more than 170,000 members and supporters, 1,000 local branches, and 800 college/university institution partners. For over 130 years, AAUW members have examined and taken positions on the fundamental issues of the day — educational, social, economic, and political. Our commitment to our mission is reflected in all aspects of our work.
AAUW's Mission
AAUW advances gender equity for women and girls through research, education and advocacy.
Medina County Branch
The Medina Branch was founded in 1964 by a group of women dedicated to declaring their common interests in encouraging educational activities, cultural activities and personal growth. They were leaders in our community and instrumental in developing long-standing institutions in Medina County, including the Medina Arts Council, the Women of Distinction Awards, home tours, candidates' nights, a scholarship fund for non-traditional women students, an annual used book sale, and the Sister-to-Sister Conference for Girls. Want to know more? Don't hesitate to contact us at our email, aauwmedinaoh@gmail.com. We would love to hear from you!
AAUW OHIO, 2022

by Kim Oliver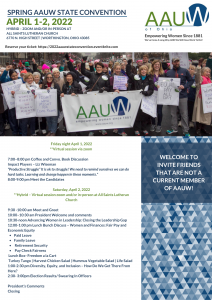 I attended the AAUW Ohio State Convention. This year was a hybrid of in-person and virtual attendance. The Session commenced on April 1, 2022 with Coffee and Convos Book Discussion: Impact Players – Liz Wiseman author of Productive Struggle. "It is ok to struggle! We need to remind ourselves we can do hard tasks. Learning and change happen in these moments." 
Then we met the candidates for AAUW State office. Then, drum roll…Medina Branch was recognized with awards for our service as a Model Branch, and also received the Communication/ Newsletter and Membership awards. We added seven new members this year and increased our total membership by three. 
On Saturday, April 2, was a hybrid in-person/zoom day:  
Meet and Greet

 

President's Welcome and comments.

 

Session on "Advancing Women in Leadership: Closing the Leadership Gap."
Lunch Bunch Discuss – "Women and Finances: Fair Pay and Economic Equity,"
"Diversity, Equity, and Inclusion – How Do We Get There From Here?
"Election Results/ Swearing in Officers. All positions were one choice for which to vote.

 
The convention closed with President's Comments/ Closing/
"Empowering Women Since 1881. We've Come a Long Way AND We Still Have Work To Do!!" 
---
AAUW NATIONAL 
TWO MINUTE ACTIVIST
Send emails and texts to your legislators to fight for equal pay, family leave, stopping sexual harassment, equality in education and more. Sign up to get regular alerts to be able to take timely action. Two Minute Activist
 _______________________________________________________________________________________
Medina Branch Committees
PROGRAMS 2021-2022
May 2022
We enjoyed celebrating another successful year of AAUW events at Miss Molly's Tea Room in Medina. Thanks to Joyce Rynearson and the program committee for organizing this banquet. As you can see from the pictures, a good time was had by all.
Joyce thanked her program committee members for all of their help this past year by presenting them with red roses. We still need a volunteer to serve as Vice President of Programs for the next year. We installed Mary Ogden as our new finance officer and thanked Pieri Levandofsky for her years of service as our finance officer. The other board officers will remain in their positions for a second year. Annette Barzal will serve as chairman of the Be Wise Camp program.
There were no applications for our scholarship this year. So we will bank the funds for future use.
April, 2022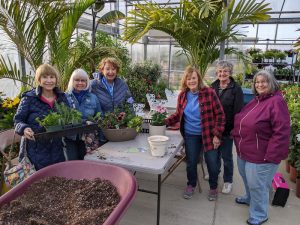 Those of us who attended the membership meeting at Boyert's Greenhouse in April will know what those three words mean! It's a formula that helps create an attractive arrangement of flowers, vegetables a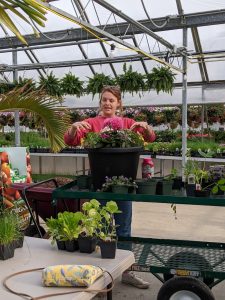 nd herbs in deck and patio pots. By combining tall plants, lower filler plants and cascading plants we learned how to make our planters look "professional " and we had fun strolling through the greenhouses in search of our perfect specimens. Employees answered all of our questions about various gardening concerns before we took off exploring on our own. We learned about choosing soil, fertilizing, watering, pot drainage and pest control as well as which plants deer generally avoided (anything with furry or textured leaves). Best of all, the evening gave us a chance to get together in a safe and relaxed environment, surrounded by fragrant scents and colorful sights! Happy planting, everyone!
March, 2022
AN EVENING IN THE MIDDLE EAST WITH KATHY AND DONNA 
AAUW members Kathy Kraus and Donna Hamilton enjoyed sharing highlights of their "Christian Heritage" trip to the Middle East in a presentation at Medina Library on March 31, 2022. In this Easter season it was interesting to view the Holy Land as it is today and to travel the path that Jesus followed. There are churches on practically every place mentioned in the Bible. These churches are built on ruins that date back to the 1st through 3rd centuries.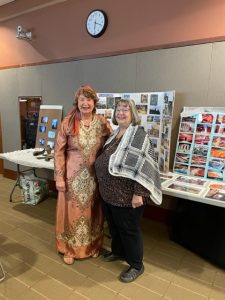 The program took us through the ruins of the Roman city of Caesarea and the medieval city of Acre. One interesting fact at Caesarea was the Statue Square which has headless bodies of the Caesars. Those clever Romans just cut off the heads of the statues and replaced them with the head of the new Caesar as power changed. 
We followed Jesus' life from the Church of the Nativity in Bethlehem to Nazareth, Cana, Capernaum, Galilee, the River Jordan and Jerusalem. The highlight of their trip was the Via Dolorosa, the path Jesus took carrying the cross from the Church of Condemnation where Herod sentenced Jesus and ending at the Church of the Holy Sepulcher at Golgotha, the site of the crucifixion.
We followed Kathy and Donna to the mud baths of the Dead Sea, to Qumran where the Dead Sea Scrolls were discovered in 1947, to a Nazarene dinner at a kibbutz, and a Bedouin camp dinner and camel caravan ride in Jordan. We went to beautiful Wadi Rum where Lawrence of Arabia hid. 
And best of all were the excellent preserved red sandstone ruins of Petra, the ancient Nabatean city that supplied water on the ancient trade routes. It is a UNESCO World Heritage Site and one of the new Seven Wonders of the World. 
February, 2022
"How We Got Here, True History in Song and Story"
By Allison Lee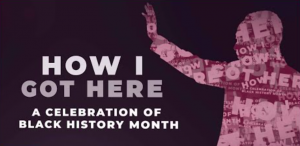 The program was aired by Armstrong Cable on February 17th 2022 (until the end of the month). The taping venue was Fellowship Baptist Church in Medina. The celebration consisted of the welcoming and thanks to all participants by Allison Lee, AAUW Diversity Chair.
Opening prayer: First Lady Senesa Peterson (Fellowship Baptist Church) and the reading of "The History of Sarah Rector, Richest Black Girl in America"
Songs: Voices of Fellowship Choir 1) "We Came this Far by Faith" and 2) "Wonderful is His Name" lead by Pastor Michael Wilson
The true history of "Henry in the Box" performed by Kathy Kraus, past President of AAUW and former Diversity Chair
Song by Mrs. Hawa Buie (United Methodist Church, Medina) "Alabaster Box" by CeCe Williams
Guest speaker: Associate Pastor Dawan Buie (United Methodist Church, Medina) "The Geneology of Pastor Buie: His Cultural Background"
Closing remarks: President, Kimberly Oliver, AAUW Medina
Benediction: Pastor John Peterson (Fellowship Baptist Church)
Thank you to everyone! Special thanks to Michael Tuchek (Armstrong Cable) and his fiancée Michela Bennett. Thanks to Pastor Arthur Ruffian hosting our past Black History Month Celebrations.
And thanks to all the amazing women of AAUW, always supportive and kind.
January, 2022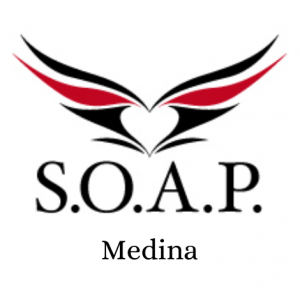 In January we welcomed SOAP volunteer and esthetician, Cindy Chesnik, who spoke to us via ZOOM about her experiences work- ing with trafficked girls. We learned that human trafficking affects girls (and boys) from all walks of life, not just "the down and outs" of society. Predators seek out vulnerable young people, groom them, eventually controlling them through intimidation / addic- tion. Cindy attends weekend retreats where girls who are already in the process of recovery receive support from a team of trained individuals. As an esthetician, she helps girls feel good about themselves which is an important step on their road to rehabilita- tion. According to Cindy, finding religion is a common thread in many of their recovery stories. We thank Cindy for her dedication in helping these girls and wish her and them continued success.
SOAP training is available on-line for anyone interested. Contact Carol Thombs: 330-421-1932 or medinasoap21@gmail.com.
December, 2021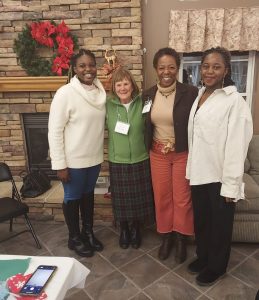 Twenty-three of us attended the 2021 Diversity Dinner at Lexington Ridge Party Center and a good time was had by all! Hospitality chair, Jeri Penn, ordered a delicious buffet from Dominic's which was served by Jeri and volunteers Kathy Kraus and Allison Lee following an invocation by President Kim Oliver. In addition to the entrees, Jeri created individual appetizer cups to snack on and plated varieties of cheesecake for dessert. The room was beautifully decorated by Jeri, Kathy and Allison who put in many hours of work to make the dinner a success— thank you!! Two exchange students from Zimbabwe added to the festivities after dinner. They gave us an interesting and insightful look at their lives in their native country and as students living in America. Many thanks to Carol Thombs for arranging their visit from the College of Wooster. A big "Thank You" also to everyone who was able to attend the dinner. Being together again this holiday season was very special— being "present" with friends was the best "present" in the world!
October, 2021 – Aneta Mullins, Women in the Military
By Joyce Rynearson, Vice-President Programs
US Army veteran and AAUW member, Aneta Mullins, did not disappoint! Her slide presentation that chronicled her tour of duty in Iraq gave us a close-up view of life in a war zone. Aneta's assignment as the driver of a supply truck took her to outposts throughout the country and made her a target of gunfire and IED's (Improvised Explosive Devices). A day that she was alive, had a shower (cold) and a hot meal was a wonderful day!
In attendance was Veterans' Hall Board President Dave Taylor who generously offered us the use of their state-of-the-art facility. The Medina County AMVETS were also on hand to serve beverages while Jeri Penn and Allison Lee offered a variety of snacks.
All in all it was an eye-opening presentation that frankly addressed issues of women who serve with men in combat.
Aneta, a past AAUW scholarship recipient, is currently completing her degree in social work with a goal of working with veterans. We thank Aneta for her service and wish her continued success!
September, 2021 – Lisa Maatz
By Joyce Rynearson, Vice-President Programs
Lisa Maatz, former AAUW Vice-President of Public Relations and current senior advisor at Ohio Citizen Action, treated us to a humorous and insightful evening via a ZOOM meeting. Some of us gathered in person at the Medina Library to watch her on the big screen, munching on snacks provided by the hospitality committee, Jeri Penn and Allison Lee. The evening was also a debut for our new PA sound-system which Pieri Levandofsky successfully set up for us!
Lisa grew up in Hinckley, Ohio and graduated from Highland High School. Her advocacy for women's rights began in third grade when the boys' restroom had doors on the stalls, and the girls' restroom did not. The girls took turns standing in front of the stalls to give themselves some privacy. After getting no results pleading to the principal, she started a petition for restroom doors in purple glitter ink. The girls' restroom got doors! Lisa went on to become a national champion of rights for women and girls.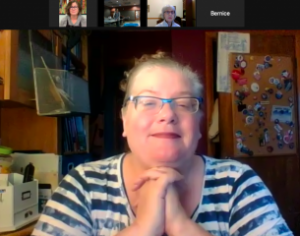 Being a Washington, DC insider for many years, Lisa's stories were fascinating to hear. She answered all questions and offered strategies as to how we CAN make a difference in our community.
August, 2021
It was great to see everyone at our August meeting at Bunker Hill Golf Course. A delicious catered meal and a beautiful evening set the tone for a fabulous evening.
Introduced were our board members for 2021-2022.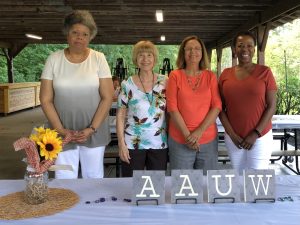 Pictured are: Allison Lee, Diversity and Cultural Activities Chair, Joyce Rynearson, VP of Programming, Pieri Levandofsky, Treasurer and President Kimberly Oliver. Not pictured, Secretary Kim Ortiz, and VP of Membership Bernice Goertzen.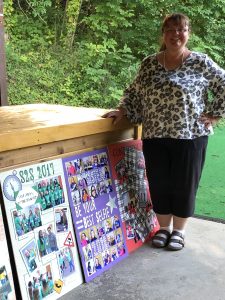 Our speaker was our Secretary, Kim Ortiz, and mother of Sister-to-Sister committee member Olivia Ortiz, reviewed Sister to Sister for this year, and updated us on planning for next year.
ARTS AND EXCURSIONS
While COVID continues to be a problem for gatherings, there are still plenty of events going on around the area which may be of interest to our members. Here are a list of some of our area's cultural gems.
BATTERED WOMEN'S SHELTER
Great Improvements Ahead
Did you know the Battered Women's Shelter has long been a passion of our chapter? We have had a guest room with our name above the door at the shelter. Through the years our members and their friends have found used furniture, painted, purchased privacy blinds, and even installed a kitchen countertop.
Jill Morton and Susan Holbrook arranged our February Zoom general meeting with our speaker, Sarah Krieger, the advancement specialist at Hope and Healing, the Battered Women's Shelter and Rape Crisis Center for Medina and Summit counties. Sarah's heart has always been in nonprofit work. While in college she helped develop Mission Possible, a service program in the Dominican Republic, and she continues as the Director of that program today. Sarah has also served as Executive Director of a multistate agency that places for credit leadership and service classes in high schools. Sarah has been on the team at Hope and Healing for the last three years, and she gave us an informative presentation on this important local group. 
The calls for help at Hope and Healing have increased due to the coronavirus. The increase has been especially large in the Family and Stability Program which helps with finding jobs and apartments. They also serve as the fiduciary for the Human Trafficking Program and provide housing for these victims on an emergency short term basis. The shelter also has room for senior victims affected by elder abuse. They do help men in abusive situations and work with the LGBTQ community. Those who need the shelter cross all ages, races, and economic groups. 
The clothing bank is always in need of donations which can be dropped off at the Medina office at 696 East Washington St. The shelter employs six psychologists, two youth and four adult. They offer skill classes, therapy dogs, and do allow pets. 
They are in process of building a new facility to further meet the demands for help. When it is complete, they will have a "housewarming party" requesting donations for furnishings. They have always been on our AAUW list of charities to support. Sarah expressed appreciation for that support. It was very interesting to learn more about the grass roots functioning of this group. 
About the shelter: The Battered Women's Shelter provides emergency protective shelter for those who otherwise would have no choice but to remain in a violent home. The Medina shelter opened over 18 years ago when championed by Commissioner Pat Geissman. Thousands of adults and their children from Medina, Brunswick, Wadsworth and every corner of the county have come through the doors since its opening. When finished, the Medina shelter will be an environment that encourages peace, while providing respectful surroundings for those that need to stay in the shelter for a few days, or weeks.
Update: The gifts received for the Battered Women's Shelter totaled $1600.00. Thank you so much for your support of the facility. I delivered the checks the first of January and they are so pleased we care about the women and children of Medina County.
---
BOOK GROUP
"Books are a uniquely portable magic." (Stephen King) 
Book Club traditionally meets the first Monday of every month from September through May at 1:00 PM. It has been challenging holding this group together with ZOOM meetings only through the Covid19 times. We lost many of our members because of the technology challenges, but we also kept some out-of-town members because they could participate on ZOOM. We have averaged only about five people at our Zoom meetings. But I think it is time to get back to meeting in person at a member's home. 
I will be glad to host a September 12 meeting at my home at 1:00PM. My address is 205 Patrick John Dr. Wadsworth. Please RSVP at clover725@ymail.com or my cell phone/text at 330-388-9175. This will be an important organization meeting to discuss the future direction of this book club.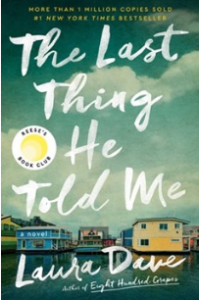 For our summer reading we have chosen a New York Times current best seller, The Last Thing He Told Me by Laura Dave. When Hannah's husband suddenly disappears, she learns that he was not who she thought he was, and has to unravel the mystery of his disappearance with the help of his teenage daughter who hates Hannah. Contact me if you can volunteer to lead the discussion on this book. 
Come prepared to share some of your favorite summer books at this October meeting. Also at this meeting we will discuss book selections for the year. Our rules have always been that you had to read the book to recommend it. 
Some wonderful books I read this summer are as follows: 
The Lincoln Highway

by Amor Towles (author of Gentleman in Moscow which we have read)—A story of a group of 1950's characters traveling this now historic highway who were born into the worst of situations and are settling scores to start over to make the best of their lives.

 

Lessons in Chemistry

by Bonnie Garmus—a 1960's woman who was the only woman in the chemistry class and industry.

 

The Bookwoman of Troublesome Creek

by Kim Michele Richardson—Kentucky version of Where the Crawdads Sing.

 

Life Without Water

by Marci Bolden—A long divorced couple on a western journey of redemption and forgiveness and grief for their lost child.

 

The Bedford Boys

by Alex Kershaw—The most personal war story I have ever read about a group of young men from the small town of Bedford, VA who were the first infantry unit to land on Omaha Beach on D Day.

 
I have been chairwoman of book club for many years, and it is time for some new leadership with fresh ideas. I hope to see a rejuvenation of membership. This book group has a long history. It is one of the oldest book clubs in Medina. It is fun, has an abundance of ideas, is not at all difficult to manage, and is very rewarding with our group of avid readers. Please consider leading this group. Contact me and I will help you. Send suggestions for managing book club or reading recommendations to Donna Hamilton. 
COFFEE AND CONVOS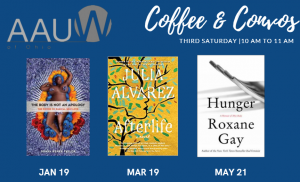 "Coffee and Convos" is the name of a book group from Ohio AAUW. "Convos" is a text slang term for conversations. Now use that new word in a text to your grandchildren and show them how "hip" you are.
May 21, 2022 – HUNGER: A MEMOIR OF (MY) BODY by Roxane Gay (2017)
In her brutally honest and brave memoir Hunger, Gay recounts a childhood sexual assault that led her to purposely gain weight to be unseen and therefore "safe." Gay warns at the beginning of the book that if you're looking for a triumphant weight-loss memoir, this is not it. But Hunger is a triumph nonetheless. It's a story not easily told, but the telling set her free.
Click to register for this on line discussion.
---
DIVERSITY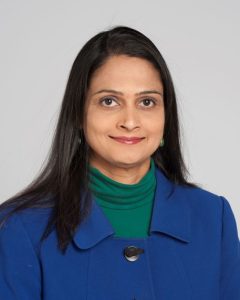 The Medina Diversity Project, in partnership with the Medina County District Library, presents "Knowing Your Hindu Neighbor" on Wednesday, August 10 , 6:30-8:00 PM, at the Brunswick Library.
Dr. Kamala Adury shares the basic beliefs and practices of the Hindu people, common stereotypes and misconceptions, and what it's like to be Hindu in America.
Dr. Adury, a Psychiatrist and Sleep Specialist who has lived in the Cleveland area for 18 years, is very passionate about her Hindu heritage. She is an active member of the Board of Trustees at the Hindu place of worship, the Sree Venkateswara Temple in Richfield. For many years, she has taught children in the religious classes called Prajna. More recently, she has led an initiative to create a new curriculum that would be more appealing to children of Indian origin. She also formed and runs the high school volunteer group at the temple, to help the youth of Indian origin stay connected to their roots. Dr. Adury has her own private practice in Medina called the Center for Behavioral Health and Sleep Disorders.
DIVERSITY BOOK GROUP
DIVERSITY BOOK CLUB FIELD TRIP: ISABEL WILKERSON IN CLEVELAND
–Submitted by Kristie Thomsen 
"July 4, 2022, is the first time the United States will have been a nation for as long as slavery lasted on US soil. It will be 2111 before Africans will have been free in this country for as long as they were enslaved." 
The crowd at the Maltz Performing Arts Center in Cleveland on June 23 audibly gasped in response to this observation by author Isabel Wilkerson. Among those fortunate enough to be there were three members of the Medina AAUW Diversity Book Club and a friend. 
Ms. Wilkerson wrote The Warmth of Other Suns: The Epic Story of America's Great Migration and Caste: The Origins of Our Discontents. The latter was a recent book club selection. She was hosted by the William N. Skirball Writers Center Stage Series, presented by the Cuyahoga County Public Library Foundation and Case Western Reserve University. 
Along with observations from her two books, Ms. Wilkerson's hour-plus conversation included references to the modern consequences of 246 years of black slavery followed by decades of Jim Crow abuse. More than once, she noted the need for a better grasp among Americans of our own history.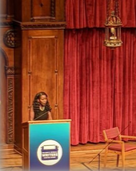 "If we knew our full history then we'd know our country is like a patient with heart disease," she said, noting that once heart disease is diagnosed, we act quickly to fix the damage and prevent it from getting worse. She used similar metaphors in Caste, comparing our country to an old house. 
"In an old house, the work is never done. We choose not to look at the basement, the gutters, or the roof at our own peril. But we did not build the house, just as we did not build the country the way it is now. We didn't build the frayed wires and the rusting pipes. But once we take possession, we're responsible for maintenance and repairs. In the United States, there have been decades of inattention to this old home." 
She added that not enough of us know our history, which is the foundation of our social and political order. 
"Slavery in the United States lasted for 12 generations," she said. Because the vast majority of black Americans were never able to live out their dreams and talents, the country was unable to make the most of its population. It represents a massive loss to people, the country, and the world. 
Revisiting the language of hierarchy that she used in Caste, she said, "If a distinction can be made, humans will find it. Who can be bought, sold, or mortgaged are the metrics of what we now see as race. Enslaved people were assigned to an industrial role in the hierarchy before they even got to America." 
Her event ended with a question-and-answer session moderated by Margaret Bernstein of WKYC Studios. Among the highlights: 
A question about the commercialization of the Juneteenth holiday prompted a revealing story about the symbolism of watermelon in black culture. Enslaved people worked in fields under relentless sun for long days with no pay, no relief, and no water; they ate watermelon to stay hydrated. 
"It was a survival mechanism," said Ms. Wilkerson. Watermelon salad, as featured on an Indiana museum menu on Juneteenth weekend, ridicules this survival strategy, as do many offensive depictions of black people eating watermelon. 
In response to a question about reparation, Ms. Wilkerson said that if people really knew our country's history, they would demand reparations, which would be part of our legal system. 
"Redlining was a response to the great migration," she said. Blacks were excluded from the economy and the American dream. While white families were paying off mortgages and building equity, black families were denied access to the ability to build wealth. 
"Every other group in this country that has been harmed has received reparations," she said, including Jewish people compensated for atrocities related to the Holocaust and Indians driven from their tribal land. Reparations, which of course do not reverse the damage that has been done, should focus on the harm done by Jim Crow. 
Regarding restrictive voting laws, Ms. Wilkerson implored the audience to work with what they know. "Warmth of Other Suns demonstrated that people literally lived the serenity prayer," she said. "That is, recognize what you can change, and change it. We all need to take inventory of our lives, our strengths, people we know, our spheres of influence. In whatever group you are in, it is your responsibility to work there. We're in a space of existential crisis. We need to come together, not as a country but as a species."
The evening ended with a standing ovation from an appreciative crowd. 
By Jeannine Murray
Conversations on Diversity Book Club'
The Conversations on Diversity Book Club's first meeting after taking a summer break, will be held on Zoom on the third Monday in September,  Sept. 19 at 7:00 PM.
Our reading will be a short collection of essays suggested by Robin Hawkins:
"We Will Not Cancel Us and Other Dreams of Transformative Justice" by Adrienne Maree Brown, published in 2020, 88 pages.
I chose this reading publication because it appears to be a short read, relevant to the times. At this meeting, we will also consider some administrative guidelines for the coming year.
Everyone is welcome to stop by on September 19th and add to the discussion. Contact Jeannine Murray, 440.759.8806 (text or phone).
ENVIRONMENTAL INTEREST GROUP

Lor Breyley
Have you heard about Plastic Free Week?
It starts July 1 and now is a great time to start to think about how you can be part of the solution! What started as a small movement in Australia in 2011 has since expanded to more than 150 cities with millions of participants worldwide. The goal of Plastic Free Week is to challenge people to not use any single-use plastics for a week in hopes to help them form more sustainable habits beyond just those seven days.
Tru Earth lives a zero-waste lifestyle free of single-use plastics. If you're up for it, we'd love to have you join us. We promise it won't affect how much fun you can have or limit you in any way – if you want to still live your best life while also avoiding single-use plastics, the key is being prepared. Here are some helpful tools and tips to help you stay plastic free.
BYOC (Bring Your Own Cup)
July is HOT. And there's nothing quite like a cool iced coffee in the morning after waking up with your sheets sticking to your sweaty thighs. To keep your daily coffee shop trip plastic-free, bring along your own reusable cup, thermos or mason jar. Be bold and kindly request your drink in your own container, and feel free to even throw in "I'm challenging myself to not use any single-use plastics!" to spread the word on the movement.
Skip the plastic straw
The average person uses about 1.6 non-recyclable plastic straws per day, plus plastic straws are one of the most common forms of plastic pollution in the ocean. Adopt the phrase "no straw please" when ordering a drink at a bar or glass of water at a restaurant. Or get yourself a reusable option like a stainless steel, bamboo or silicone straw for sipping your iced coffee.
Shove reusable bags everywhere
It takes a second to get into the habit of bringing reusable bags with you when shopping, so set yourself up for success by pre-placing bags all over your home, car and in your work or school bag. You can also switch to reusable cotton produce bags or reusable grocery bags (which can also be used for carrying other stuff, like towels to the beach!)
Just say "nah" to plastic cling wrap
Try a more sustainable alternative to wrap up leftovers like aluminum foil which is 100% recyclable, or a personal favorite, reusable beeswax wrap or reusable beeswax snack bags.
Buy-bye protein bars, hello bulk snacks
A huge source of single-use plastics for many people comes in the form of prepackaged grab-and- go food like a protein or granola bar. You can get all the same nutrients and flavor from common items in the bulk food section of Whole Foods or a natural foods store like nuts, dried fruit and granola. Or reach for a piece of real fruit instead when you've got a hankering for a snack.
Or if you're really feeling up for it, experiment with making your own snack bars using bulk ingredients, or items that come in recyclable packaging.
Meet your new BFF, your reusable water bottle
The plastic free tool that's always got your back – a sturdy reusable water bottle. Especially in the hot temps of summer, staying hydrated is incredibly important. Treat your water bottle as if it's your third hand, and don't ever leave home without it. If you're down for good old tap water, fill it up in the bathroom sink, or if you're at a bar (as many people are for the majority of July…) ask the bartender to fill it up.
If your local tap isn't the best, or you just prefer filtered water, get yourself a small water filter that can fit inside your bottle that uses a 100% compostable and natural charcoal water filter.
Switch up your personal care routine
Though many personal care items such as deodorant sticks, plastic razors or face wash in a plastic tube aren't technically "single-use" plastics, many of them are non-recyclable in traditional municipal recycling. But you can try reusable bamboo make-up remover rounds to help eliminate some extra plastics (like the bags the traditional make-up remover pads come in…)
Use Plastic Free Week as your excuse to start exploring some different options. Are you ready to take the challenge?
Source: Tru Earth
HUMAN TRAFFICKING
–Submitted by A. Arnold
During the pandemic human trafficking flourished. The Medina County Coalition Against Human Trafficking has been very active and has even more plans to be seen and heard. 
In November 2023, the Coalition will join radio personality Linn Caliver in holding a fundraising activity to raise scholarships for low income students and human traffic survivors. There will be bands! The cost for a table to the Coalition is $100.

 

In June 2022, a reporter from the Medina Weekly published an article about the Coalition and its work in Medina.

 

Jasmine M.(human trafficking survivor and member of Coalition) and Beth E. (Executive Board Member of Coalition) joined the Survivors' Advisory Council. The consensus of the Advisor Council is that all nonprofits providing services or advocating for laws or decision making that affect traffic victims need to have survivors involved in all levels of those services and in all levels of law and decision making.

 

The Coalition has agreed to join the Red Line Project. At an agreed upon time, everyone will draw a red sand line to show they stand up for the fight against human trafficking.

 

The Human Trafficking Institute is keeping a nationwide registry of coalitions and is making a concerted effort to include small town coalitions. MCCAHT, with contact information and phone numbers for emergencies, is now included in the registry.

 

Mary Roe is working with Ohio parole offices and local human trafficking groups to assist human trafficked women prisoners as they come out of prison.

 

The summer event hosted by the Coalition to take place of the January event, which was postponed due to COVID concerns, went very well. Two survivors spoke to the attendees.

 

The Coalition is seeking ideas for its January event. It will be a family event followed by a separate adults' event held most likely in partnership with a local church.

 

Anamarie F. with Hope and Healing reported that the Summit County Human Trafficking and Domestic Violence Court is at full capacity. Also, Medina County still provides case management and all services and judicial oversight. She wanted everyone to know that there is a rapid rehousing program in Medina.

 
There was no more new or old business discussed. 
SOAP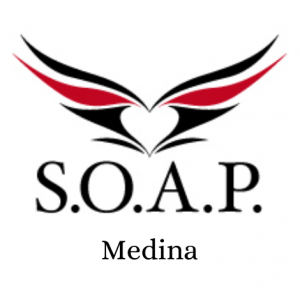 Our four SOAP teams are making regular monthly hotel visits. Please consider joining a team. Approximately less than one hour of on-line training is required. Teams need subs and/or members who will share the routes and go out only every second or third month. Our mission is to help find missing children and to be a part of the effort to eliminate human trafficking. Contact Carol Thombs to learn more: cgthombs98@gmail.com or 330-421-1932.
Another possibility for you to help is to serve as a SOAP ambassador. This person speaks to groups sharing what the SOAP project does and recruiting more volunteers. Church groups may be especially interested. Again, contact Carol Thombs, cgthombs98@gmail.com or 330-421-1932.
---
PUBLIC POLICY
–Submitted by Jeannine Murray

As this year's Chair of Public Policy, I feel a responsibility to recognize exactly what policies are promoted by the national and branch arms of AAUW. 
As I started looking into what those policies are (see below), I realized the enormity of trying to keep tabs on every nook and cranny of national, state and local governing entities of influence. 
So, I need your help to keep tabs on what our representatives are up to. Of course, I'll try to keep up-to- date on all legislative activities, but if you have a special interest in Education, Economics or Equality that you feel strongly about, please notify me and I'll highlight it for the rest of the group. 
Future reports in the newsletter will not include the contact information below, so for reference please copy and tuck away into a file you'll be able to find easily. 
Clearly this year there are many, many issues to be addressed as we all focus on the recent upset to women's rights and passage of the ERA. But there are also other issues of grave importance: public education is under siege and economic stresses for all Americans need to be addressed as well. 
Your help in shining a spotlight when and where needed will be most appreciated. Thank you! 
Jeannine Murray, Public Policy Chair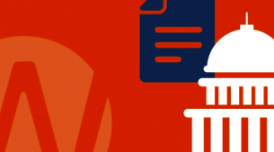 AAUW advocates awareness and promoting public policy in the following areas:
EDUCATION – A strong system of public education promotes gender equity, diversity and inclusivity, and addresses the barriers and implicit biases that hinder the advancement of women and girls.

 

ECONOMIC SECURITY – Promotion of governmental and private policies that will support the achievement of women's economic security.
EQUALITY – Strengthen equality, Individual rights and social justice for a diverse and inclusive society.

 
Excerpted from https://www.aauw.org/resources/policy/aauw-public-policy-priorities/