The American Association of University Women (AAUW) is a nationwide network of more than 170,000 members and supporters, 1,000 local branches, and 800 college/university institution partners. For over 130 years, AAUW members have examined and taken positions on the fundamental issues of the day — educational, social, economic, and political. Our commitment to our mission is reflected in all aspects of our work.
AAUW's Mission
AAUW advances gender equity for women and girls through research, education and advocacy.
Medina County Branch
The Medina Branch was founded in 1964 by a group of women dedicated to declaring their common interests in encouraging educational activities, cultural activities and personal growth. They were leaders in our community and instrumental in developing long-standing institutions in Medina County, including the Medina Arts Council, the Women of Distinction Awards, home tours, candidates' nights, a scholarship fund for non-traditional women students, an annual used book sale, and the Sister-to-Sister Conference for Girls. We proudly celebrated our 55th year at our annual meeting and dinner, June, 2019. Want to know more? Don't hesitate to contact us at our email, aauwmedinaoh@gmail.com. We would love to hear from you!
---
A Message from Medina Branch President, Alanna Arnold
Dear Members,
If you are like me, the really quiet, scaled down holidays were "almost" nice but rather depressing. I missed my oldest daughter and her family who live in Washington, D.C. We haven't seen our grandson since his 11th birthday in June 2019. (We last saw my daughter and son-in-law at my niece's wedding in August of 2019.) Hopefully, we will get the vaccine soon, and we'll be able to travel again. For now, we're getting by on long telephone calls and an occasional Zoom chat.
There is some good news. In mid-December, our small half- bathroom was finally finished. I no longer need to turn off the light when guests use the powder room to keep them from seeing the one bare wall. However, now it is much too nice for anyone to use. So, I encourage family members to "hold it" until they leave. Since so few visit at this time, it's worked so far.
Very importantly, we will be looking for people to fill vacancies on the board for the 2021-23 fiscal years. If someone on the Nominating Committee calls you to ask you to serve, please remember that we all have personal lives and we are all volunteers. But, you will receive far more from serving on the board than you will ever be asked to give. (And there won't always be a pandemic. I solemnly promise. Cross my heart.)
The few members who attended the last general meeting in December to hear our speaker from Akron University had a pleasant surprise. A Zoom meeting made it possible for Pat Chaloupek to attend our meeting. It was wonderful to have her there.
If anyone needs help accessing Zoom, let someone on the Board know, please. We will be very happy to help.
Finally, please do your very best to join our Zoom presentation for Black History Month. Chair, Kimberly Oliver, and the rest of her committee have worked very hard to prepare an original, educational, and interesting program. If you have never heard of the Green Book or aren't sure what it is, you need to watch this program. We hope to have a spirited open discussion about the topic presented after the prepared presentations.
I'm looking forward to seeing many of you at our renowned Black History Program (more information provided by Oliver in this newsletter) on February 18, 2021.
Sincerely,
Alanna
President, AAUW of Medina
330-721-1510
---
Meeting, January 28, 7:30 pm 
Sarah Krieger, Advancement Specialist of Hope and Healing, will speak at our AAUW meeting on Thursday, January 28th at 7:30 p.m. She will discuss the progress of the Medina project and then answer your questions about the Battered Women's Shelter.
As you are aware, this has been a very difficult time for families. Please attend the Zoom meeting to hear how the needs of these families are being addressed.
Mark Your Calendar!
Meeting programs are being finalized for the rest of the year, but we have some interesting and exciting topics on the books. Be sure to mark your calendar for the rest of our meetings this year:

February 25

March 25

April 22

May 22
---
NEWS
AAUW NATIONAL PROPOSED CHANGES
Membership Proposal:
Opening our membership to anyone who wishes to join and no longer requiring new members to be a graduate of a university.
Dues Increase Proposal:
Dues would increase by $3 in 2022, by $5 in 2023, and by $5 in 2024. That makes the dues a total of $62 in 2022, $67 in 2023, and $72 in 2024. Current life members will not be affected by this increase. All but $3 of the dues is tax deductible. The board feels these increases are necessary to maintain our mission and goals of furthering gender equality in this difficult economy.
Member News
Congratulations to member Ashley Powell who was nominated this week by Leadership Medina County for Excellence in Leadership. Ashley was nominated as an Emerging Leader. Congratulations, Ashley!
Jeri Penn, was recently inducted into the Kiwanis Hall of Fame in Medina. You might have seen the nice write up recently in the Medina Weekly News.
She and her husband Alan have been active in that organization for 40 years. During that time she led many community activities to benefit others, including making blankets, collecting personal care items, and giving books to children. She loves sharing her gifts and skills to benefit others.
Pat Chaloupek is missing her AAUW friends! She sends this beautiful picture and description to share with all of you: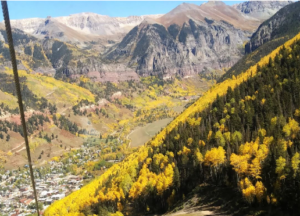 "I took a drive yesterday to Telluride in the mountains to check out the fall colors…they are different from Ohio colors, as you can see. I snapped this photo from the gondola which took me from the base town of Telluride to Mountain Village (where the ski trails begin) for a fantastic view of the bright blue skies and contrasting yellows, golds and greens.. I expect leaves are beginning to turn now in NE Ohio. Telluride is about 65 miles from my home in Montrose. Skiing is quite popular here!! "
---
In Memoriam – Ruth Bader Ginsburg
Several AAUW members went to hear Justice Ruth Bader Ginsburg speak in Chautauqua in 2013. Here is a reprint of Pat Chaloupek's newsletter article from that trip.
Typically, a lecture does not have musical interludes. However, the hundreds who were in attendance for Supreme Court Justice Ruth Bader Ginsburg's lecture at Chautauqua Institution on Monday were treated to a show.
Ginsburg spoke on what she admitted were her two great passions – law and opera. During her lecture, which lasted more than an hour, Ginsburg combined live opera with humor as she detailed how often law is a major plot point in operas.
Ginsburg joked that although she is passionate about opera, her own singing skills are poor. "In my dreams, I can be a great diva," Ginsburg said.
Following her invitation to speak at Chautauqua Institution, Ginsburg said she had to look at operas in a new light as she contemplated the connection between law and opera. "The invitation to be with you challenged me to consider the topic anew," Ginsburg said. "I find it fair to say that law does have a comparable part in opera."
Ginsburg spoke about several musicals – including her favorite, "The Marriage of Figaro" – and how law is involved in the plot. Following her explanation of each plot, members of the Chautauqua Opera Company Young Artists' Program performed arias or ensemble numbers, depending on the opera being discussed.
Additionally, Ginsburg spoke about an event she called "An Afternoon of Music" at the Supreme Court Building. The event has been occurring since the 1980s. At first, it was held every other year. Then it was held yearly. "Since 2002, when I picked up the reigns, the event occurs twice a year," Ginsburg said.
She also spoke about a comedic opera that is in the works, entitled "Scalia V. Ginsburg," written by Derrick Wang, a recent graduate of the University of Maryland's Carey School of Law. The opera uses the justices' own words to put together the show.
"It's about two people with notably different views of constitutional interpretation, who nonetheless respect and genuinely like each other," Ginsburg said.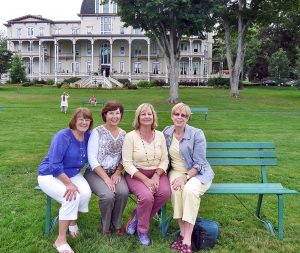 Following her lecture, Ginsburg also answered a series of questions from the audience.
In 1993, Ginsburg was nominated by President Bill Clinton as associate justice of the United State Supreme Court. Prior to her appointment, she served on the bench of the United States Court of Appeals for the District of Columbia circuit.
From 1972-80, Ginsburg was a professor at Columbia University School of Law. Prior to that, she served on the law faculty of Rutgers, the State University of New Jersey.
Ginsburg was instrumental in launching the Women's Rights Project of the American Civil Liberties Union. Throughout the 1970s, she litigated a series of cases solidifying a constitutional principle against gender-based discrimination. She has also served on the Board of Editors of the American Bar Association Journal, as well as secretary, board member and executive committee member of the American Bar Foundation.
She also served on the Council of the American Law Institute and is a member of the Council on Foreign Relations, the American Academy of Arts and Sciences and the American Philosophical Society.
---
New Medina Branch AAUW Fundraiser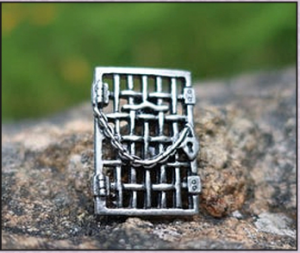 SOLD OUT!
The suffragette pins commemorating the centennial anniversary of "Women's Right to Vote" are sold out. We sold 100 pins and made a profit of $1,040. This will really help us financially since the ability to have our book sale is very tentative again this year.
Thanks to Carol and Bill Thombs for organizing and subsidizing this creative fundraiser and to everyone who helped sell or bought pins.
---
Medina Branch Earns National Award
Medina County Branch earned a "star" for programming in the new national AAUW Five Star recognition program for 2019-2020. President Alanna Arnold received a letter from national CEO Kimberly Churches last month announcing the award.
"Highlighted in the report I submitted," Arnold noted, "were our entire range of activities from meetings to our co-sponsorship of the Black History Month program and Sister-to-Sister. Meeting topics that reflected AAUW mission and goals – 'Breaking the Glass Ceiling,' 'Women's Suffrage, a Celebration,' and 'YOU and the Environment' – helped get national attention."
"Thanks go to our programming vice president Jeri Penn and to her excellent planning committee, Kim Oliver and her team for our diversity efforts and the branch members who represent us on the Sister-to-Sister Planning Board, as well as the members who gave their support," she added.
In this year of uncertainty and isolation, it gives us something to "hang our hat on" and be proud.
In addition on the state level, we did it again! Medina County Branch members have reason to be proud as once again our branch took home honors at the AAUW Ohio annual meeting.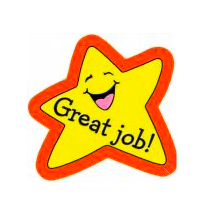 While sheltering in place rules were in effect in our state, delegates from 16 branches met online to carry on state business, elect state officers and be acknowledged for numerous awards.
Awards received by the Medina Branch this year were:
Best Website Feature Event: Sister- to-Sister; Mary Baker, website manager
Best Newsletter – large branch: (tie with Middletown Branch), Pat Chaloupek, editor
The Social Media Award: Best Facebook page. Pat Chaloupek, site manager
First place for "Diversity and Inclusion", Kim Oliver, chairperson
And the STARZ award for all-around efforts – we have won this every year since it was first given; submitted by President Alanna Arnold
Cindy Weisheit, one of the delegates, commented that because 66 people were registered, logging in on the "Zoom" meeting took a long time and the meeting lasted about two hours. Other delegates to the session were Alanna Arnold, Katherine Baker, Anne Gates and Jeri Penn.
Candidates for state office were introduced and elected at the meeting. They include: Mickey Radtkie, Toledo Branch, President; Chris Fowler and Marlene de la Cruz-Guzman, Athens, Co-Program Vice Presidents; Linda Lehman, Greater Cleveland Area, Membership Vice President; Naykishia D. Hand, Bowling Green, Fundraising Vice President; Debby Stein, Circleville, Secretary.
There was no candidate at the time for Finance Officer. A nominee has since emerged and will be voted on at an upcoming meeting of the joint Board of Directors, according to outgoing President Nancy Stellhorn.
A slideshow of projects and results of awards will be posted soon on the state website. Awards will be formally presented at the fall summit/convention scheduled for September 12.
 ______________________________________________________________________________________________
Medina Branch Committees
PROGRAMS 2020-2021
December 3, 2020, Meet Mercy Muchemi
Our December program will again be a zoom meeting with our STEM Scholar- ship recipient, Mercy W. Muchemi. Mercy is currently working on a bachelor degree in nursing at Fortis college. She has a one- year-old daughter and is working with Visit- ing Angels in Medina while going to school full time.
Mercy has a bachelor degree in International Relations from the United States international University in Africa. She has worked at the Ministry of Foreign Affairs in Kenya, at Americorp VIP, and at Mama Fauzia Children's Orphanage. She is changing to a nursing career because she has a passion for helping families and children. Her story is very uplifting.
November- No Meeting due to the Thanksgiving holiday
October 22, 2020, Treasures From The Attic
Our October Zoom program was hosted by Brian Feron on October 22nd at 1:00p.m. Brian shared with us the treasures found in the attic of the McDowell-Phillips house which is being restored by the Medina County Historical Society. The items include an invitation from Abraham Lincoln to attend his inauguration.
There was no business meeting just half an hour of fun learning about this historical house where everything was saved.
Sept., 24, 2020, Carol Lawler,Medina County Board of Elections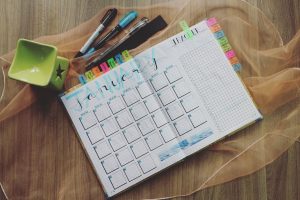 Susan Holbrook and the program committee have been hard at work planning on-line programs for this year.Thursday, September 24. at 1:00 PM Carol Lawler from the Medina County Board of Elections will speak about the many methods of voting and how your vote is secured. This will be a Zoom meeting with Alana Arnold as host.There will be a question and answer session after Carol's presentation. In order to participate in this you will need to use the "raise your hand" feature in zoom. This is located in a bar at the bottom of your screen.Mark your calendar for all of our upcoming programs:
September 24, 2020 – "How to Ensure the Mail-In Vote" by Carol Lawler of the Medina County Board of Elections. Time: Meeting 1:00 Program 1:30
October 22, 2020 – McDowell-Phillips House "Delights in the Attic" Presented by Brian Feron of the Medina County Historical Society Time: Meeting 1:00 Program 1:30
November- No Meeting this Month: Happy Thanksgiving!
December 3, 2020 – Meet Mercy Muchemi!
January 28, 2021– The Women's Shelter Contact: Jill Morton. Time: Meeting 1:00 Program 1:30
---
BATTERED WOMEN'S SHELTER
Great Improvements Ahead
Update:
The gifts received for the Battered Women's Shelter totaled $1600.00. Thank you so much for your support of the facility. I delivered the checks the first of January and they are so pleased we care about the women and children of Medina County.
Jill Morton
Liaison of Battered Women's Shelter
Did you know the Battered Women's Shelter has long been a passion of our chapter? We have had a guest room with our name above the door at the shelter. Through the years our members and their friends have found used furniture, painted, purchased privacy blinds, and even installed a kitchen countertop.
I am including some background about the shelter and want you to consider a donation to the shelter for our holiday giving project. The AAUW donations would be used to purchase items for the AAUW room. The first week of December I will mail you information about donating to this important cause. Please believe me when I tell you, the shelter was in dire need of improvement.
About the shelter: The Battered Women's Shelter provides emergency protective shelter for those who otherwise would have no choice but to remain in a violent home. The Medina shelter opened over 18 years ago when championed by Commissioner Pat Geissman. Thousands of adults and their children from Medina, Brunswick, Wadsworth and every corner of the county have come through the doors since its opening. With that type of usage, the building now looks tired and worn.
Two years ago, with support and leadership of Ohio Representatives Obhof and Hambley, the Battered Women's Shelter received a state grant allocation for capital needs. Planning for the renovation began, and then the Coronavirus pandemic hit. The renovation was put on hold for a few months but is now in full swing once again, with the inside gutted and the roof being replaced just this last month. Renovations now include the preparation for more social dis- tancing within this congregant living facility. The shelter is being transformed from 5 to a total of 10 bedrooms. This will allow families to socially distance from others during sleeping hours. Ventilation systems are being rerun, bathrooms, play areas and common rooms are all being redesigned so that shelter residents will be safe from their abuse, and safe from the virus attacking our country. When finished, the Medina shelter will be an environment that encourages peace, while providing respectful surroundings for those that need to stay in the shelter for a few days, or weeks.
Thank you for your consideration,
Jill Morton Cell- 330-760-4448
AAUW Liaison to the Battered Women's Shelter
---
BOOK CLUB
Donna Hamilton
In December the AAUW book club met via zoom to discuss Island of Sea Women by Lisa See. It was a lively discussion of the Japanese takeover of Korea and the Korean War as they affected the female dominated culture of the traditional diving women of Toju Island. It is a fictional story of friendship, love, family, and forgiveness. We would highly recommend the book.
Our next meeting is January 11, 2021, at 1:00 PM via Zoom. The connection code will be emailed to you a day before the meeting. We have the technology working better, so give us a try.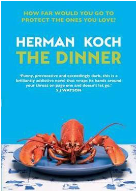 Annette Miller will lead the discussion of The Dinner by Herman Koch. This novel takes place during one dinner in a Dutch restaurant. The main characters are competitive and very different brothers dealing with difficult decisions about their children's actions. "What would you as a parent do in this situation?" is the haunting question as you read this book.
For February we will be reading The Invention of Wings by Sue Monk Kidd. This historical fiction novel examines the contrasting lifestyles of slave owners and the enslaved in Charleston, South Carolina. It is loosely based on the life of Sarah Greinke, a leader in both the abolitionist and women's suffrage movements.
Remember: Book Club meets the second Monday of every month at 1:00PM.
COFFEE AND CONVOS
"Coffee and Convos" is the name of a book group from Ohio AAUW. "Convos" is a text slang term for conversations. Now use that new word in a text to your grandchildren and show them how "hip" you are.
On January 16, 2021, from 10:00 to11:00 on Zoom they will be discussing the ways that race, class, motherhood, and belonging intersect to shape each individual. The book is Little Fires Everywhere by Celeste Ng. Our chapter book club read this book so perhaps you might enjoy participating in this discussion. Register at: https://aauw-oh.aauw.net/ 
---
BOOK SALE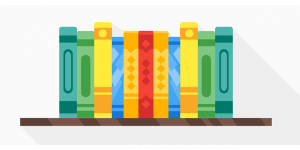 Carol Thombs has been thinking about the book sale fundraiser that we normally have in April. Unfortunately, the pandemic is forcing us to postpone any plans for this important branch fundraiser until later in the year, perhaps September. Safety will always be our first concern. But, we remain optimistic that we may again serve the book-lovers of Medina.
---
DIVERSITY

This year's Black History Month Program will be a Zoom presentation available to AAUW members and the public. The presentation will take place on Thursday, February 18, 2020, at 7:00 p.m. The topic this year will be "Driving While Black." We will discuss the particular difficulties that black motorists have historically encountered and The Green Book which was used by black motorists to find friendly accommodations, gas stations, and restaurants while traveling.
To attend, participants must make a reservation at aswarnold@gmail.com or artkathy@zoominternet.net prior to 2:00 p.m. on February 18th. Participants are limited to 100. The first 100 to make a reservation will be sent the Zoom address.
ENVIRONMENTAL INTEREST GROUP

Carol Thombs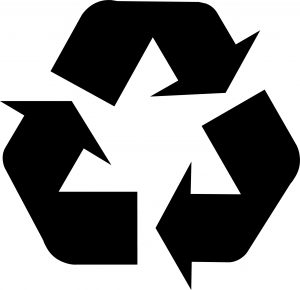 Our committee met via Zoom on December 10. While there were only 6 of us, we made good progress. Lor Breyley is collecting and compiling a list of "earth friendly" actions taken by our members. This list will be published in the February "Voice."
While we are concerned about the pandemic and all the related illnesses and deaths, many people are unaware of the sickness, and even death caused yearly by pollutants in our water, air, and soil. The numbers harmed by pollution every year are huge. The committee agreed to work on creating an educational program that will bring awareness of environmental issues to our Medina County community. We will be partnering with the library and hope to also involve Leadership Medina and others. Before our next meeting, members will be researching different aspects and contacting people who might be possible panel participants. Because we won't be having our Book Sale in April, the month of Earth Day, the goal for this program to happen is in April.
Our next meeting will be at 1:30PM on Thursday, January 14. Please consider joining us. This is a congenial group who are working on a very important issue that affects all of us. As Eleanor Roosevelt stated, "Today is Tomorrow." What we do today can make a real difference in lives tomorrow.
Human Trafficking
Carol Thombs
Pornhub prides itself for its role in doing good deeds, fighting racial inequality and offering steamy content to get people through the boredom of the pandemic. This is an internet site infested with rape videos, including child rapes and popular pornographic videos of young girls. Pornhub has become the trafficker for some girls. The girls cannot get the videos eliminated from this porn site; the negative effects are many. Reports show that many of these girls have become alienated from their teenaged peers and even their families. Some have even committed suicide. PayPal and American Express do not accept charges for Pornhub, but Master Card and Visa do. Since the Nicolas Kristof New York Times article, "The Children of Pornhub," on December 6, 2020, Master Card and Visa are exploring the use of their cards in paying for the porn. Canada, the home of Pornhub, is exploring the legality of offering the child porn. This information is very new to our Coalition. We should continue to follow this and promote ways to restrict this porn site.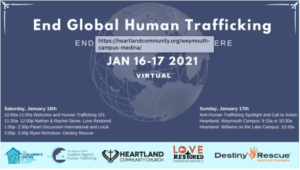 January is Human Trafficking Awareness month, and January 11 is Human Trafficking Awareness Day. Wear blue on the 11th to show your support for our efforts to eliminate human trafficking. On January 16 and 17 our Coalition will be sponsoring a 2-day virtual educational event. Times and program will be e-mailed to you later.
Carol Thombs will be on the panel discussion at 1:00PM for this event. Let's show our support for all she does for human traffick- ing and sign in to watch. You can find information to sign in
at https://hcc.events. Click on "Anti Human Trafficking Spotlight" and then click on "Attend Online."
MEMBERSHIP



by Anne Gates and Kathy Kraus, Co-vice Presidents for Membership
As was reported in the last newsletter, at its October 16, 2020 meeting, the National AAUW Board of Directors voted to increase individual member dues for the next three years. The cur- rent national portion of the annual dues will increase by $3 to $62 for the coming fiscal year, which starts July 1, 2021. In each of the two subsequent years, dues are slated to increase to $67 and $72, respectively. All but $3 of the national annual dues remain tax deductible. As of this time, there are no scheduled increases for the state ($11) and branch ($6) portions of the comprehensive annual dues. The total annual dues for Medina AAUW members starting this July will be $79. There will be no changes to the dues for current life members and college/university student members.
This rate hike is the first in three years, and the Board made its decision with considerable input from current members. Revenue from membership dues accounts for 15%-20% of annual operating costs at the national headquarters in Washington, D.C. Membership dollars support advocacy efforts and such expenses as office space and equipment, as well as professional staff. Intentional cost-saving measures have been put in place under the leadership of CEO Kim Churches. Of note is the fact that, due to downsizing, the number of staff has decreased from 107 three years ago to 46 FTE (full-time equivalent) today. As a result of this shift, current staff are challenged to meet the daily inquiries and requests for assistance from the membership. Accordingly, one of the Board's priorities is to apply revenue from the dues increase to focus on an enhanced system for addressing members' questions and concerns in a timely manner by engaging the leadership of the state AAUW presidents.
Also, and not surprisingly, the financial effects of COVID-19 are being felt by AAUW with respect to diminished opportunities to apply for external foundation and corporate grants to support its programming and research endeavors. Any grants received may not be applied to operating expenses.
In summary, the national AAUW Board of Directors felt it necessary to increase the annual dues in order to sustain our collective pursuit of AAUW's mission of achieving gender equity. Please contact Kathy Kraus (artkathy@zoominternet.net; 330-722-1107) or Anne Gates (agates1107@gmail.com; 330-464-4733) with any membership-related questions.
Sources:
AAUW. Notice of dues adjustment. Email from Julia Brown on October 30, 2020.
AAUW. Webinar on membership dues and degree requirement with Julia Brown and Malinda Gaul: September 22, 2020. Retrieved from AAUW.org.
---
PUBLIC POLICY
The newly revamped AAUW Public Policy Website is very helpful and easy to interact with – please check it out at: AAUW Public Policy website
2019 -2021 AAUW "Public Policy Priorities underscore AAUW's mission to advance gender equity for women and girls through research, educa- tion, and advocacy. The work of AAUW builds upon responsible public participation…(aauw.org)." Listed on the website are priorities that pro- vide a basis for AAUW member actions at the local, state, national, and international levels.
Explore the Issues, Get Empowered, and Take Action, are the three main categories you can click on and access clearly stated information within each page. Under 'Take Action' for example, there is a Two- Minute Activist page; listing ways you can get involved without leaving your home during our national sequester.
Check out the easy interactive site and I suggest you download the AAUW Public Policy Priorities word document and keep it on your laptop as a reference.
The local medina Public Policy Committee is off to a slow start but will gear up soon as I have had an unprecedented summer and fall with many changes in my job and in family responsibility.
If you are interested in getting involved please contact me – I would love to hear from you.
Cate Hunko, Public Policy, email: chunko@kent.edu

Equity Network Events:
Join us as we engage with the issues that matter most and share helpful resources for taking action. From negotiating your salary and benefits to advocating for change in your own community, the Equity Network is here to help you succeed.Check out our past webinars below and stay tuned for upcoming programs.
---
CULTURAL INTEREST
— Stay-at-Home Style
HOW IS YOUR ALONE TIME GOING? These are from the AAUW Ohio website.
Keep in touch with family and friends by phone, email, FaceTime, Facebook, etc. Write them a letter like the governor suggests – write about a time in your life you haven't told them about yet.
Start a journal.
Attack that pile of books you haven't had time to read or get
eBooks from the library.
Plan your garden.
Do a jigsaw puzzle.
Sew on those buttons.
Work in the yard.
Learn a language or take a class through the library databases –Mango and Lynda.
Watch a movie with Hoopla.
Try a new recipe.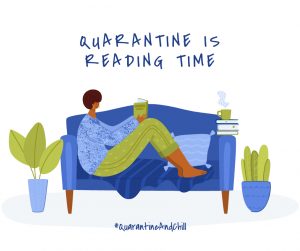 There are so many things you can do. It will be fun when we do get back together hearing what everyone did.
---
SCHOLARSHIPS
Scholarship Applications Being Accepted for 2021-22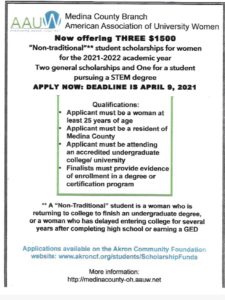 The Medina County Branch of the American Association of University Women is accepting applications for two $1500.00 general scholarships and one $1500.00 STEM (Science, Technology, Engineering or Math) scholarship to be given to a "non-traditional" woman undergraduate student who is attending an accredited college or university. This applies to the 2021-2022 academic year and applicants must be a resident of Medina County.
A "non-traditional" student is a woman twenty-five years of age or older who is returning to college to finish an undergraduate degree, or a woman who has delayed entering college for several years after completing high school or earning a GED.
The deadline for submission of the application, college transcript, and recommendations is Friday, April 9, 2021. The scholarships will be awarded on the basis of financial need, academic achievement, and clarity of goals and objectives. Scholarships will be awarded in May.
Applications are available through The Akron Community Foundation at www.akroncf.org/Students. For more information email Jill Morton, Scholarship Committee Chairperson at jillmorton@zoominternet.net
Nontraditional Women's Student Scholarships for 2020-21
Congratulations to our two scholarship recipients for 2020-2021, Aneta Mullins and Mercy W. Muchemi!
Aneta Mullins has been awarded our AAUW scholarship. Aneta attended Midview High School, received an Associates of Liberal Arts degree in 2006 from Lorain Community College, and is presently a junior at Cuyahoga Community College majoring in Psychology/Social Work.
Mercy W. Muchemi is our STEM Scholarship recipient. Mercy graduated from State House Girl's School in 2007. She went on to the United States International University-Africa and received her Bachelors in International Relations in 2012. Presently, Mercy is working on a degree in nursing at Fortis College.
A "non-traditional" student is a woman who is returning to college  to finish an undergraduate degree or a woman who has delayed entering college for several years after completing high school or earning a GED. For more information, go to our Scholarship page.
---
PREVIOUS 2019 – 2020 PROGRAMMING
21st Annual Sister to Sister Conference, March 8, 2020
One of the last events in early March before the
COVID-19 outbreak redirected our lives, Medina's 21st Sister-to-Sister Girls Conference, was a resounding success for its 42 enrollees, 14 student leaders and over a dozen adult participants.
The theme of "Be the TRUE You," was one that has been reiterated a number of times, but this year had a fresh appeal. Keynote presenter Stefanie Robinson brought her message to the girls: "You do not have to be what people expect of you, but be true to yourself and what you are capable of." As a person who suffered from low self esteem early on, Robinson went through stages of bulimia, addiction to meds and drugs and was on the verge of self-destructing before she managed to find the strength to accept help and turn her life around. Today, she works with self-help organizations, bolsters courage among young people as well as adults who suffer from issues of dependencies and gets out on the road to speak her message to as many people as will listen. She is executive director of Hope Recovery Community and works with OhioGuidestone.
Girls from the Junior Leadership Medina organization took on our conference as a group project this year. Many thanks to Carrie Park, Director, her young ladies who added their youthful enthusiasm and leadership to the event and the other teens who helped.
Attendees representing 15 schools as well as homeschooled students participated this year. We thank our special greeter — and his handler — from Bright and Beautiful Therapy Dogs for coming to welcome our attendees. A big round of applause goes to our host, Medina Hospital, a Cleveland Clinic Hospital, who has solidly supported this project since year one.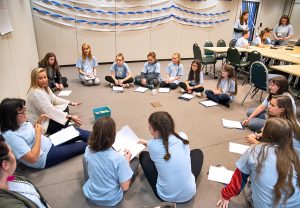 AAUW Medina Branch was the initiator of the event as we created a safe setting for young women to come together to meet girls from other schools, learn what it takes to become more self- confident and have fun while learning leadership and social skills. AAUW team members who were part of the project this year are Alanna Arnold, Pieri Levandofsky and Pat Chaloupek.
---
Special June Meeting: Basics of Investing, June, 25 at 7 pm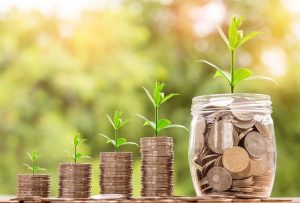 There was a virtual meeting on Thursday, June 25, 2020, at 7:00 p.m. The Zoom meeting was hosted by our speaker Sue Kozak who discussed "The Basics of Investing."
February Meeting – 18th Black History Month Program Salute to Veterans: The Fight for Freedom
"This year's event acknowledged and saluted the Black Veterans of the United States of America Armed Forces who fought and continue to fight for all of our freedom even when they had or have none of their own," announced Kim Oliver, Medina Branch Diversity Chair. The program was highlighted in a recent edition of The Medina Gazette.
The Black History Month program, which has become a tradition in our community, was held Thurs., February 20, at the Second Baptist Church, 451 Bronson St., Medina. Co-sponsors with AAUW were the Second Baptist Church and Fellowship Baptist Church.
From Civil War regiments to Tuskegee Airmen and in present day military incursions, black soldiers have distinguished themselves with valor; they were celebrated in song, poetry and historical readings.
The Claggett Middle School Choir, the Medina Community Choir, and Local VFW #5137 also participated in the program. A "pick-up" community choir sang that evening, having come to the church an hour before the program for practice. AAUW members brought plated snacks and dessert items to the Fellowship Hall for serving following the program.
Oliver chaired the program with assistance from branch members Kathy Kraus and Alanna Arnold, and Pastors John and Senesa Peterson of Fellowship Baptist Church and Arthur Ruffin, of Second Baptist Church.
Also, our thanks to The Foundry (formerly High Voltage Indoor Carting) for allowing us to use their parking lot for overflow parking.
January Meeting – Members Learn Recycling, Reusing and Conserving
With guidance from branch member Carol Thombs, a dedicated environmentalist and former science teacher, thirty of our members learned to discern what materials can be recycled, what can be reused, what is safe for the environment and what products should be avoided.
The program, held January 23 at the home of Cheri Ingraham,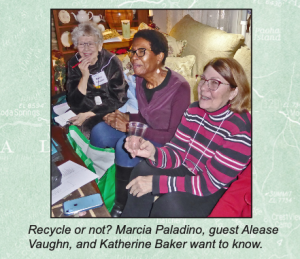 was a "hands-on" learning experience for all. Thombs assigned people to groups, and armed them with a bag (reusable) with various kinds of trash items from "paper" plates to wrapping paper. and take-home containers. They were to decide how these products would be classified and record data on their whiteboard. They considered paper with/without coatings, stamped recycle markings on the bottom of the product, shape and condition.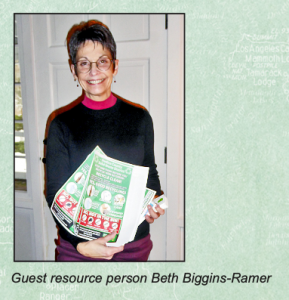 On hand to answer questions on what is being recycled locally was Beth Biggins-Ramer, Solid Waste Coordinator at Medina County Solid Waste District. "Recycled items are commodities, and as such are bought and sold so they need to conform to certain standards," she stated.
Thanks to Carol Thombs for preparing the program, Beth Biggins-Ramer, Solid Waste Coordinator, Cheri Ingraham for hosting in her lovely home (she used regular plates and table service and cloth napkins) and to the members who provided snacks/ treats with no single-use plastics.
DECEMBER MEETING- AAUW Medina Branch December Diversity Dinner
Thank you to everyone who generously gave money or gift cards to The Children's Center last month. The final total, $530, helped provide Christmas presents for children served by the Center during the holiday. Our members really came through again!
Guest presenters with the International Student Exchange program – Garance Deret, from France, and Pareeda (Beam) Techawongprasert, from Thailand—were welcomed at the branch Diversity Dinner, held Dec. 10 at the lovely holiday decorated home of President Alanna Arnold.
Deret, enrolled as a senior at Medina High School, is from Joinville de Pont, France,
a commune in the SE suburb of Paris. She has a special interest in graphic art and has taken Advanced Drawing and 3-D Art and Design as courses this year. Outside of school, she was enrolled in ballet at Medina Centre for Dance Art and was preparing for an upcoming recital. She has four siblings and has been studying English since grammar school, with the hopes of teaching English. Duret is staying with Kate Owen and family on East Washington St. in Medina.
From a city with a metro area population of over 14 million persons, Pareeda (Beam) Techa- wongprasert calls Bankok, Thailand home. Beam, as she likes to be called, is being hosted by the Lorton Family and is a senior attending Wadsworth High School. Her favorite subjects are math and science and she is considering a career in engineering. She, too, is interested in dance, and has had training in traditional Thai dances.
She commented about her new "American look" –blonde hair, which she has been trying out, and which her parents would be surprised at. "Our schools are more strict back home; kids wear uni- forms and cannot change their hair color."
American kids more dependent on using cell phones, the girls stated, saying that in their home schools, electronic use was more regulated. Both young women are finding Americans friendly and hospitable and have enjoyed being a part of the international experience. They were looking forward to school vacation and getting to participate in more activities, including some opportunities to travel out- side the area.
The ISE has been bringing together ex- change students and volunteer host families for nearly 40 years. Students arrive in August for the 10-month program and stay through the school year, Hamilton has been with ISE since 2007 and currently has 12 exchange students that she is responsible for in Medina and Summit County.
The branch thanks Alanna and Jack Arnold for generously opening their home for the dinner meeting and Jill Heck and her assistants for setup and prep work: Mary Lou Euse, Donna Hamilton, Jill Morton, Jeri Penn, Judy Smith and the Arnolds. Moravian Star table favors were made by Euse.
NOVEMBER MEETING
No Meeting. Enjoy your Thanksgiving holiday with family and friends.
OCTOBER MEETING
Celebrate the Centennial of Women's Right to Vote.
During 2019 and 2020, Americans will celebrate the 100thanniversary of the ratification of the 19thAmendment which legalized women's right to vote. The AAUW Medina Branch is celebrated this occasion by holding a special local event.
AAUW member & re-enactor, Kathy Krause, portrayed Victoria Woodhull, a leader of the suffrage movement. Ms Woodhull was the first woman to start a weekly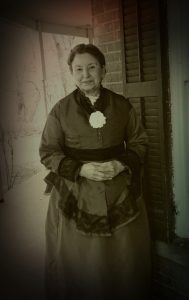 newspaper and the first woman to own a brokerage firm on Wall Street, but Woodhull is best known for being the first woman candidate for President of the United States.
Kathy was joined by AAUW member, Annette Barzal, and members of the Sharon Center Historical Society portraying  suffragettes, campaigning for equal rights for women.
Luncheon, for members only, began at 12:00 p.m. The program followed the luncheon at 1:00 p.m. and was free and is open to the public.
SEPTEMBER MEETING
"Breaking the Glass Ceiling", a panel discussion featuring five women in positions of prominence in business and non-profit organizations kicked off the programming for the chapter for this year,  Thursday, September 26 at the Medina Library.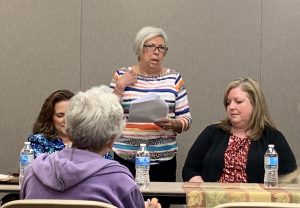 The program offered insights into how these women rose to their current positions, their thoughts on how to be successful in engaging men and women to find solutions and meet goals, and their views on trends regarding female leadership in Medina County. 
AUGUST MEETING
We kicked off our year with a lovely picnic held at the Pavilion at Bunker Hill. While enjoying the great food, this year's BeWISE campers, Adrienne Raglow and Sarah Keller, and family members were our special guests, describing

their experiences at the week-long STEM camp held at Kenyon College in June. BeWISE camp was started in 1989 by members of the board of directors of AAUW Ohio to encourage girls' interest in science, technology, engineering and math, and was one of the first of its kind in the country.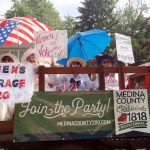 JULY 4TH – AAUW branch members dressed as "Suffragettes" for the Medina City Annual Parade. We rode in an antique truck from the Historical Society waving banners.  At right, photo from last year's parade.
JULY 28 – (SUNDAY) – Annual Nate Vermote Run to Freedom, on Medina Square. Both 5-K run and 1-mile walk; start time 9 am. Benefits Medina County Coalition Against Human Trafficking.
---
The branch offers opportunities to come together monthly to experience programs on topics of interest from NASA space shuttle projects to storytelling, human trafficking awareness to following a student as she re-traced the original "Freedom Ride" of 1961 through the south.  We have active interest groups that discuss pertinent books, visit area museums, exhibits and attractions, and screen current films.
Browse our site and find out how you can be a part of our active organization!
Medina County Branch has a Facebook Page….visit us at http://www.facebook.com/MedinaAAUW to see what people are interested in. Share your thoughts and LIKE us!