The American Association of University Women (AAUW) is a nationwide network of more than 170,000 members and supporters, 1,000 local branches, and 800 college/university institution partners. For over 130 years, AAUW members have examined and taken positions on the fundamental issues of the day — educational, social, economic, and political. Our commitment to our mission is reflected in all aspects of our work.
AAUW's Mission
AAUW advances gender equity for women and girls through research, education and advocacy.
Medina County Branch
The Medina Branch was founded in 1964 by a group of women dedicated to declaring their common interests in encouraging educational activities, cultural activities and personal growth. They were leaders in our community and instrumental in developing long-standing institutions in Medina County, including the Medina Arts Council, the Women of Distinction Awards, home tours, candidates' nights, a scholarship fund for non-traditional women students, an annual used book sale, and the Sister-to-Sister Conference for Girls. We proudly celebrated our 55th year at our annual meeting and dinner, June, 2019. Want to know more? Don't hesitate to contact us at our email, aauwmedinaoh@gmail.com. We would love to hear from you!
---
President's Message
Dear Members:
There are quite a few holidays and observances this month and no room in this address to recognize them all. We celebrated Father's Day and Juneteenth, both of which fell on June 19, 2022.
A belated Happy Father's Day to all of the men who have been supportive of their daughters and helped to advance the mission of AAUW: advancing gender equity for women and girls through research, education and advocacy. Your contributions are much appreciated. Sonara Smart-Dodd is credited as the founder of Father's Day. She felt strongly about having a holiday to recognize father's after hearing about the newly recognized Mother's Day.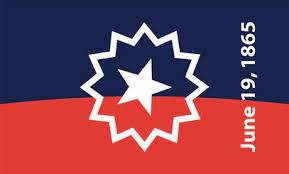 Juneteenth celebrated the announcement of General Order No. 3, which proclaimed the emancipation of enslaved African Americans in Texas, the last state of the Confederacy with institutional slavery.
Both holidays recognize the people in the community supporting the merits of growth, development and freedom. Although one may not be a Father or a descendant of enslaved people, you can appreciate the benefit of these holidays recognizing the fathers and leaders in this community who uphold the same values embraced by AAUW in its mission.
This year, the City of Medina, Main Street Medina, Medina Diversity Project, Second Baptist Church and Sister Circle Medina, along with other community and corporate sponsors, organized an event on the square for its first community celebration of Juneteenth. The event was held on June 19, 2022. Many attended and celebrated!
Kim Oliver
President
AAUW Medina Branch.
PROGRAMS FOR 2022
MARK YOUR CALENDAR!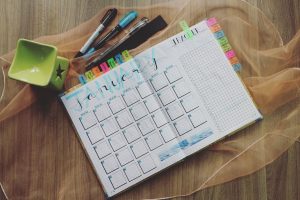 August 4, 2022 will be our summer vegetarian picnic at the home of member Becky Ensworth, 6515 Bear Swamp Road. The Environment Committee will provide the main dish. Members are asked to bring a side dish or dessert.
To follow our theme, "Caring for the Environment," we ask that you do not bring any single use items. Please RSVP to Alanna Arnold by July 28 at aswarnold@gmail.com or 330-721-1510. When you RSVP, you will be asked to indicate what you plan to bring.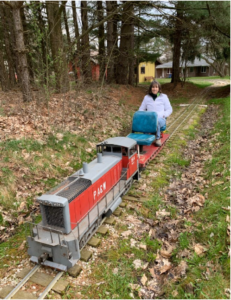 The fun entertainment for the evening will be the opportunity of riding a mini-train through the Ensworth farm, a rural residence without animals or crops. This is a delightful adventure on a miniature steam powered train through a wooded area.
Train rides from 5 PM-6 PM
Dinner at 6 PM
Train rides again at 7 PM.
NEWS
Joyce Rynearson will be playing the piano in the lobby at Medina Hospital Cleveland Clinic on Tuesdays from 11:30 AM to 1:00 PM. She plays a mixture of pop, rock, show tunes, ragtime, and standards. The café has tables and chairs available; not sure about lobby seating. Joyce says, "It's an impressive piano that, as always, I'll try to honor by playing more right notes that wrong ones!" All are welcome to enjoy this event.
Open Board Positions
We are still in need of several members to fill board positions. What is involved in these positions was posted in the March newsletter. We need a Vice-President of Programs, a Chairwoman for the Agent of Change program and a Chairwoman for the Nominations Committee.
Jeannine Murray will take the Public Policy position, new member Mary Ogden will serve as Finance Officer and Annette Barzal will take care over as the Be Wise Chair. Thanks to all of them for stepping forward!
Nominating Committee Chairwoman – This person forms a committee (two other people in addition to chairwoman) to list qualified leaders for open branch board positions. The committee picks the board members. The chairwoman asks members to fill open positions on the board. Chairwoman announces candidates for election at annual meeting and holds election at annual meeting.
Vice-President of Programs – This person forms a committee to plan programs for our general meetings from September to May. They do not plan the Black History Program nor the Agent of Change program. There also is no meeting to plan during the month of the book sale. This job involves choosing a topic/speaker for the meeting, securing a place to meet, sometimes planning a meal, introducing the speaker/program at our meeting, sending thank you notes or small gifts for program presenters, writing articles on upcoming programs for the newsletter and our website.
Chairwoman for the Agent of Change luncheon. Every other year our group honors a person who has performed outstanding service to our community, particularly in promoting our mission. This job involves heading a committee to choose the honoree, plan a luncheon, select the award/trophy/ plaque to be presented, find a keynote speaker for the event, send invitations, make a printed program, do publicity to advertise the event, and preside as the master of ceremony at the event.
If you would like to help in any of these positions please contact our President, Kim Oliver at klo44321@yahoo.com.
"Service to others is the rent you pay for your life here on earth." (Muhammad Ali)
AAUW OHIO, 2022

by Kim Oliver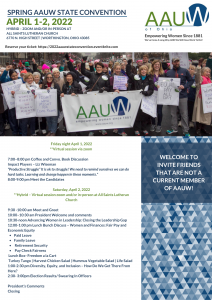 I attended the AAUW Ohio State Convention. This year was a hybrid of in-person and virtual attendance. The Session commenced on April 1, 2022 with Coffee and Convos Book Discussion: Impact Players – Liz Wiseman author of Productive Struggle. "It is ok to struggle! We need to remind ourselves we can do hard tasks. Learning and change happen in these moments." 
Then we met the candidates for AAUW State office. Then, drum roll…Medina Branch was recognized with awards for our service as a Model Branch, and also received the Communication/ Newsletter and Membership awards. We added seven new members this year and increased our total membership by three. 
On Saturday, April 2, was a hybrid in-person/zoom day:  
Meet and Greet

 

President's Welcome and comments.

 

Session on "Advancing Women in Leadership: Closing the Leadership Gap."
Lunch Bunch Discuss – "Women and Finances: Fair Pay and Economic Equity,"
"Diversity, Equity, and Inclusion – How Do We Get There From Here?
"Election Results/ Swearing in Officers. All positions were one choice for which to vote.

 
The convention closed with President's Comments/ Closing/
"Empowering Women Since 1881. We've Come a Long Way AND We Still Have Work To Do!!" 
---
AAUW NATIONAL 
TWO MINUTE ACTIVIST
Send emails and texts to your legislators to fight for equal pay, family leave, stopping sexual harassment, equality in education and more. Sign up to get regular alerts to be able to take timely action. Two Minute Activist
MEMBER NEWS
Mary Ogden and Alanna Arnold underwent medical procedures. We wish both ladies a swift recovery. We missed you!

Congratulations to AAUW Medina member Aneta Mullins who was featured in a recent POST article about Medina County women veterans.
 _______________________________________________________________________________________
Medina Branch Committees
PROGRAMS 2021-2022
May 2022
We enjoyed celebrating another successful year of AAUW events at Miss Molly's Tea Room in Medina. Thanks to Joyce Rynearson and the program committee for organizing this banquet. As you can see from the pictures, a good time was had by all.
Joyce thanked her program committee members for all of their help this past year by presenting them with red roses. We still need a volunteer to serve as Vice President of Programs for the next year. We installed Mary Ogden as our new finance officer and thanked Pieri Levandofsky for her years of service as our finance officer. The other board officers will remain in their positions for a second year. Annette Barzal will serve as chairman of the Be Wise Camp program.
There were no applications for our scholarship this year. So we will bank the funds for future use.
April, 2022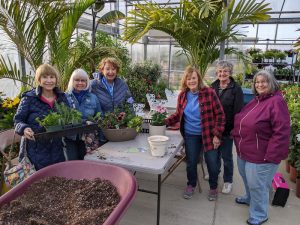 Those of us who attended the membership meeting at Boyert's Greenhouse in April will know what those three words mean! It's a formula that helps create an attractive arrangement of flowers, vegetables and herbs in deck and patio pots. By combining tall plants, lower filler plants and cascading plants we learned how to make our planters look "professional " and we had fun strolling through the greenhouses in search of our perfect specimens. Employees answered all of our questions about various gardening concerns before we took off exploring on our own. We learned about choosing soil, fertilizing, watering, pot drainage and pest control as well as which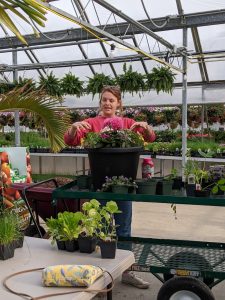 plants deer generally avoided (anything with furry or textured leaves). Best of all, the evening gave us a chance to get together in a safe and relaxed environment, surrounded by fragrant scents and colorful sights! Happy planting, everyone!
March, 2022
AN EVENING IN THE MIDDLE EAST WITH KATHY AND DONNA 
AAUW members Kathy Kraus and Donna Hamilton enjoyed sharing highlights of their "Christian Heritage" trip to the Middle East in a presentation at Medina Library on March 31, 2022. In this Easter season it was interesting to view the Holy Land as it is today and to travel the path that Jesus followed. There are churches on practically every place mentioned in the Bible. These churches are built on ruins that date back to the 1st through 3rd centuries.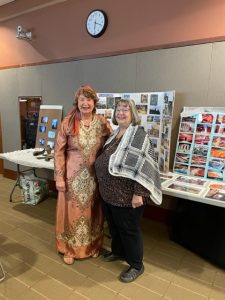 The program took us through the ruins of the Roman city of Caesarea and the medieval city of Acre. One interesting fact at Caesarea was the Statue Square which has headless bodies of the Caesars. Those clever Romans just cut off the heads of the statues and replaced them with the head of the new Caesar as power changed. 
We followed Jesus' life from the Church of the Nativity in Bethlehem to Nazareth, Cana, Capernaum, Galilee, the River Jordan and Jerusalem. The highlight of their trip was the Via Dolorosa, the path Jesus took carrying the cross from the Church of Condemnation where Herod sentenced Jesus and ending at the Church of the Holy Sepulcher at Golgotha, the site of the crucifixion.
We followed Kathy and Donna to the mud baths of the Dead Sea, to Qumran where the Dead Sea Scrolls were discovered in 1947, to a Nazarene dinner at a kibbutz, and a Bedouin camp dinner and camel caravan ride in Jordan. We went to beautiful Wadi Rum where Lawrence of Arabia hid. 
And best of all were the excellent preserved red sandstone ruins of Petra, the ancient Nabatean city that supplied water on the ancient trade routes. It is a UNESCO World Heritage Site and one of the new Seven Wonders of the World. 
February, 2022
"How We Got Here, True History in Song and Story"
By Allison Lee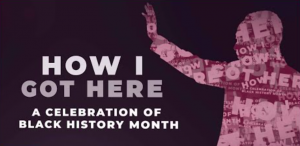 The program was aired by Armstrong Cable on February 17th 2022 (until the end of the month). The taping venue was Fellowship Baptist Church in Medina. The celebration consisted of the welcoming and thanks to all participants by Allison Lee, AAUW Diversity Chair.
Opening prayer: First Lady Senesa Peterson (Fellowship Baptist Church) and the reading of "The History of Sarah Rector, Richest Black Girl in America"
Songs: Voices of Fellowship Choir 1) "We Came this Far by Faith" and 2) "Wonderful is His Name" lead by Pastor Michael Wilson
The true history of "Henry in the Box" performed by Kathy Kraus, past President of AAUW and former Diversity Chair
Song by Mrs. Hawa Buie (United Methodist Church, Medina) "Alabaster Box" by CeCe Williams
Guest speaker: Associate Pastor Dawan Buie (United Methodist Church, Medina) "The Geneology of Pastor Buie: His Cultural Background"
Closing remarks: President, Kimberly Oliver, AAUW Medina
Benediction: Pastor John Peterson (Fellowship Baptist Church)
Thank you to everyone! Special thanks to Michael Tuchek (Armstrong Cable) and his fiancée Michela Bennett. Thanks to Pastor Arthur Ruffian hosting our past Black History Month Celebrations.
And thanks to all the amazing women of AAUW, always supportive and kind.
January, 2022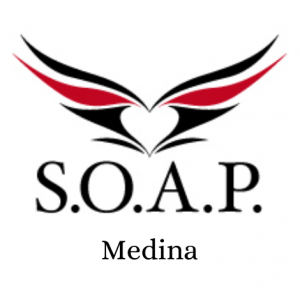 In January we welcomed SOAP volunteer and esthetician, Cindy Chesnik, who spoke to us via ZOOM about her experiences work- ing with trafficked girls. We learned that human trafficking affects girls (and boys) from all walks of life, not just "the down and outs" of society. Predators seek out vulnerable young people, groom them, eventually controlling them through intimidation / addic- tion. Cindy attends weekend retreats where girls who are already in the process of recovery receive support from a team of trained individuals. As an esthetician, she helps girls feel good about themselves which is an important step on their road to rehabilita- tion. According to Cindy, finding religion is a common thread in many of their recovery stories. We thank Cindy for her dedication in helping these girls and wish her and them continued success.
SOAP training is available on-line for anyone interested. Contact Carol Thombs: 330-421-1932 or medinasoap21@gmail.com.
December, 2021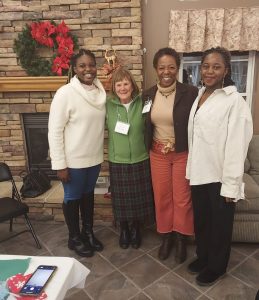 Twenty-three of us attended the 2021 Diversity Dinner at Lexington Ridge Party Center and a good time was had by all! Hospitality chair, Jeri Penn, ordered a delicious buffet from Dominic's which was served by Jeri and volunteers Kathy Kraus and Allison Lee following an invocation by President Kim Oliver. In addition to the entrees, Jeri created individual appetizer cups to snack on and plated varieties of cheesecake for dessert. The room was beautifully decorated by Jeri, Kathy and Allison who put in many hours of work to make the dinner a success— thank you!! Two exchange students from Zimbabwe added to the festivities after dinner. They gave us an interesting and insightful look at their lives in their native country and as students living in America. Many thanks to Carol Thombs for arranging their visit from the College of Wooster. A big "Thank You" also to everyone who was able to attend the dinner. Being together again this holiday season was very special— being "present" with friends was the best "present" in the world!
October, 2021 – Aneta Mullins, Women in the Military
By Joyce Rynearson, Vice-President Programs
US Army veteran and AAUW member, Aneta Mullins, did not disappoint! Her slide presentation that chronicled her tour of duty in Iraq gave us a close-up view of life in a war zone. Aneta's assignment as the driver of a supply truck took her to outposts throughout the country and made her a target of gunfire and IED's (Improvised Explosive Devices). A day that she was alive, had a shower (cold) and a hot meal was a wonderful day!
In attendance was Veterans' Hall Board President Dave Taylor who generously offered us the use of their state-of-the-art facility. The Medina County AMVETS were also on hand to serve beverages while Jeri Penn and Allison Lee offered a variety of snacks.
All in all it was an eye-opening presentation that frankly addressed issues of women who serve with men in combat.
Aneta, a past AAUW scholarship recipient, is currently completing her degree in social work with a goal of working with veterans. We thank Aneta for her service and wish her continued success!
September, 2021 – Lisa Maatz
By Joyce Rynearson, Vice-President Programs
Lisa Maatz, former AAUW Vice-President of Public Relations and current senior advisor at Ohio Citizen Action, treated us to a humorous and insightful evening via a ZOOM meeting. Some of us gathered in person at the Medina Library to watch her on the big screen, munching on snacks provided by the hospitality committee, Jeri Penn and Allison Lee. The evening was also a debut for our new PA sound-system which Pieri Levandofsky successfully set up for us!
Lisa grew up in Hinckley, Ohio and graduated from Highland High School. Her advocacy for women's rights began in third grade when the boys' restroom had doors on the stalls, and the girls' restroom did not. The girls took turns standing in front of the stalls to give themselves some privacy. After getting no results pleading to the principal, she started a petition for restroom doors in purple glitter ink. The girls' restroom got doors! Lisa went on to become a national champion of rights for women and girls.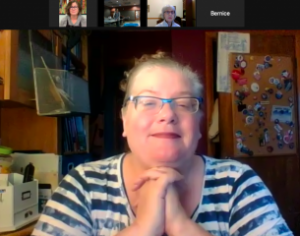 Being a Washington, DC insider for many years, Lisa's stories were fascinating to hear. She answered all questions and offered strategies as to how we CAN make a difference in our community.
August, 2021
It was great to see everyone at our August meeting at Bunker Hill Golf Course. A delicious catered meal and a beautiful evening set the tone for a fabulous evening.
Introduced were our board members for 2021-2022.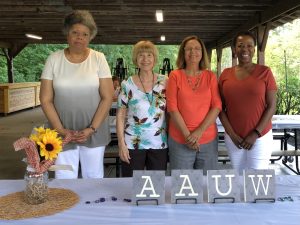 Pictured are: Allison Lee, Diversity and Cultural Activities Chair, Joyce Rynearson, VP of Programming, Pieri Levandofsky, Treasurer and President Kimberly Oliver. Not pictured, Secretary Kim Ortiz, and VP of Membership Bernice Goertzen.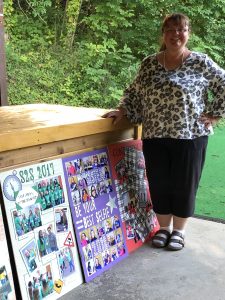 Our speaker was our Secretary, Kim Ortiz, and mother of Sister-to-Sister committee member Olivia Ortiz, reviewed Sister to Sister for this year, and updated us on planning for next year.
June, 2021 – AAUW Medina Branch Annual Dinner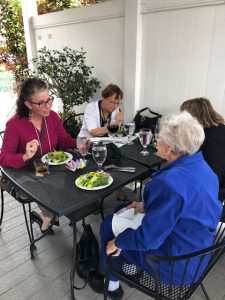 Members enjoyed a gorgeous evening dining outside at the Corkscrew Saloon on Thursday. The Branch celebrated adapting and surviving all the changes brought by 2020-2021, while enjoying each others company and a delicious dinner.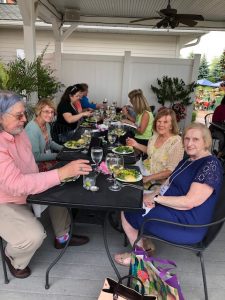 Out-going chapter officers Alanna Arnold, Susan Holbrook, Anne Gates, Kathy Kraus, and Katherine Baker  were recognized for their outstanding work over the last two years. Also presented were the new branch officers for 2021-2022, pictured: Vice-President Membership Bernice Goertzen; Kimberly Ortiz, Secretary; President Kim Oliver; Vice-President Programs Joyce Rynearson.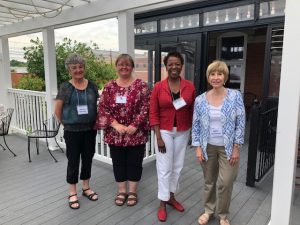 ARTS AND EXCURSIONS
While COVID continues to be a problem for gatherings, there are still plenty of events going on around the area which may be of interest to our members. Here are a list of some of our area's cultural gems.
BATTERED WOMEN'S SHELTER
Great Improvements Ahead
Update: The gifts received for the Battered Women's Shelter totaled $1600.00. Thank you so much for your support of the facility. I delivered the checks the first of January and they are so pleased we care about the women and children of Medina County.
Jill Morton
Liaison of Battered Women's Shelter
Did you know the Battered Women's Shelter has long been a passion of our chapter? We have had a guest room with our name above the door at the shelter. Through the years our members and their friends have found used furniture, painted, purchased privacy blinds, and even installed a kitchen countertop.
Jill Morton and Susan Holbrook arranged our February Zoom general meeting with our speaker, Sarah Krieger, the advancement specialist at Hope and Healing, the Battered Women's Shelter and Rape Crisis Center for Medina and Summit counties. Sarah's heart has always been in nonprofit work. While in college she helped develop Mission Possible, a service program in the Dominican Republic, and she continues as the Director of that program today. Sarah has also served as Executive Director of a multistate agency that places for credit leadership and service classes in high schools. Sarah has been on the team at Hope and Healing for the last three years, and she gave us an informative presentation on this important local group. 
The calls for help at Hope and Healing have increased due to the coronavirus. The increase has been especially large in the Family and Stability Program which helps with finding jobs and apartments. They also serve as the fiduciary for the Human Trafficking Program and provide housing for these victims on an emergency short term basis. The shelter also has room for senior victims affected by elder abuse. They do help men in abusive situations and work with the LGBTQ community. Those who need the shelter cross all ages, races, and economic groups. 
The clothing bank is always in need of donations which can be dropped off at the Medina office at 696 East Washington St. The shelter employs six psychologists, two youth and four adult. They offer skill classes, therapy dogs, and do allow pets. 
They are in process of building a new facility to further meet the demands for help. When it is complete, they will have a "housewarming party" requesting donations for furnishings. They have always been on our AAUW list of charities to support. Sarah expressed appreciation for that support. It was very interesting to learn more about the grass roots functioning of this group. 
About the shelter: The Battered Women's Shelter provides emergency protective shelter for those who otherwise would have no choice but to remain in a violent home. The Medina shelter opened over 18 years ago when championed by Commissioner Pat Geissman. Thousands of adults and their children from Medina, Brunswick, Wadsworth and every corner of the county have come through the doors since its opening. When finished, the Medina shelter will be an environment that encourages peace, while providing respectful surroundings for those that need to stay in the shelter for a few days, or weeks.
Thank you for your consideration,
Jill Morton Cell- 330-760-4448
AAUW Liaison to the Battered Women's Shelter
---
BOOK GROUP
"Reading brings us unknown friends." By Honore de Balzac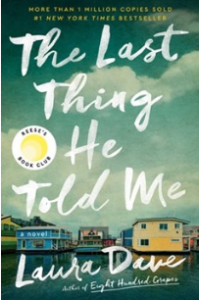 Book club will not be meeting until Monday, September 12, 2022. The summer reading selection is The Last Thing He Told Me by Laura Dave. It is a current New York Times Best Seller. It is a good fiction mystery and romance. We may add another book choice later in the summer if we get a good suggestion. Send suggestions to Donna Hamilton at clover725@ymail.com.
It has been challenging holding this group together with ZOOM through the Covid 19 times. We lost many of our members because of the technology challenges, but we also kept some out-of- town members because they could participate on ZOOM. But I think it is time to get back to meeting in person. I will be glad to host a September 12 meeting at my home.
I have been chairwoman of book club for many years and it is time for some new leadership with fresh ideas. I hope to see a rejuvenation of membership. This book group has a long history. It is fun, has an abundance of member ideas, is not at all difficult to manage, and is very rewarding with our group of avid readers. Please contact me and consider chairing this group.
COFFEE AND CONVOS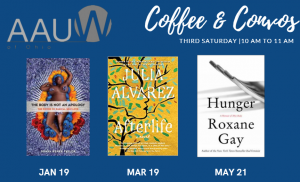 "Coffee and Convos" is the name of a book group from Ohio AAUW. "Convos" is a text slang term for conversations. Now use that new word in a text to your grandchildren and show them how "hip" you are.
May 21, 2022 – HUNGER: A MEMOIR OF (MY) BODY by Roxane Gay (2017)
In her brutally honest and brave memoir Hunger, Gay recounts a childhood sexual assault that led her to purposely gain weight to be unseen and therefore "safe." Gay warns at the beginning of the book that if you're looking for a triumphant weight-loss memoir, this is not it. But Hunger is a triumph nonetheless. It's a story not easily told, but the telling set her free.
Click to register for this on line discussion.
---
BOOK SALE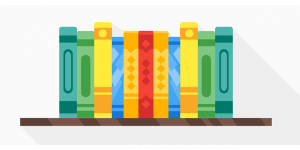 Book Sale in September!!! 
We've all heard, "It takes a village to raise a child." For us, "It will take all AAUW members plus volunteers to have our AAUW Book Sale in September." 
Potential dates for the sale: 
August 26: Prep room and tables

 

August 27: Move-in
Dates for sorting and preparation for the sale
August 29, 30, 3, September 1, 6, 7, 8, 9, September 12, 13, 14, 15, 16
September 17, 19: Finishing Touches

 
Sale dates
September 20: Members Only Night
September 21, 22, 23, 24

 
Putting the Sale to Bed
This is not a "dream schedule," but we have to work around several things. Please make any comments that might improve this schedule. 
Help Needed: 
Workers are needed to be responsible for one genre of books. You will be needed to be there on August 27, the move-in day to direct the movers to deliver your genre to your table spot. This will help volunteers eliminate moving boxes of the books later to the right place. After that, you will need to check-in occasionally on your area to ascertain the area is neat and the books are correctly placed. 
Please select a genre you would like to be in charge of and notify Carol Thombs (cgthombs98@gmail.com or 330-421-1932) of your choice. There may be other genres later. 
History/politics

 

Art/Music
Biography

 

Self-help

 

Humor

 

Science/Gardening

 

Religion

 

Cooking
Antique

 

Romance
Mystery
Trade Paperbacks
Local Interest/Authors

 
DIVERSITY
Stand Against Racism Challenge
Previously known as the 21-Day Racial Equity and Social Justice Challenge, the Stand Against Racism Challenge: A Virtual Community of Growth is the same program developed by YWCA Greater Cleveland and adapted nationwide. 
You will be presented with challenges such as reading an article, listening to a podcast, reflecting on personal experience and more. Participation in an activity like this helps us to discover how racial injustice and social injustice impact our community, to connect with one another, and to identify ways to dismantle racism and other forms of discrimination. This is an exciting opportunity to dive deep into racial equity and social justice. We hope you will join us on this journey, and we can't wait to get started, 
The first official Stand Against Racism Challenge launches Monday, April 4th. With all new content and challenge material, you won't want to miss this! Registration for the Challenge is open today! 
Invest $21for21 
Challenge yourself to invest in your racial equity and social justice development by joining $21for21. Racial equity work is consistently underfunded, and we need your help to provide high quality programming like the Stand Against Racism Challenge. Make a $21 investment in your anti-racist development and encourage 21 other people to take the challenge and match your investment. 
---
DIVERSITY BOOK GROUP
By Jeannine Murray
Jeannine Murray Cell: 440-759-8806 jmw597b@yahoo.com
May 16, 2022 –  

Caste,

 Isabel Wilkerson
April 18, 2022  

When I Was Puerto Rican,

 Esmeralda Santiago, 27
March 21

 

The Woman in the White Kimono

by Ana Johns.
Please contact Jeannine Murray at jmw597b@yahoo.com for more information and to receive the ZOOM link.
ENVIRONMENTAL INTEREST GROUP

Lor Breyley
Have you heard about Plastic Free Week?
It starts July 1 and now is a great time to start to think about how you can be part of the solution! What started as a small movement in Australia in 2011 has since expanded to more than 150 cities with millions of participants worldwide. The goal of Plastic Free Week is to challenge people to not use any single-use plastics for a week in hopes to help them form more sustainable habits beyond just those seven days.
Tru Earth lives a zero-waste lifestyle free of single-use plastics. If you're up for it, we'd love to have you join us. We promise it won't affect how much fun you can have or limit you in any way – if you want to still live your best life while also avoiding single-use plastics, the key is being prepared. Here are some helpful tools and tips to help you stay plastic free.
BYOC (Bring Your Own Cup)
July is HOT. And there's nothing quite like a cool iced coffee in the morning after waking up with your sheets sticking to your sweaty thighs. To keep your daily coffee shop trip plastic-free, bring along your own reusable cup, thermos or mason jar. Be bold and kindly request your drink in your own container, and feel free to even throw in "I'm challenging myself to not use any single-use plastics!" to spread the word on the movement.
Skip the plastic straw
The average person uses about 1.6 non-recyclable plastic straws per day, plus plastic straws are one of the most common forms of plastic pollution in the ocean. Adopt the phrase "no straw please" when ordering a drink at a bar or glass of water at a restaurant. Or get yourself a reusable option like a stainless steel, bamboo or silicone straw for sipping your iced coffee.
Shove reusable bags everywhere
It takes a second to get into the habit of bringing reusable bags with you when shopping, so set yourself up for success by pre-placing bags all over your home, car and in your work or school bag. You can also switch to reusable cotton produce bags or reusable grocery bags (which can also be used for carrying other stuff, like towels to the beach!)
Just say "nah" to plastic cling wrap
Try a more sustainable alternative to wrap up leftovers like aluminum foil which is 100% recyclable, or a personal favorite, reusable beeswax wrap or reusable beeswax snack bags.
Buy-bye protein bars, hello bulk snacks
A huge source of single-use plastics for many people comes in the form of prepackaged grab-and- go food like a protein or granola bar. You can get all the same nutrients and flavor from common items in the bulk food section of Whole Foods or a natural foods store like nuts, dried fruit and granola. Or reach for a piece of real fruit instead when you've got a hankering for a snack.
Or if you're really feeling up for it, experiment with making your own snack bars using bulk ingredients, or items that come in recyclable packaging.
Meet your new BFF, your reusable water bottle
The plastic free tool that's always got your back – a sturdy reusable water bottle. Especially in the hot temps of summer, staying hydrated is incredibly important. Treat your water bottle as if it's your third hand, and don't ever leave home without it. If you're down for good old tap water, fill it up in the bathroom sink, or if you're at a bar (as many people are for the majority of July…) ask the bartender to fill it up.
If your local tap isn't the best, or you just prefer filtered water, get yourself a small water filter that can fit inside your bottle that uses a 100% compostable and natural charcoal water filter.
Switch up your personal care routine
Though many personal care items such as deodorant sticks, plastic razors or face wash in a plastic tube aren't technically "single-use" plastics, many of them are non-recyclable in traditional municipal recycling. But you can try reusable bamboo make-up remover rounds to help eliminate some extra plastics (like the bags the traditional make-up remover pads come in…)
Use Plastic Free Week as your excuse to start exploring some different options. Are you ready to take the challenge?
Source: Tru Earth
HOSPITALITY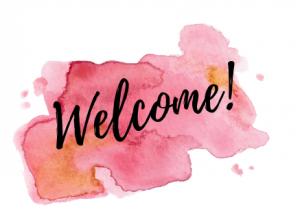 Do you enjoy meeting new people, greeting members, and welcoming guests? Do you have a flair for creating holiday favors and table decorations? Is baking or providing snacks and beverages your niche? Maybe you enjoy setting and arranging the refreshment table.
If any of these describe you, then the Hospitality Committee is a way that you can have fun and serve Medina Branch AAUW!
Contact Jeri Penn for more information: jeripenn@gmail.com
330-421-3284
---
HUMAN TRAFFICKING
By Carol Thombs
There will be a joint event with the Medina County Coalition Against Human Trafficking and Society for the Prevention of Cruelty to Animals, addressing the topic of abuse. Keep posted for further information about this upcoming event.
SOAP
A committee met at the Medina County Children's Center on Saturday, April 30, to as- semble new red folders that will be delivered in May to 32 hotels, 4 truck stops, 2 restau- rants that are open 24 hours, 2 beauty salons, and 4 hospitals. This list has expanded from our original "hotels only" list, and we've added Wooster and a part of Strongsville to our territory. Our new folders with expanded information have been very well received. Items included in the folders are the monthly Missing Children Posters, the SOAP Project trifold, and information about trafficking indicators. You can view our monthly Missing Children Posters and our SOAP trifold on our AAUW website.
---
MEMBERSHIP



It's that time to renewing your membership in AAUW. Here's a breakdown of the dues:
National dues: $67 ( all but $3 are tax deductible)
Ohio state dues: $11
Medina local dues: $6
Total Dues: $84
There are two options for renewing:
Write a check for $ 84 made payable to AAUW Medina and mail to: Pieri Levandofsky 251 Jasper Lane Medina, OH 44256
Renew on line by logging into the National site and then into your account. You can then pay with a credit card. Please note: the National website has been upgraded and we have included a YouTube tutorial IF you wish to renew online. This will help guide you through the steps. The first thing you will need to do is reset your password. Then continue to renewal section. Remember to pay for national, state AND local dues= $84
For those wishing to renew online, you can renew here.
If you have any questions or need help with renewal contact Pieri Levandofsky at jpsky2728@aol.com or 330-461-1945 or Bernice Goertzen at bernice.goertzen@gmail.com or 330-241-0046. Please renew by June 30 2022
---
PUBLIC POLICY
The E.R.A. is Victorious, or is it?
What it Says:
Section 1: Equality of rights under that law shall not be denied or abridged by the United States or by any state on account of sex.
Section 2: The Congress shall have the power to enforce, by appropriate legislation, the provisions of this article.
Section 3: This amendment shall take effect two years after the date of ratification.
The E.R.A. (Equal Rights Amendment) easily passed Congress in the early 70's and then on January 27, 2020, Virginia was the 38th state to ratify it, meeting the two requirements for mak- ing it valid. Federal law requires the archivist of the United States to certify an amendment whenever it has met those two requirements. A 2020 memo from the Justice Department's Of- fice of Legal Counsel that provides legal advice to the executive branch contended that the E.R.A. is no longer valid because it failed to meet a seven-year deadline the Congress initially set. The Constitution does not specify anything about deadlines, and whether there was really a deadline is a point of contention now. The legal question is whether Congress has the legal power to set a time limit for ratification. There have been cases where a time limit has been upheld and others where amendments have been ratified as long as 200 years after being drafted. On January 27, 2022 President Biden called on Congress "to act immediately to pass a resolution recognizing" that the E.R.A. has been properly ratified and is part of the Constitution.
Why do we need the E.R.A.? We have made progress on gender equality through the courts and some legislation, but that progress can be easily reversed by legislation, and decisions can be difficult to enforce. The E.R.A. would clarify that women's issues including sex discrimination in employment, wage equality, parental leave, violence against women and reproductive rights are protected.
What can we do? On March 17, 2021 the House of Representatives voted with bipartisan support to remove the deadline for ratification of the E.R.A. This critical resolution now needs to be voted upon by the Senate. We need to urge our Senators to support the ratification of the E.R.A. Please use your influence to help get this important women's issue passed by writing our Ohio Senators, Sen. Sherrod Brown and Sen. Rob Portman

Equity Network Events:
Join us as we engage with the issues that matter most and share helpful resources for taking action. From negotiating your salary and benefits to advocating for change in your own community, the Equity Network is here to help you succeed.Check out our past webinars below and stay tuned for upcoming programs.
SCHOLARSHIPS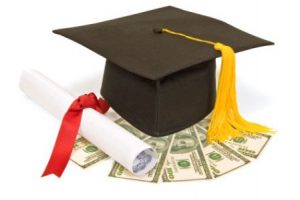 2005 — We joined the Akron Community Foundation. The AAUW Medina County Scholarship Foundation was created and funded through many individual donations, and several fundraisers — which included raising well over $1,000 each of the two times we had Pulitzer Prize winner Connie Schultz speak at sold out presentations in the auditorium at the Medina County Administration Building. 
Through the Akron Community Foundation we have 501C3 status which makes any contribution tax exempt. The Akron Community Foundation manages our portfolio and reviews investment strategies based on current market conditions. We receive spendable income allocations (right now approximately $3,000 annually) and use this money to award annual scholarships. Our balance for the 1st quarter of 2022 is currently at $65,019.38 
You can make donations to help continue funding scholarships! Donations can also be made in honor or memory of someone. 
Make checks payable to: AAUW of Medina County Scholarship Fund Mail them directly to:
Akron Community Foundation,
345 W. Cedar Street, Akron, OH 44307.
Attention: Brian Reitz – Agency Endowment & Engagement Officer 
SISTER TO SISTER
Thirty-five middle schoolers joined in for a full day of activities. It was wonderful to gather in-person again! After some icebreakers, snacks, and a keynote speech, the girls were divided into smaller groups to attend the sessions listed below.
After a hearty lunch of pizza, carrots, fruit, and cookies, high school teen leaders led breakout sessions and helped engage the girls in activities and conversation. At the end of the day, parents gathered to receive information about the day. Overall feedback from parents and students was very positive!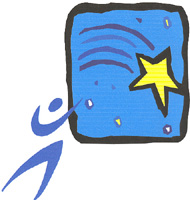 AAUW members Alanna Arnold and Pieri Levandofsky were part of the adult planning committee that met throughout the year to help the high school teens organize the event.
A BIG thank you to AAUW members for being so supportive with donations to help fund the conference!
---
The branch offers opportunities to come together monthly to experience programs on topics of interest from NASA space shuttle projects to storytelling, human trafficking awareness to following a student as she re-traced the original "Freedom Ride" of 1961 through the south.  We have active interest groups that discuss pertinent books, visit area museums, exhibits and attractions, and screen current films.
Browse our site and find out how you can be a part of our active organization!
Medina County Branch has a Facebook Page….visit us at http://www.facebook.com/MedinaAAUW to see what people are interested in. Share your thoughts and LIKE us!