The American Association of University Women (AAUW) is a nationwide network of more than 170,000 members and supporters, 1,000 local branches, and 800 college/university institution partners. For over 130 years, AAUW members have examined and taken positions on the fundamental issues of the day — educational, social, economic, and political. Our commitment to our mission is reflected in all aspects of our work.
AAUW's Mission
AAUW advances gender equity for women and girls through research, education and advocacy.
Medina County Branch
The Medina Branch was founded in 1964 by a group of women dedicated to declaring their common interests in encouraging educational activities, cultural activities and personal growth. They were leaders in our community and instrumental in developing long-standing institutions in Medina County, including the Medina Arts Council, the Women of Distinction Awards, home tours, candidates' nights, a scholarship fund for non-traditional women students, an annual used book sale, and the Sister-to-Sister Conference for Girls. We proudly celebrated our 55th year at our annual meeting and dinner, June, 2019. Want to know more? Don't hesitate to contact us at our email, aauwmedinaoh@gmail.com. We would love to hear from you!
---
President's Message
"Your journey has molded you for your greater good, and it was exactly what it needed to be. Don't think you've lost time. There is no short-cutting to life. It took each and every situation you have encountered to bring you to the now. And now is right on time."
Asha Tyson, Author
I consider it an honor and special privilege to serve as the AAUW Medina Branch President for the 2021 – 2023 term. Thank you to past presidents and officers for all you have done to lead this branch into its' fifty-seventh year. It has been a journey which has molded us for greater good.
I look forward to the meetings, gatherings and programming scheduled for this upcoming year. I also look forward to a heightened mindfulness of our mission to advance gender equity for women and girls through research, education and advocacy.
I chose Ms. Tyson's quote as it is advice which seems to stem from her journey beginning with unfathomable hardship to placement on the road of amazing success and triumph. It resonates with females who can identify with the struggles for well-deserved and long overdue recognition in classrooms and workplaces with glass ceilings. It serves as a bit of advice to encourage the young girls who participate in our programs as well as to the nontraditional students who become recipients of our scholarships.
Our fifty-seven years old journey as AAUW Medina Branch has molded us for our greater good. It has brought us to our right on time now. May our now and our mission be blessed with yet another productive journey!
Kim Oliver, President
PROGRAMS FOR 2021-22

MARK YOUR CALENDAR!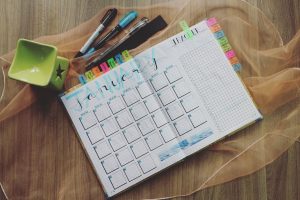 Our VP of Programming, Joyce Rynearson, has been busy planning the upcoming year. Be sure to mark your calendar for this year's meeting dates:
October 28, 2021, 6:30 pm
December 2, 2021, 6:00 pm
January 27, 2022, 6:30 pm
February, 2022 Black History Program

 

March 24, 2022, 6:00 pm
April 2022 – No meeting due to the annual Book Sale
May 26, 2022, 6:00 pm
NEWS
September Meeting, – Lisa Maatz
Thursday, September 23, 2021
6:00 pm-8:00 pm
Medina County Library, 210 South Broadway, Medina, Ohio Community Room A
Lisa Maatz, AAUW's Vice-President of Government Relations will speak on "Women and Public Policy" at our September membership meeting. Lisa works to advance AAUW's priority issues on Capitol Hill, in the White House and in coalition with other organizations. She is a sought-after speaker, providing leadership in advancing opportunities for women and girls.
Lisa will speak via ZOOM. We will meet at the Medina County Library to watch her presentation on the big screen, and you will not have to maneuver the zoom technology. Refreshments will be available prior to our business meeting at 6:00 pm, ZOOM program and questions to follow from 6:30-7:30 pm. (If you prefer, a link can be sent to your home computer)
Guests are welcome to attend and learn more about AAUW's mission. Hope to see everyone on the 23rd!
Theme: Empowerment through an Inclusive Membership
The program includes keynotes speakers and panel discussions.
Keynote Speakers:
Laura Myers, Ohio University's Deputy Chief Strategy and Innovation Officer

Sarah Wyatt, Ohio University's Professor & Director of Molecular & Cellular Biology 
Panel Discussion:
Naykishia Darby Head (Moderator, President of AAUW/Bowling Green)

Ramonda Kindle

Shervonne ND

John Zibbel
---
Another Successful Sister-to-Sister 2021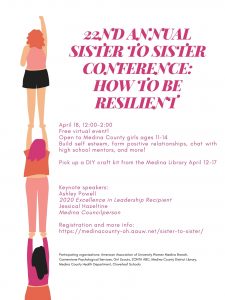 This year's Sister to Sister event looked a little different as it took place virtually via Zoom. The event almost didn't happen at all, but thanks to Buckeye Student and Junior Leader, Olivia Ortiz, the planning board was inspired to try a new format. This year's theme was "How to be Resilient" and featured two guest speakers, Jessica Hazeltine, a Medina Council person, and Ashley Powell, AAUW Medina's 2020 Excellence in Leadership Award. Hazeltine detailed her experience being bullied as a child and eventually developing the confidence to run for city council. Powell is a former Buckeye Local Schools student, and she discussed her experiences growing up as a black woman in a mostly white community. She discussed how she did not begin to have confidence in herself until her twenties, and she largely attributes that to the people who supported her no matter what. After listening to the two inspiring speakers, the girls were sent to a breakout room where they could interact and ask questions of high school mentors.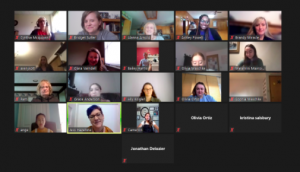 To go along with the virtual program, the participants were also able to collect a craft kit and create fun projects using instruction videos created by the teen leaders. We are grateful that we were able to have an event at all this year, and much of the credit goes to the teen leaders for being creative and providing young girls with the opportunity to be inspired and learn how to build resiliency.
Sister-to-Sister, (S2S), has been reaching out to young women for more than 20 years. The original S2S project was initiated in 1997 by the national American Association of University Women in an effort to understand the concerns of our nation's young women and how these concerns affected their educational experiences.
Sister-to-Sister was open to all Medina County young women, ages 11-14, and there was no fee to attend. S2S is made possible by AAUW Medina, Cornerstone Psychological Services, Girl Scouts of America, ZONTA ABC, Medina County District Library, The Medina County Health Department and Cloverleaf schools.
---
AAUW NATIONAL 
HOW DOES AAUW'S MISSION APPLY TO MEMBERS?
An excerpt from a speech made by a National Board Chairman to a national committee to answer that question.
"I recently had a discussion with a member who was of the opinion that the board is not focused on the right things, among other things; she was upset about the increase in dues and proposed bylaw change. This person felt that we should be solely working on programs and initiatives that would provide more value and benefit to individual members. In other words, she felt the "M" we should be thinking about is membership. I begged to differ with her. When I think of the focus on "M," two words come to mind: Mission and Management. Now, management is a term often associated with for-profit corporations. However, strong governance along with competent, professional management with vision, is also essential in nonprofit organizations.
"As for mission, AAUW does not exist to serve its members. Its purpose, its mission, is to advance gender equity for women and girls through, research, education, and advocacy. Of course, as a member association, we also want to provide value of membership, but the basic legal tenet of a non-profit is that benefit does not inure to its members except, of course, in a collective and incidental way."
Member News
Congratulations to Alanna and Jack Arnold who spent ten days enjoying the Hawaiian Islands to celebrate their 50th Anniversary!
A wonderful story about the exciting married lives of Joyce Rynearson and husband Dave were the featured story in The HANDS newsletter's "True Romance" section. True Romance is authored by Angela Huston.
Current member Betty Lynham who now resides in Pennsylvania was recently in town. Family and friends gathered for a celebration of life for late husband Dick Lynham who passed away February 2020. Dick and Betty lived in Medina from 1974-2017.
MAKING A DIFFERENCE FOR WOMEN
I'm working on a comprehensive project to break the cycle of poverty for a group of individuals who live in Union Square, Medina.
Policy makers do studies on breaking the cycle of poverty and there are classes you can take to learn financial literacy, but more can be done collectively at a grass roots level. We work on individual projects and make a difference a little at a time, but think what we could do if all worked together toward one goal. Breaking the cycle of poverty in Medina County.
With that thought in mind, I reached out to Samantha Harr, who is the resident manager for Union Square, to inquire on what services her community could use to improve their current situation. We discussed the barriers to access education and employment. Some of these barri- ers are: child care, background checks, transportation, broadband and technology. Here are a few things we've gotten into place:
Education – Project Learn will conduct tutoring for GED's, Civil Service and ASVAB testing for anyone over 18 years of age in the Union Square Community Room.
Background Checks – I reached out to the Medina County Probation Officer and received information on how to seal records for individuals who have up to 5 felonies. I'm putting together information packets for Samantha to hand out when needed. We are advertising this information through a poster on the new jobs board Samantha has installed.
Technology– Samantha was approached by an individual who wants to help get computers and tech in the Union Square Community Room. It's great news for this community! He also has donated a large screen TV that will be installed and can be used as a white board. Continuous WiFi is another subject. The Medina school is paying for WiFi through the end of the school year, but after that we will need to find additional resources. United Methodist Church has promised to pay up to 3 months, and I hope that will cover the summer months. We don't know what will happen when school starts again in the fall
Library – United Methodist Church has put in 2 small bookshelves and books for the children. I have resourced a couple more bookshelves and a hundred books or so to put on them. I plan to install a bookcase for adult learning as well.
Children – Samantha and I met with the new board president of Let's Make A Difference to see where we can work together with the children and parents of Union Square. I'm looking to make a connection with Big Brothers and Big Sisters too. I've heard that Medina County may now have a branch.
What I need from you and other AAUW members is help in filling in the holes.
Some of these young people will need mentors to help them navigate the job market, writing a resume, finding appropriate clothing, learning to dress for an interview, learning good interview skills, etc. These soft skills can be intimidating and overwhelming. Can you help guide someone through this process? These young people just need someone to believe in them and help them up and out of their situation.
I can give individuals information on how to seal their records, but I can't answer any legal questions or give advice, so if you are an attorney could you volunteer an hour or so a week to answer any questions on how to fill out the form and what qualifies, etc.?
We will also be looking for a couple of tutors for tech once the computers get in. In today's work world it's imperative that everyone has good computer and internet skills. Can you tutor in Word, Excel, Google, email, etc.?
When you help with even one of these items listed above you could change someone's life forever. Union Square is only a starting point. Once a few more connec- tions are made, and more barriers are taken down, I'd like to see this project be duplicated across the county.
Let's work together for positive change in Medina County. I hope you will join me!
Donna Beheydt, Community Organizer
If you can help, text Donna at 330-703-7607 or email at donna.beheydt@gmail.com
---
Medina Branch Earns Awards
State branch awards were announced at two state regional conferences attended by our branch President Alanna Arnold. Therefore, she would like to announce that Medina AAUW re- ceived the following awards: The Diversity and Inclusion Award (formerly called The Daffodil Award) and the Outreach Award for social websites (formerly called Public Communications Award). There were no Starz Awards this year but, beginning next year, the Starz Award will be called the Buckeye Award.
Arnold would like to thank our Diversity Chair AAUW Member Kimberly Oliver for an outstanding job both this year and last. Our audiences loved her and her committees' ideas and performances for Black History month. Even in a pandemic, she did not disappoint.
Likewise, AAUW Member Mary Baker rose to the occasion to fill the very large shoes left by Pat Chaloupek. Baker has done an outstanding job with both the branch website and Facebook pages. One of the most important criteria for this award is that the branch site be viewed and used. Our site is viewed by many people and the comments left indicate that it is used. The judges are always impressed by how useful our website is in our community.
Thank you for outstanding jobs, ladies, and kudos to all the members who contributed to both the diversity and public outreach endeavors! We are proud of you.
 ______________________________________________________________________________________________
Medina Branch Committees
August, 2021
It was great to see everyone at our August meeting at Bunker Hill Golf Course. A delicious catered meal and a beautiful evening set the tone for a fabulous evening.
Introduced were our board members for 2021-2022.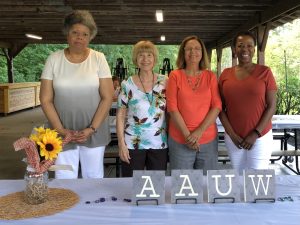 Pictured are: Allison Lee, Diversity and Cultural Activities Chair, Joyce Rynearson, VP of Programming, Pieri Levandofsky, Treasurer and President Kimberly Oliver. Not pictured, Secretary Kim Ortiz, and VP of Membership Bernice Goertzen.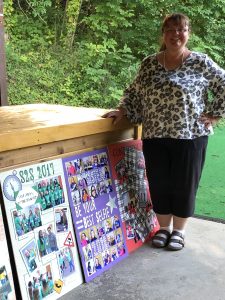 Our speaker was our Secretary, Kim Ortiz, and mother of Sister-to-Sister committee member Olivia Ortiz, reviewed Sister to Sister for this year, and updated us on planning for next year.
June, 2021 – AAUW Medina Branch Annual Dinner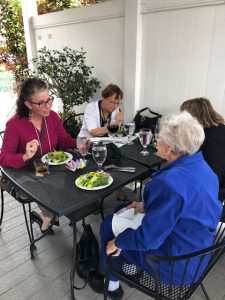 Members enjoyed a gorgeous evening dining outside at the Corkscrew Saloon on Thursday. The Branch celebrated adapting and surviving all the changes brought by 2020-2021, while enjoying each others company and a delicious dinner.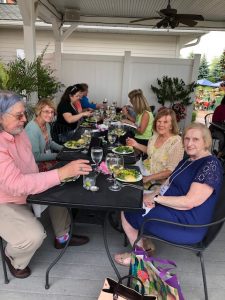 Out-going chapter officers Alanna Arnold, Susan Holbrook, Anne Gates, Kathy Kraus, and Katherine Baker  were recognized for their outstanding work over the last two years. Also presented were the new branch officers for 2021-2022, pictured: Vice-President Membership Bernice Goertzen; Kimberly Ortiz, Secretary; President Kim Oliver; Vice-President Programs Joyce Rynearson.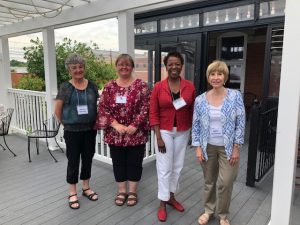 ---
ARTS AND EXCURSIONS
"Immersive Van Gogh Exhibit" is coming to Cleveland from September 9 through November 28 of 2021. This exhibit is 500,000 cu ft. of monumental projections of Van Gogh's works from the sunny landscapes to the starry nights, portraits, and still life. It is a multisensory exhibit in which you walk through large scale moving images with music. This exhibit will be located at an historic Cleveland venue that is being kept secret for now. Covid 19 safety precautions will be in effect and admission will be managed with advance timed tickets. Go to vangoghcleveland.com to purchase advance tickets. There are several different prices ranging from $30 to $100 per ticket. Most of September and weekends in October are already sold out.
This is the type of trip we would have enjoyed as a group pre-Covid. We can't do that, but I at least wanted to make sure our members had the information to attend if they choose. Cleveland supports the arts and we are so fortunate to get an exhibit like this.
BATTERED WOMEN'S SHELTER
Great Improvements Ahead
Update: The gifts received for the Battered Women's Shelter totaled $1600.00. Thank you so much for your support of the facility. I delivered the checks the first of January and they are so pleased we care about the women and children of Medina County.
Jill Morton
Liaison of Battered Women's Shelter
Did you know the Battered Women's Shelter has long been a passion of our chapter? We have had a guest room with our name above the door at the shelter. Through the years our members and their friends have found used furniture, painted, purchased privacy blinds, and even installed a kitchen countertop.
Jill Morton and Susan Holbrook arranged our February Zoom general meeting with our speaker, Sarah Krieger, the advancement specialist at Hope and Healing, the Battered Women's Shelter and Rape Crisis Center for Medina and Summit counties. Sarah's heart has always been in nonprofit work. While in college she helped develop Mission Possible, a service program in the Dominican Republic, and she continues as the Director of that program today. Sarah has also served as Executive Director of a multistate agency that places for credit leadership and service classes in high schools. Sarah has been on the team at Hope and Healing for the last three years, and she gave us an informative presentation on this important local group. 
The calls for help at Hope and Healing have increased due to the coronavirus. The increase has been especially large in the Family and Stability Program which helps with finding jobs and apartments. They also serve as the fiduciary for the Human Trafficking Program and provide housing for these victims on an emergency short term basis. The shelter also has room for senior victims affected by elder abuse. They do help men in abusive situations and work with the LGBTQ community. Those who need the shelter cross all ages, races, and economic groups. 
The clothing bank is always in need of donations which can be dropped off at the Medina office at 696 East Washington St. The shelter employs six psychologists, two youth and four adult. They offer skill classes, therapy dogs, and do allow pets. 
They are in process of building a new facility to further meet the demands for help. When it is complete, they will have a "housewarming party" requesting donations for furnishings. They have always been on our AAUW list of charities to support. Sarah expressed appreciation for that support. It was very interesting to learn more about the grass roots functioning of this group. 
About the shelter: The Battered Women's Shelter provides emergency protective shelter for those who otherwise would have no choice but to remain in a violent home. The Medina shelter opened over 18 years ago when championed by Commissioner Pat Geissman. Thousands of adults and their children from Medina, Brunswick, Wadsworth and every corner of the county have come through the doors since its opening. When finished, the Medina shelter will be an environment that encourages peace, while providing respectful surroundings for those that need to stay in the shelter for a few days, or weeks.
Thank you for your consideration,
Jill Morton Cell- 330-760-4448
AAUW Liaison to the Battered Women's Shelter
---
BOOK CLUB
Donna Hamilton
"I find television very educating. Every time somebody turns on the set, I go into the other room and read a book." Groucho Marx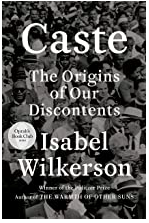 Our summer book is Caste by Isabel Wilkerson. This is a nonfiction book that has been controversial, widely read by book clubs, and should lead to a spirited discussion. Those who have read it responded that it was at times painful to read, but that the important message needed to be heard. Carol Thombs will be leading a discussion on this book September 13.
This past year has been challenging for book club members since we could not meet in person. I want to thank Alanna Arnold and Marcia Paladino for helping our group with the ZOOM meeting technology. We would not have survived without your expertise. 
The October book is The Four Winds  by Kristin Hannah–a novel with strong women characters surviving the depression in Texas and Callifornia.  It is beauitifully written; you will taste the dust in your mouth.
I am looking for someone to step forward and take over the leadership of book club. I have done this many years now, and it is time for new ideas, a new approach. This has been one of the best and oldest book clubs in Medina County. We need to keep it vibrant and strong. Please let Donna Hamilton know if you would like to do this job. (clover725@ymail.com) 
*For more great reading suggestions, check out the Book Discussion Group page which includes Donna's recommended reads from this summer.
COFFEE AND CONVOS
"Coffee and Convos" is the name of a book group from Ohio AAUW. "Convos" is a text slang term for conversations. Now use that new word in a text to your grandchildren and show them how "hip" you are.
June 19, 2021, SMALL GREAT THINGS by Jodi Picoult (2016)
The story concentrates on an African-American labor/delivery nurse, Ruth Jefferson, in charge of newborns at a Connecticut hospital. Ruth is ordered not to touch or go near the baby of a white supremacist couple. After the baby dies in her care, Ruth is charged with murder, and taken to court. https://aauwohiojune.eventbrite.com
July 17, 2021, STRANGE BIRDS by Celia Perez (2019)
From the award-winning author of The First Rule of Punk comes the story of four kids who form an alternative Scout troop that shakes up their sleepy Florida town.  Relates to AAUW issues and values. https://aauwohiojuly.eventbrite.com
September 18, 2021   NICKEL BOYS by Colson Whitehead (2019)
The novel is loosely based around a real-life true case of systemic abuse at a borstal-type facility in 1960s America. Whilst the novel deals with themes of physical/emotional/sexual abuse, it does so in a sensitive manner. https://aauwohiosept.eventbrite.com
November 20, 2021, THE MOMENT OF LIFT by Melinda Gates (2019)
"In her book, Melinda tells the stories of the inspiring people she's met through her work all over the world, digs into the data, and powerfully illustrates issues that need our attention—from child marriage to gender inequity in the workplace." — President Barack Obama "The Moment of Lift is an urgent call to courage. It changed how I think about myself, my family, my work, and what's possible in the world. https://aauwohionov.eventbrite.com
---
BOOK SALE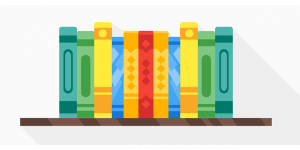 Carol Thombs has been thinking about the book sale fundraiser that we normally have in April. Unfortunately, the pandemic has forced us to postpone any plans for this important branch fundraiser until April, 2022. Safety will always be our first concern. But, we remain optimistic that we may again serve the book-lovers of Medina.
---
DIVERSITY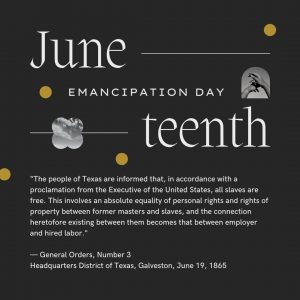 Juneteenth will be celebrated by the Diversity Program this Saturday, June 19, 2021 at the Pizza Palooza on the Square, 9 AM to 2 PM.
Take the Diversity Challenge at the Diversity Table.  Can you identify these Black and Brown  leaders, actors, athletes, authors?  How many clues do you need to identify them?
Need more suggestions? Check out our ideas for celebrating Juneteenth

 Our Black History Month Program in 2021 was a Zoom presentation available to AAUW members and the public. The presentation took place on Thursday, February 18, 2020, at 7:00 p.m. The topic this year was "Driving While Black." We discussed the particular difficulties that black motorists have historically encountered and The Green Book which was used by black motorists to find friendly accommodations, gas stations, and restaurants while traveling.
ENVIRONMENTAL INTEREST GROUP

It seems like every day we are learning about and becoming alarmed about what is happening to both our environment in general and especially to our climate. Lor Breyley will be continuing to submit her very informative environment articles to the newsletter. They have excellent advice from which all of us should be able to find ways to adjust our living to improve the environment. 
A zoom planning meeting from the 2021-2022 year will be scheduled shortly. Possible dates are Monday, September 20th ; Tuesday, the 21st; Wednesday, the 22nd; Friday, the 24th; or Monday, the 27th. Please contact Carol Thombs (330-421-1932) to specify best days and times to meet and/or to be added to this committee. We need many ideas for possible solutions and ways to implement those solutions. A possible idea we have for this year includes asking for help from the Oberlin students who are involved in the environment movement and have had success with environment improvements in Oberlin. We need your ideas for this many pronged problem. 
Hospitality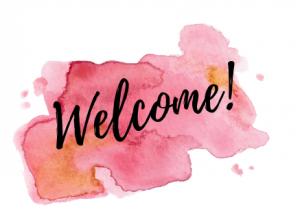 Do you enjoy meeting new people, greeting members, and welcoming guests? Do you have a flair for creating holiday favors and table decorations? Is baking or providing snacks and beverages your niche? Maybe you enjoy setting and arranging the refreshment table.
If any of these describe you, then the Hospitality Committee is a way that you can have fun and serve Medina Branch AAUW!
Contact Jeri Penn for more information: jeripenn@gmail.com
330-421-3284
---
Human Trafficking
Carol Thombs
The Poker Run was very successful. The final profits will be determined by the end of this month, but there were few expenses, so we are hoping for good results. Our own Alanna Arnold was the chair of the committee for obtaining baskets to be raffled off. Sixteen raffle baskets added significantly to earnings. The SOAP teams assembled and donated to fifteen of those sixteen baskets.
Carol Thombs was the winner of the drawing for the Gift Card Tree, valued at $220. Carol had collected $170 of the gift cards from places she frequents. Donating money for the raffle was a win-win situation for both her and HT.
The next Human Trafficking meeting will be on September 23 at 10 AM on Zoom. Please consider attending. Check with Carol for the link.
---
Two of the SOAP team leaders, Terri Helton and Melanie Sincic, have become ill with COVID, as well as Melanie's husband. While all have started on the road to health, Melanie's husband has a long road ahead to recovery. For August and September Carol is e-mailing the Missing Children Posters to their 16 hotels. There has been an up-tick in the number of COVID cases, particularly the Delta variant, and Medina County is an area of substantially increased infections. SOAP is required to follow CDC guidelines. Therefore, the Medina SOAP teams will be e-mailing the Missing Children Posters and confirming the arrival of and attention to them by phone.
Medina SOAP is now an independent organization. You can check out our Facebook page, and/or e-mail us at Medina-SOAP21@mail.com. We are still working on finalizing our strategies for reporting our hotel visits, increasing our visibility, and identifying ways to raise needed funds. There have been two donations made in the past month: one from Medina Veterinary Clinic and another from an anonymous donation. Donations are going through the Mike Kovack Family Community Fund, a 501c3 fund. We would welcome AAUW members to join our SOAP teams. Training is now available on-line. Contact Carol Thombs (330-421-1932) for more information.
---
MEMBERSHIP



by Anne Gates Co-vice President for Membership
This spring, AAUW members across the country will have an opportunity to vote on a significant proposed change to the current national Bylaws: eliminating the college degree requirement for membership in the organization.
In an online forum last September, Board Chair, Julia Brown, and Vice Chair, Malinda Gaul, provided a comprehensive perspective on the proposed Bylaws change. They stated that in- clusion is a priority for younger people and, given that fifty percent of the U.S. population was born after 1980, AAUW needs to acknowledge this generational shift with respect to removing barriers to membership and keeping AAUW vital into the future. Further, Brown and Gaul underscored that the AAUW leadership has considered racial and social justice and its relationship to the degree requirement; women in marginalized groups are often dispro- portionately affected by issues of equity. They emphasized that AAUW's reputation and brand are key, and some outside the organization view it as being hypocritical with respect to its emphasis on inclusivity in light of a degree requirement for membership. This can affect AAUW's ability to secure grants, as some funders do not want to be affiliated with a group that discriminates on the basis of an educational requirement.
A summary of key talking points in support of eliminating the education requirement, as prepared by AAUW's Inclusion & Equity Committee, is outlined below:
 It is the right thing to do and is in keeping with our mission to advance gender equity.
 Eliminating the degree requirement will bring AAUW membership criteria in line with its mission – to advance gender equity.
 Greater diversity can only strengthen AAUW and our ability to advance equity.
 Times have changed and society has changed. AAUW strives to meet our mission and society's needs today.
 AAUW empowers women. How does keeping the membership requirement help you empower women?
 Just like our founding mothers, we can be role models for positive change in the world. But we cannot have the impact we seek when our membership criteria don't match our mission and values.

AAUW is unique due to our breadth of programming, research, policy and advocacy, fellowships and grants, and most importantly, a grassroots membership that can be mobilized to fight for what we believe in. We should open this powerful grassroots network up to all who want to join the fight.

Education comes in many forms. Those who do not have degrees can still be strong advocates for our mission.

AAUW must evolve to survive.
Voting will take place starting April 7, 2021 and will continue through May 17, 2021 at 5:00 p.m. Further information may be found in the Membership Toolkit on the AAUW page cited below. Please familiarize yourself with the proposed Bylaws change and exercise your right to vote later this spring.
Sources:
AAUW. Open membership toolkit. Retrieved from https://www.aauw.org/resources/ member/governance-tools/national-election/open-membership-toolkit/
AAUW. Webinar on membership dues and degree requirement with Julia Brown and Malinda Gaul: September 22, 2020. Retrieved from AAUW.org.
PUBLIC POLICY
The newly revamped AAUW Public Policy Website is very helpful and easy to interact with – please check it out at: AAUW Public Policy website
2019 -2021 AAUW "Public Policy Priorities underscore AAUW's mission to advance gender equity for women and girls through research, educa- tion, and advocacy. The work of AAUW builds upon responsible public participation…(aauw.org)." Listed on the website are priorities that pro- vide a basis for AAUW member actions at the local, state, national, and international levels.
Explore the Issues, Get Empowered, and Take Action, are the three main categories you can click on and access clearly stated information within each page. Under 'Take Action' for example, there is a Two- Minute Activist page; listing ways you can get involved without leaving your home during our national sequester.
Check out the easy interactive site and I suggest you download the AAUW Public Policy Priorities word document and keep it on your laptop as a reference.
The local medina Public Policy Committee is off to a slow start but will gear up soon as I have had an unprecedented summer and fall with many changes in my job and in family responsibility.
If you are interested in getting involved please contact me – I would love to hear from you.
Cate Hunko, Public Policy, email: chunko@kent.edu

Equity Network Events:
Join us as we engage with the issues that matter most and share helpful resources for taking action. From negotiating your salary and benefits to advocating for change in your own community, the Equity Network is here to help you succeed.Check out our past webinars below and stay tuned for upcoming programs.
SCHOLARSHIPS
Scholarship Applications Being Accepted for 2021-22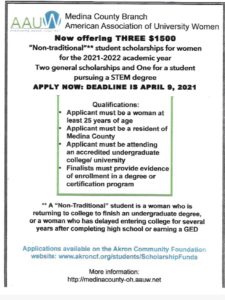 The Medina County Branch of the American Association of University Women is accepting applications for two $1500.00 general scholarships and one $1500.00 STEM (Science, Technology, Engineering or Math) scholarship to be given to a "non-traditional" woman undergraduate student who is attending an accredited college or university. This applies to the 2021-2022 academic year and applicants must be a resident of Medina County.
A "non-traditional" student is a woman twenty-five years of age or older who is returning to college to finish an undergraduate degree, or a woman who has delayed entering college for several years after completing high school or earning a GED.
The deadline for submission of the application, college transcript, and recommendations is Friday, April 9, 2021. The scholarships will be awarded on the basis of financial need, academic achievement, and clarity of goals and objectives. Scholarships will be awarded in May.
Applications are available through The Akron Community Foundation at www.akroncf.org/Students. For more information email Jill Morton, Scholarship Committee Chairperson at jillmorton@zoominternet.net
Nontraditional Women's Student Scholarships for 2020-21
Congratulations to our two scholarship recipients for 2020-2021, Aneta Mullins and Mercy W. Muchemi!
Aneta Mullins has been awarded our AAUW scholarship. Aneta attended Midview High School, received an Associates of Liberal Arts degree in 2006 from Lorain Community College, and is presently a junior at Cuyahoga Community College majoring in Psychology/Social Work.
Mercy W. Muchemi is our STEM Scholarship recipient. Mercy graduated from State House Girl's School in 2007. She went on to the United States International University-Africa and received her Bachelors in International Relations in 2012. Presently, Mercy is working on a degree in nursing at Fortis College
A "non-traditional" student is a woman who is returning to college  to finish an undergraduate degree or a woman who has delayed entering college for several years after completing high school or earning a GED. For more information, go to our Scholarship page.
---
The branch offers opportunities to come together monthly to experience programs on topics of interest from NASA space shuttle projects to storytelling, human trafficking awareness to following a student as she re-traced the original "Freedom Ride" of 1961 through the south.  We have active interest groups that discuss pertinent books, visit area museums, exhibits and attractions, and screen current films.
Browse our site and find out how you can be a part of our active organization!
Medina County Branch has a Facebook Page….visit us at http://www.facebook.com/MedinaAAUW to see what people are interested in. Share your thoughts and LIKE us!