The American Association of University Women (AAUW) is a nationwide network of more than 170,000 members and supporters, 1,000 local branches, and 800 college/university institution partners. For over 130 years, AAUW members have examined and taken positions on the fundamental issues of the day — educational, social, economic, and political. Our commitment to our mission is reflected in all aspects of our work.
AAUW's Mission
AAUW advances gender equity for women and girls through research, education and advocacy.
Medina County Branch
The Medina Branch was founded in 1964 by a group of women dedicated to declaring their common interests in encouraging educational activities, cultural activities and personal growth. They were leaders in our community and instrumental in developing long-standing institutions in Medina County, including the Medina Arts Council, the Women of Distinction Awards, home tours, candidates' nights, a scholarship fund for non-traditional women students, an annual used book sale, and the Sister-to-Sister Conference for Girls. We proudly celebrated our 55th year at our annual meeting and dinner, June, 2019. Want to know more? Don't hesitate to contact us at our email, aauwmedinaoh@gmail.com. We would love to hear from you!
---
President's Message
"You can get excited about the future. The past won't mind". – Hillary DePiano, Playwright and Author 
Dear Members, 
Happy New Year! Last year seemed to be a trying year for all. For our membership, we have had ups and downs. We lost some of our beloved members in 2021, but also gained a few. In the midst of a continuing pandemic, we have managed to present our programs and persevered in our mission of advancing gender equity for women and girls. 
This year, we have all of our programming scheduled, have developed new ways and methods of presenting our programs using more technology and are in a great position to continue on in our quest. So leaving the past behind, I encourage you all to continue in your good work in your families, in the community and, of course, in all you do for AAUW Medina Branch. I am excited about our future!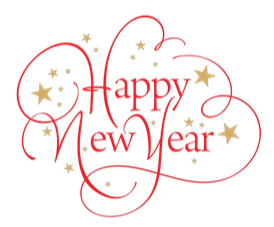 Kim Oliver
President
AAUW Medina Branch 
PROGRAMS FOR 2021-22
MARK YOUR CALENDAR!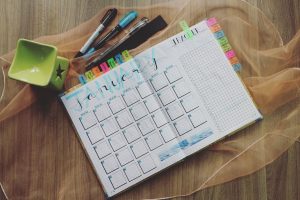 Our VP of Programming, Joyce Rynearson, has been busy planning the upcoming year. Be sure to mark your calendar for this year's meeting dates:
January 27, 2022 – "S.O.A.P. Human Trafficking" by Cindy Chesnik, Volunteer and Esthetician for victims of human trafficking. To be held online on Zoom. More details will follow. Membership meeting 6:30 PM Program 7:00 PM
February 2022 – Black History Program, How We Got Here: True History in Song and Story. This program will be on Zoom and also on the Armstrong Cable Community channel. More details to follow.
March 24, 2022 – "Adventures of Donna and Kathy in the Middle East" by Donna Hamilton and Kathy Kraus
Medina County Library, Community Room A
210 S Broadway, Medina, Ohio
Membership meeting 5:30 PM Program 6:00 PM
April 20 – 23, 2022 – Book Sale – April 19, 2022: Member Preview
May 26, 2022 – Spring Dinner Meeting
Program: Scholarship Recipients for 2022 to be introduced & Installation of Officers
Venue TBA
Time: 6:00 PM
NEWS
JANUARY MEMBERSHIP MEETING
Thursday, January 27, 2022.
Time- Membership meeting 6:00 p.m., Speaker 6:30 p.m.
Where- Community Room A, Medina County Library or ZOOM
Our program will feature local esthetician and Medina SOAP volunteer, Cindy Chesnik.
Cindy not only volunteers with the Medina SOAP Chapter, but also attends weekend retreats where she uses her background as an esthetician to help trafficked girls gain self-esteem on their road to rehabilitation and recovery. Please join us at this informative meeting as Cindy shares her experiences and gives us a deeper understanding of human trafficking in our area.
Meeting reminder and Zoom details will be emailed to all closer to the meeting date.
---
COMMUNITY ISSUES SPEAKER SERIES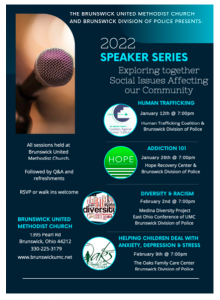 Thank you Carol Thombs for bringing this interesting speaker series to our attention. It focuses on issues critical to Medina County and of particular interest to this branch.
January 2022 is National Slavery and Human Trafficking Prevention Month, as decreed by presidential proclamation. January is also known as Human Trafficking Awareness Month. It is a key time for us all to educate ourselves about human trafficking and to learn to spot the signs of trafficking. It is also a time for us take these messages to our workplaces, our churches, our schools, our representatives and our communities
---

SISTER TO SISTER, 2022
We are very pleased to host the Twenty-third Sister-to-Sister Girls' Conference, a forum for Medina County girls ages 11-14, on Sunday, March 13, 2022. Our theme this year is:  "Positively You" with a focus on body positivity, self-compassion and health at any size.
This year's program will be held at the Medina County University Center and supported by the teens from local high schools. The event will feature keynote speakers: Brooke Kaylor-Wilson  & Jessie Pritchard followed by 2 breakout sessions and a Teen Q&A.
The original S2S project was initiated in 1997 by the National American Association of University Women in an effort to understand the concerns of our nation's young women and how these concerns affect their educational experiences.
The cost to S2S is $25 per girl. Success of this project depends upon contributions and support from our community; to encourage a diversity of attendees from throughout the county, we do not charge a registration fee.
We hope that you will want to contribute to this project. You may help by sponsorship of the participants at $25 each (Sister to Sister Request Contribution 2022). You can also help by spreading the word to friends and associates about S2S. We would appreciate your support of this countywide program. We will acknowledge all contributions. Financial contributions should be sent to our partnering organization: Auditor Kovack Community Fund as our 501(c)(3) partnering organization.
---
EAA CHAPTER 846 AND AAUW MEDINA

 
"EAA" may be very unfamiliar to you, but this group has been important to our AAUW Medina Branch. EAA is the acronym for Experimental Aviation Association. It is an international organization based in Oshkosh, Wisconsin. Mary Baker's husband, Gary, is a retired commercial pilot and a member of the local EAA Chapter 846 based at Skypark Airport in Wadsworth. For a number of years, they have allowed AAUW to borrow their sturdy tables to use at our book sales. These tables have been so important in holding our many heavy books. 
EAA had decided to obtain tables that better fulfill their needs but aren't so heavy. We are so appreciative that, at Mary's suggestion, EAA graciously donated these sturdy tables to us. Steve Gates and Bill Thombs with Steve's truck made the transfer of the eight tables to Charlotte Karson's barn. Big "thank you's" go to Mary and Gary Baker, EAA Chapter 846, Steve and Bill, and Charlotte. If you have a chance, please add your personal "thanks." 
EAA Chapter 846's focus is aviation. The Chapter provides an opportunity for aviation enthusiasts to get together with like-minded people to share ideas, exchange information, encourage safety and serve the local aviation community. Their members range from high school students and machinists to commercial pilots. Some, including Mary's husband, have been involved in building or restoring aircraft. The group has built or restored over 50 planes over the past thirty-five years. 
This EAA Chapter, like AAUW, has a definite mission and purpose. One mission they have is to support the next generation of pilots and airmen. Young people are introduced to aviation with Young Eagles flights and education. Free airplane rides are offered to local young people at annual Young Eagles Days. Scholarships are offered to young people to attend the EAA Air Academy in Oshkosh, plus a Ray Scholarship to help a young person achieve a pilot's license. These busy aviator enthusiasts also offer many workshops, seminars, cookouts, fly-ins and fly-outs. We would love to have AAUW members attend one of their events at Skypark Airport. They meet at Ryerson Hangar, hanger M-1, on the grounds of Skypark in Wadsworth. 
AAUW members can admire this group for all their positive work in our Medina County community. Their past support and their gift of the eight tables is very much appreciated. 
This is Gary Baker's plane that he built. It is a Vans RV-6, 2-seat aircraft. It took him 18 years to build. Mary and Gary have flown it west to Seattle and LA, east to Maine and Nova Scotia, south to South Carolina and Florida and north to Maine, Quebec and Halifax.
---
**VOLUNTEERS NEEDED**
We are still in need of a secretary to take minutes at the board and regular monthly membership meetings of AAUW Medina. There is also an opening for a chairwoman of the BeWise program in which we provide scholarship support to young girls attending a summer science camp. Let us know if you can help with either of these positions.
"Service to others is the rent you pay for your life here on earth." (Muhammad Ali)
AAUW NATIONAL 
TWO MINUTE ACTIVIST
Send emails and texts to your legislators to fight for equal pay, family leave, stopping sexual harassment, equality in education and more. Sign up to get regular alerts to be able to take timely action. Two Minute Activist
---
Member News
Mary Baker became a grandma again with the birth of Hailey Baker in Dec. Everyone is doing well.
Carol Thombs needs to brag about her granddaughter, Chloe Gustin, who will be
swimming in February in a competition of the top 11-12 year old swimmers in the Midwest. She is number 1 in Ohio in the mile race, the 1000 yard race, the 500 yard race, and she is in the top 4 in the 200 yard race.
From Pat Chaloupek
The weather in western Colorado is sunny, and although we have some snow on the ground, it has been in the mid-40's recently. The fire in the eastern part of the state was a long way off from here — on the other side of the Rockies. But it affected the community — Louisville–where Beth Lawton and her husband live. They signed into Facebook that they were safe. How devastating to lose over 1000 homes and businesses in one area. Imagine if it were Medina! Judy Smith has been in touch with Beth; you might check with her for more information.
Thank you to our President, Kim Oliver, for remembering our AAUW Akron Foundation with a donation of her left-over campaign funds.
 _______________________________________________________________________________________
Medina Branch Committees
PROGRAMS 2021-2022
December, 2021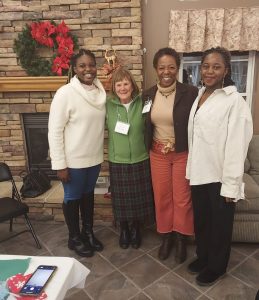 Twenty-three of us attended the 2021 Diversity Dinner at Lexington Ridge Party Center and a good time was had by all! Hospitality chair, Jeri Penn, ordered a delicious buffet from Dominic's which was served by Jeri and volunteers Kathy Kraus and Allison Lee following an invocation by President Kim Oliver. In addition to the entrees, Jeri created individual appetizer cups to snack on and plated varieties of cheesecake for dessert. The room was beautifully decorated by Jeri, Kathy and Allison who put in many hours of work to make the dinner a success— thank you!! Two exchange students from Zimbabwe added to the festivities after dinner. They gave us an interesting and insightful look at their lives in their native country and as students living in America. Many thanks to Carol Thombs for arranging their visit from the College of Wooster. A big "Thank You" also to everyone who was able to attend the dinner. Being together again this holiday season was very special— being "present" with friends was the best "present" in the world!
October, 2021 – Aneta Mullins, Women in the Military
By Joyce Rynearson, Vice-President Programs
US Army veteran and AAUW member, Aneta Mullins, did not disappoint! Her slide presentation that chronicled her tour of duty in Iraq gave us a close-up view of life in a war zone. Aneta's assignment as the driver of a supply truck took her to outposts throughout the country and made her a target of gunfire and IED's (Improvised Explosive Devices). A day that she was alive, had a shower (cold) and a hot meal was a wonderful day!
In attendance was Veterans' Hall Board President Dave Taylor who generously offered us the use of their state-of-the-art facility. The Medina County AMVETS were also on hand to serve beverages while Jeri Penn and Allison Lee offered a variety of snacks.
All in all it was an eye-opening presentation that frankly addressed issues of women who serve with men in combat.
Aneta, a past AAUW scholarship recipient, is currently completing her degree in social work with a goal of working with veterans. We thank Aneta for her service and wish her continued success!
September, 2021 – Lisa Maatz
By Joyce Rynearson, Vice-President Programs
Lisa Maatz, former AAUW Vice-President of Public Relations and current senior advisor at Ohio Citizen Action, treated us to a humorous and insightful evening via a ZOOM meeting. Some of us gathered in person at the Medina Library to watch her on the big screen, munching on snacks provided by the hospitality committee, Jeri Penn and Allison Lee. The evening was also a debut for our new PA sound-system which Pieri Levandofsky successfully set up for us!
Lisa grew up in Hinckley, Ohio and graduated from Highland High School. Her advocacy for women's rights began in third grade when the boys' restroom had doors on the stalls, and the girls' restroom did not. The girls took turns standing in front of the stalls to give themselves some privacy. After getting no results pleading to the principal, she started a petition for restroom doors in purple glitter ink. The girls' restroom got doors! Lisa went on to become a national champion of rights for women and girls.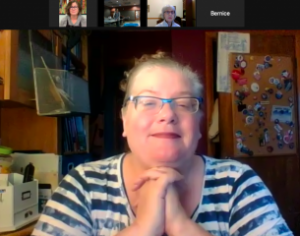 Being a Washington, DC insider for many years, Lisa's stories were fascinating to hear. She answered all questions and offered strategies as to how we CAN make a difference in our community.
August, 2021
It was great to see everyone at our August meeting at Bunker Hill Golf Course. A delicious catered meal and a beautiful evening set the tone for a fabulous evening.
Introduced were our board members for 2021-2022.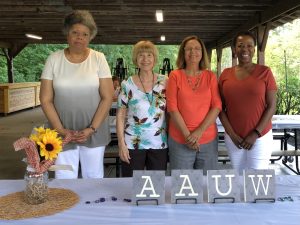 Pictured are: Allison Lee, Diversity and Cultural Activities Chair, Joyce Rynearson, VP of Programming, Pieri Levandofsky, Treasurer and President Kimberly Oliver. Not pictured, Secretary Kim Ortiz, and VP of Membership Bernice Goertzen.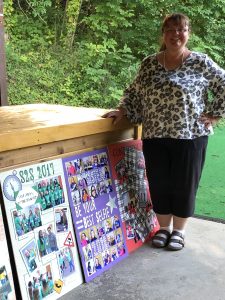 Our speaker was our Secretary, Kim Ortiz, and mother of Sister-to-Sister committee member Olivia Ortiz, reviewed Sister to Sister for this year, and updated us on planning for next year.
June, 2021 – AAUW Medina Branch Annual Dinner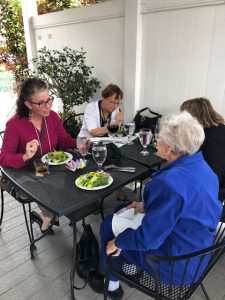 Members enjoyed a gorgeous evening dining outside at the Corkscrew Saloon on Thursday. The Branch celebrated adapting and surviving all the changes brought by 2020-2021, while enjoying each others company and a delicious dinner.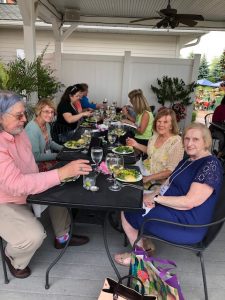 Out-going chapter officers Alanna Arnold, Susan Holbrook, Anne Gates, Kathy Kraus, and Katherine Baker  were recognized for their outstanding work over the last two years. Also presented were the new branch officers for 2021-2022, pictured: Vice-President Membership Bernice Goertzen; Kimberly Ortiz, Secretary; President Kim Oliver; Vice-President Programs Joyce Rynearson.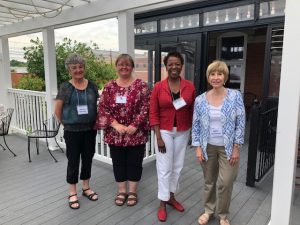 ---
ARTS AND EXCURSIONS
BUCKEYE BOOK FAIR
November 6, 2021 Greystone Event Center 50 Riffle Road Wooster, OH
The place where book lovers come to meet authors and buy their books. There will be over 50 authors and illustrators, and literary activities for all ages.
Immersive Van Gogh Exhibit is coming to Cleveland from September 9 through November 28 of 2021. This exhibit is 500,000 cu ft. of monumental projections of Van Gogh's works from the sunny landscapes to the starry nights, portraits, and still life. It is a multisensory exhibit in which you walk through large scale moving images with music. This exhibit will be located at an historic Cleveland venue that is being kept secret for now. Covid 19 safety precautions will be in effect and admission will be managed with advance timed tickets. Go to vangoghcleveland.com to purchase advance tickets. There are several different prices ranging from $30 to $100 per ticket. Most of September and weekends in October are already sold out.
BATTERED WOMEN'S SHELTER
Great Improvements Ahead
Update: The gifts received for the Battered Women's Shelter totaled $1600.00. Thank you so much for your support of the facility. I delivered the checks the first of January and they are so pleased we care about the women and children of Medina County.
Jill Morton
Liaison of Battered Women's Shelter
Did you know the Battered Women's Shelter has long been a passion of our chapter? We have had a guest room with our name above the door at the shelter. Through the years our members and their friends have found used furniture, painted, purchased privacy blinds, and even installed a kitchen countertop.
Jill Morton and Susan Holbrook arranged our February Zoom general meeting with our speaker, Sarah Krieger, the advancement specialist at Hope and Healing, the Battered Women's Shelter and Rape Crisis Center for Medina and Summit counties. Sarah's heart has always been in nonprofit work. While in college she helped develop Mission Possible, a service program in the Dominican Republic, and she continues as the Director of that program today. Sarah has also served as Executive Director of a multistate agency that places for credit leadership and service classes in high schools. Sarah has been on the team at Hope and Healing for the last three years, and she gave us an informative presentation on this important local group. 
The calls for help at Hope and Healing have increased due to the coronavirus. The increase has been especially large in the Family and Stability Program which helps with finding jobs and apartments. They also serve as the fiduciary for the Human Trafficking Program and provide housing for these victims on an emergency short term basis. The shelter also has room for senior victims affected by elder abuse. They do help men in abusive situations and work with the LGBTQ community. Those who need the shelter cross all ages, races, and economic groups. 
The clothing bank is always in need of donations which can be dropped off at the Medina office at 696 East Washington St. The shelter employs six psychologists, two youth and four adult. They offer skill classes, therapy dogs, and do allow pets. 
They are in process of building a new facility to further meet the demands for help. When it is complete, they will have a "housewarming party" requesting donations for furnishings. They have always been on our AAUW list of charities to support. Sarah expressed appreciation for that support. It was very interesting to learn more about the grass roots functioning of this group. 
About the shelter: The Battered Women's Shelter provides emergency protective shelter for those who otherwise would have no choice but to remain in a violent home. The Medina shelter opened over 18 years ago when championed by Commissioner Pat Geissman. Thousands of adults and their children from Medina, Brunswick, Wadsworth and every corner of the county have come through the doors since its opening. When finished, the Medina shelter will be an environment that encourages peace, while providing respectful surroundings for those that need to stay in the shelter for a few days, or weeks.
Thank you for your consideration,
Jill Morton Cell- 330-760-4448
AAUW Liaison to the Battered Women's Shelter
---
BOOK GROUP
By Donna Hamilton 
March, 2022 –  The Only Woman in the Room by Marie Benedict. This is a historical fiction book based on the life of Hedy Lamarr, a stunning beauty with a stunning mind. Was she a spy?
February, 2022 – The Night Watchman, by Louise Erdrich (Harper)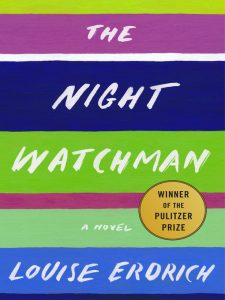 A majestic, polyphonic novel about a community's efforts to halt the proposed displacement and elimination of several Native American tribes in the 1950s, rendered with dexterity and imagination. Winner of the 2021 Pulitzer Prize in Fiction.
I will send out the Zoom connection on Sunday before book club. Let Donna Hamilton know if you would like to be added to the list to get the zoom connection to join our discussion. You can contact me at 330-334-6734 or clover725@ymail.com. We miss many of our members and would love to have you join us.
COFFEE AND CONVOS
"Coffee and Convos" is the name of a book group from Ohio AAUW. "Convos" is a text slang term for conversations. Now use that new word in a text to your grandchildren and show them how "hip" you are.
---
BOOK SALE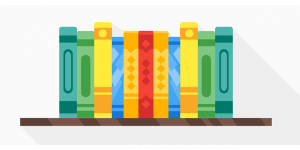 We haven't been able to have the Book Sale for the last 2 years.  Not only is this our AAUW branch's only fundraiser, but it such a community affair, a chance to get together and bond as a group. It will be so good to see each other and work together on this important project! As long as there is not another big surge of the Covid virus, we will share time together as we prepare for and hold the sale.
Unfortunately, due to Covid concerns, the board is being cautious and flexible on plans for this event. We are discussing other fundraising options including a safer way to conduct our annual book sale. So stay tuned for more information.
It's early, but you can help by saving books for us, and asking your friends and neighbors to also save books for us. Thank you and more information will be coming out soon!
---
DIVERSITY
Be sure to go to our Diversity page to see information on our current Diversity Book Club reading pick, and on joining the group.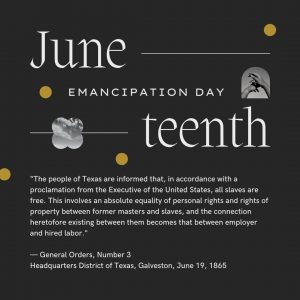 Juneteenth will be celebrated by the Diversity Program this Saturday, June 19, 2021 at the Pizza Palooza on the Square, 9 AM to 2 PM.
Take the Diversity Challenge at the Diversity Table.  Can you identify these Black and Brown  leaders, actors, athletes, authors?  How many clues do you need to identify them?
Need more suggestions? Check out our ideas for celebrating Juneteenth
---
DIVERSITY BOOK GROUP
By Jeannine Murray
Last summer, as we looked over this year's reading selections, the suggestion was put on the table to NOT have a book for December … because, you know,  holidays/crazy days, overwhelmed, etc.
Instead of a reading selection, we are meeting face-to-face for an hour or two of discussion and holiday conviviality. Our meeting will be: Saturday, Dec., 11th from 4-6 pm at Pickle Mamas, 7249 Wooster Pike, (Route 3, south of Medina).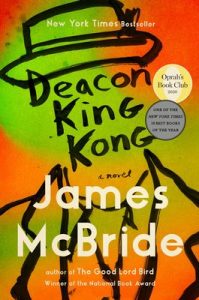 Monday, January 17, 2022 – 7:00 pm,  Deacon King Kong, James  McBride
A cranky old church deacon known as Sportcoat visits a housing project in south Brooklyn and shoots the project's drug dealer at point-blank range. This story brings to vivid life the people affected by the shooting of a chief drug supplier in the projects.
ENVIRONMENTAL INTEREST GROUP

Lor Breyley
The R with the biggest impact on waste reduction, REFUSE, is also very easy to implement with some preparation and practice. We are continuously offered free items in our daily lives— grocery and shopping bags, plastic straws, flyers, junk mail. We rarely need these disposable products, but we've been conditioned to accept them. Instead, keep a to-go kit handy when you're heading out. Reusable bags for grocery and shopping trips, a reusable mug or water bottle to hydrate, cutlery and cloth napkin for dining out and a container for leftovers. In terms of freebies like business cards, swag, beauty samples, etc., get in the practice of saying "no thanks." It may feel impolite or rude at first, but when we accept these disposable items we reinforce the demand for more wasteful products.
How To Start:
Plastic straws: Request no straw when you're dining out and consider bringing a reusable 

metal or glass straw when you're on the go.
Business cards and flyers: Take a picture of it on your phone.
Dentist freebies: Let them know you don't need free samples so they can use it for the next patient.
Catalogues received in mail: call the number on the back and ask to be taken off the mailing list.
Ref: Lily Cameron in Wild Minimalist.
Hospitality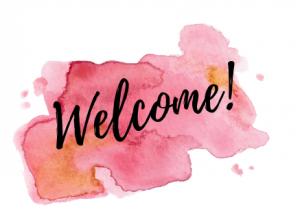 Do you enjoy meeting new people, greeting members, and welcoming guests? Do you have a flair for creating holiday favors and table decorations? Is baking or providing snacks and beverages your niche? Maybe you enjoy setting and arranging the refreshment table.
If any of these describe you, then the Hospitality Committee is a way that you can have fun and serve Medina Branch AAUW!
Contact Jeri Penn for more information: jeripenn@gmail.com
330-421-3284
---
Human Trafficking
By Carol Thombs
A huge "thank you" to all the AAUW supporters of our SOAP teams! The $240 donated at the Diversity Dinner will be available for purchasing a $200 case of soap, a $200 case of makeup remover wipes, two packages of extra outreach materials at $45 each for our 10 new hotels, or flash drives loaded with training information for new hotel staff employees. In September, we became a new independent Medina SOAP Chapter without any funds, but only enough soap and wipes to carry us through half of a year. Thanks to the AAUW members' gifts we will now be able to purchase soap or wipes as we need them.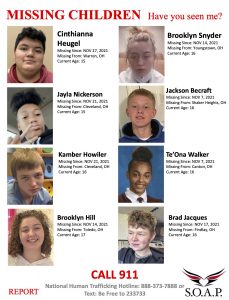 Normally our teams visit 35 hotels, 1 beauty school and 2 truck stops each month. Our area includes 7 hotels in Seville, 11 in Medina, 1 in Brunswick, 7 in Strongsville and 10 in Wooster. Twenty-six wonderful volunteers give 2-3 hours of their time each month to visit these hotels and distribute materials and emphasize the need for locating the missing children and wiping out human trafficking. At the present time, we are e-mailing the Missing Children Posters to the hotels. As soon as the cases of COVID subside, we will be doing our monthly visits again. 
SOAP training is available on-line for anyone interested. Contact Carol Thombs: 330-421-1932 or medinasoap21@gmail.com. 
Your support is so very much appreciated! Thank You!!! 
Human Trafficking SAVE THE DATES:
January 12, 6:30 at United Methodist Church in Brunswick
Human Trafficking 101 Training
January 20
Human Trafficking Event – Emphasis on the at-risk population. More info later.

 
---
MEMBERSHIP



Please let Bernice Goertzen know if you need to change any of your personal information in the directory, (330-241-0046) or bernice.goertzen@gmail.com)
PUBLIC POLICY
The newly revamped AAUW Public Policy Website is very helpful and easy to interact with – please check it out at: AAUW Public Policy website
2019 -2021 AAUW "Public Policy Priorities underscore AAUW's mission to advance gender equity for women and girls through research, educa- tion, and advocacy. The work of AAUW builds upon responsible public participation…(aauw.org)." Listed on the website are priorities that pro- vide a basis for AAUW member actions at the local, state, national, and international levels.
Explore the Issues, Get Empowered, and Take Action, are the three main categories you can click on and access clearly stated information within each page. Under 'Take Action' for example, there is a Two- Minute Activist page; listing ways you can get involved without leaving your home during our national sequester.
Check out the easy interactive site and I suggest you download the AAUW Public Policy Priorities word document and keep it on your laptop as a reference.
The local medina Public Policy Committee is off to a slow start but will gear up soon as I have had an unprecedented summer and fall with many changes in my job and in family responsibility.
If you are interested in getting involved please contact me – I would love to hear from you.
Cate Hunko, Public Policy, email: chunko@kent.edu

Equity Network Events:
Join us as we engage with the issues that matter most and share helpful resources for taking action. From negotiating your salary and benefits to advocating for change in your own community, the Equity Network is here to help you succeed.Check out our past webinars below and stay tuned for upcoming programs.
SCHOLARSHIPS
Be Wise Scholarships
We are still in need of a chairperson to head the BE WISE camp scholarship program. Please let Kim Oliver know if you would be interested in volunteering for this position. This information below was copied from the Be WISE Camp site: www.bewisecamp.org. There was nothing on the website about Covid procedures.
To apply for Be WISE Camp, you must send all forms from the website by May 1, 2022, electronically to: bewisecamp@gmail.com and mail payment.
Or send forms in the mail with payment to:
JESSICA KUHNER
688 BREVARD CIRCLE PICKERINGTON, OH 43147
A payment plan is available (which is to be paid in full by May 15th). For more information, please contact Jessica Kuhner at (330)472-2269 or email Jessica at bewisecamp@gmail.com.
APPLICATIONS WILL BE ACCEPTED ON FIRST COME BASES. FEES WILL BE RETURNED IF THE CAMP IS FULL. NO REFUNDS AFTER May 15th.
Scholarship Application deadline is March 11th, 2022, with Scholarship notifications by March 30th, 2022.
The Residential Camp Health forms are four-pages which need to be filled out by the camper's parent or guardian before camp. The Personal Health and Medical Summary form needs to be notarized before sending.
For all other Camp Forms: Once the PDF is downloaded, you may fill out the forms on your screen, by simply clicking your cursor on the lines. Use the "tab" button to move faster through each field. When completed, save the document(s), print them out and mail them to the Jessica Kuhner address above, or print and fill out by hand and mail.
Mail all pages including Health and all other Residential Forms (not including instructions Health Information page 1 and 2.) by May 15, 2022 to: Jessica Kuhner at the above address.
---
Scholarships for Non-Traditional Women Students
Our scholarship fund for nontraditional women scholars began in 2005 through many generous member contributions, endowments and fundraising efforts. We partnered with the Akron Community Foundation to help us grow the fund to its current $65,000 + balance. The annual returns ($3000) helps generate money to award non-traditional women scholarships.
Scholarship recipients are announced at our spring dinner meeting.
We thank you for your continued support of this effort which fits with our mission statement: To advance gender equity for women and girls through research, education and advocacy.
Contributions to this fund are tax-exempt and can be made in honor or memory of a loved one. To donate online :
Or, make checks payable to: AAUW of Medina County Scholarship Fund. Mail to :
Akron Community Foundation 345 W. Cedar St., Akron, OH 44307
---
SISTER TO SISTER

 Pieri Levandofsky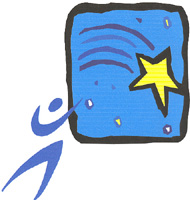 The 23rd Sister to Sister Conference will be held on March 13, 2022 at the Medina County University Center. Covid protocols will be in place.
This year's theme: Positively You! with a focus on body positivity, self-compassion and health at any size. Teen leaders and adult facilitators continue to meet monthly to firm up the day's events.
More information will be forthcoming including a request to help sponsor middle school girls to attend the event. Your past assistance with this has been invaluable in making our program memorable and a success!
---
The branch offers opportunities to come together monthly to experience programs on topics of interest from NASA space shuttle projects to storytelling, human trafficking awareness to following a student as she re-traced the original "Freedom Ride" of 1961 through the south.  We have active interest groups that discuss pertinent books, visit area museums, exhibits and attractions, and screen current films.
Browse our site and find out how you can be a part of our active organization!
Medina County Branch has a Facebook Page….visit us at http://www.facebook.com/MedinaAAUW to see what people are interested in. Share your thoughts and LIKE us!