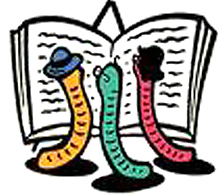 The book discussion group has been in our line-up of interest groups since 1991. Stimulating discussions are the norm, whether it be on a historic novel, biography, socially critical book, mystery, play, poetry or any other genre. We have looked at what children are reading – Harry Potter and the Sorcerer's Stone, Alice's Adventures in Wonderland – and have combined the reading of a play with a theater excursion to see that play in production —The Importance of Being Earnest, The Seagull. We have done an entire year with a focus on China and we have chosen our favorite poems to bring and share during National Poetry Month. We are eclectic as well as classic, and enjoy diversity in our selections.
The group meets on the second Monday of the month, at 1 p.m., at members' homes, unless otherwise noted.
This is a total participation group: members recommend titles for the group to read and vote on the recommendations; they are asked to read each month's selection; members are asked to volunteer to take turns leading the discussion and in hosting the group. Our chairperson(s) coordinates the efforts and represents the group on the branch board of directors.
Come and try us out! Contact our chairperson to let her know if you would like to attend or click on the hostess for the month.
For a complete list of books read during the 26-year history of the group, click here to open/ download it in a pdf format.
For additional reading, we recommend AAUW's ADELANTE BOOK LIST, monthly selections that stress AAUW's commitment to diversity.
READING LIST FOR 2017-18:
September 11 – The 100-Year-Old Man Who Jumped Out the Window and Disappeared, by Jonas Jonasson. Hostess/ Leader: Virginia Jeandrevin.
October 9 — Tender is the Night by F. Scott Fitzgerald. Leader: Annette Miller. Host: Pat Chaloupek. We selected this Jazz Age novel to partner with an AAUW visit to the Cleveland Art Museum which will be hosting a Jazz Age exhibit.
November 13 —Last Days of Night by Graham Moore. Hostess: Bernice Goertzen. Leader: Pat Chaloupek.  Hosted by Marilyn Sigel. This is an historical fiction novel about two great inventors: Westinghouse and Edison and the battle to light New York City in the 1890's.
December 11– No Pretty Pictures: A Child of War by Anita Lobel. This is a biography of the author, a well-known book illustrator, growing up in WWII Nazi Poland. This will be our traditional "carry-in" salad luncheon at 12 noon at the home of member Gloria Brown. Leader: Donna Hamilton.
January 8 — The Secret Wife by Gill Paul. Leader: Group. Host: Judy Smith.
February 12 — Walking with the Wind: A Memoir of the Movement by John Lewis. This is a first hand account of the civil rights movement by a Georgia congressman. Host: Paula Banks. Leader: Virginia Jeandrevin.
March 12 — A Gentleman in Moscow by Amor Towles. Host: Donna Hamilton. Leader: Pam Miller.
April 9 — National Poetry Month. Each member is asked to bring a poem to read and share with the group. Host: Pat Boyle.
May 14– Book selection: Little Fires by Celeste Ng. Host: Betsy Gilder. Leader: Annette Miller.
Summer read: The Secret Chord by Geraldine Brooks.
READING LIST 2016-2017
All the Way, by Robert Schenkken
Madame DeStael: the First Modern Woman, by Francine DuPlessix Gray
Luncheon of the Boating Party, by Susan Vreeland
The Other Wes Moore by Wes Moore
My Life on the Road by Gloria Steinem
A Thread of Grace by Mary Doria Russell
READING LIST 2015-2016
The Goldfinch, by Donna Tartt
The American Empress: The Life and Times of Marjorie Merriweather Post by Nancy Rubin Stuart
A Spool of Blue Thread by Anne Tyler
The Secret Garden by Frances Burnett
How the Garcia Girls Lost Their Accent by Julia Alvarez
Between the World and Me, by Ta-Nehisi Coates
The Sandcastle Girls by Chris Bohjalian
My Brilliant Friend, by Elena Ferrante
READING LIST 2014-2015
The Little Foxes, a play by Lillian Hellman at the Medina County District Library in Medina: a collaborative evening with artistic personnel from the Cleveland Playhouse.
Boys in the Boat — Daniel James Brown
Flight Behavior — Barbara Kingsolver
The Giver — Lois Lowry
Jayber Crow — Wendell Berry
Mrs. Lincoln's Dressmaker — Jennifer Chiaverini
The Hare With the Amber Eyes — Edmund de Waal
All the Light We Cannot See — Anthony Doerr
READING LIST 2013-2014
Cloudsplitter – Russel Banks
The Group – Mary McCarthy
Dear Life – Alice Munro
The Little Prince – Antoine de Saint-Exupery
Enrique's Story – Sonia Nazario
Things Fall Apart – Chinua Achebe
The Man in the White Sharkskin Suit – Lucette Lagnado
The Unlikely Pilgrimage of Harold Fry – Rachel Joyce

READING LIST 2012-2013
Catherine the Great: Portrait of a Woman, by Robert K. Massie
The History of the World in Six Glasses by Tom Standage
The Wilder Life: My Adventures in the Lost World of Little House on the Prarie by Wendy McClure
Julie and the Wolves, by Jean Craighead George
The Light Between Oceans by M.L. Stedman
The Warmth of Other Suns by Isabel Wilkerson
Destiny of the Republic by Candace Millard
The Great Gatsby by F. Scott Fitzgerald
The Last Runaway, by Tracy Chevalier (for Project LEARN's Reading Rally on the Square)
READING LIST, 2011-2012
One Man Great Enough – John C. Waugh
The Paris Wife – Paula McClain
The Slave Across the Street – Theresa Flores and Peggy Sue Wells
Alice's Adventure in Wonderland – Lewis Carroll
Thinking in Pictures: My Life with Autism – Temple Grandin
Wench – Dolen Perkins-Valdez
The Importance of Being Earnest (play) – Oscar Wilde
Maisie Dobbs – Jacqueline Winspear
Four Quartets (poetry) – T.S. Eliot