Medina County Branch is pleased to have received "Second Place in the State for Newsletter" for the 2018-19 year.  Subscribe to our award-winning E-

newsletter, The Voice, by contacting the

editor.
The American Association of University Women (AAUW) is a nationwide network of more than 170,000 members and supporters, 1,000 local branches, and 800 college/university institution partners. For over 130 years, AAUW members have examined and taken positions on the fundamental issues of the day — educational, social, economic, and political. Our commitment to our mission is reflected in all aspects of our work.
AAUW's Mission
AAUW advances gender equity for women and girls through research, education and advocacy.
Medina County Branch
The Medina Branch was founded in 1964 by a group of women dedicated to declaring their common interests in encouraging educational activities, cultural activities and personal growth. They were leaders in our community and instrumental in developing long-standing institutions in Medina County, including the Medina Arts Council, the Women of Distinction Awards, home tours, candidates' nights, a scholarship fund for non-traditional women students, an annual used book sale, and the Sister-to-Sister Conference for Girls. We proudly celebrated our 55th year at our annual meeting and dinner, June, 2019.
---
18th Black History Month Program
Will Salute Veterans: The Fight for Freedom, Thursday, Feb. 20 at 7 pm.
"This year's event will acknowledge and salute the Black Veterans of the United States of America Armed Forces who fought and continue to fight for all of our freedom even when they had or have none of their own," announced Kim Oliver, Medina Branch Diversity Chair. The program was highlighted in a recent edition of The Medina Gazette.
The Black History Month program, which has become a tradition in our community, will be held Thurs., Febiuary 20, at 7 pm. at the Second Baptist Church, 451 Bronson St., Medina. Co-sponsors with AAUW are the Second Baptist Church and Fellowship Baptist Church.
From Civil War regiments to Tuskeegee Airmen and in present day military incursions, black soldiers have distinguished themselves with valor; they will be celebrated in song, poetry and historical readings.
The Clagett Middle School Choir, the Medina Community Choir, and Local VFW #5137 will also be participating in the programming.
Oliver is chairing the program with assistance from branch members Kathy Kraus and Alanna Arnold, and Pastors John and Senesa Peterson of Fellowship Baptist and Arthur Ruffin, Second Baptist. The Medina Public Library will have a display of related books in the entry.
AAUW members are asked to bring plated snacks and dessert items to the Fellowship Hall for serving following the program.
Anyone who is interested in being part of the "pick-up" community choir for that evening, is invited to come to the church an hour before the program ( 6 pm.) for practice.
Overflow parking for the public will be west of the church at the end of Bronson St., at The Foundry (formerly High Voltage Indoor Carting). The program is open to all.
TWO SCHOLARSHIPS ARE AVAILABLE FOR SUMMER STEM CAMP
The Medina County Branch of AAUW will provide scholarships for two Medina County girls to attend the Be WISE Camp. This is a STEM (Science, Technology, Engineering, and Mathematics) camp, designed to develop interest, excitement and self-confidence in girls who are entering grades 7 or 8 in the Fall of 2020. To learn more, go to our Scholarships/BeWise. The application deadline is Feb. 10, 2020.
Have you heard of NCCWSL?
(National Conference for College Women Student Leaders)  It is AAUW's premiere training program and networking event that offers skill-building workshops to challenge and inspire college women to make an impact on their campuses and in their communities.
If you know of a college woman who might be interested, encourage her to apply. Registration is now open, and scholarships and partial scholarships are available by applying directly on line; deadline for applying is February 16th. Find out more at https://www.nccwsl.org
Even better, based on the generous support from two of our NCCWSL sponsors; PPG and Dupont, we can now provide approximately seven scholarships for our Ohio STEM attendees. Scholarship recipients will receive airfare and registration to attend
NCCWSL May 27-30, 2020 at the University of Maryland, College Park.
Eligibility requirements:
21st Annual Sister to Sister Conference, March 8, 2020
We are very pleased to host the Twenty-first Sister-to-Sister Girls' Conference, a forum for Medina County girls ages 11-14, on Sun., March 8, 2020, from 12:00-4:30 p.m. at Medina Hospital.
This year's program, "Be the TRUE you," will focus on building self-esteem and confidence as it is influenced by peer pressure and relationships. Keynote speaker and featured presenter will be Stephanie Robinson. We welcome Junior Leadership from Leadership Medina County this year to help on our planning board. Adult and teen coalition members will co-ordinate the day's activities including "chat rooms," ice-breakers and a hands-on project. We also plan on including a fun exercise component.
The original S2S project was initiated in 1997 by the national American Association of University Women in an effort to understand the concerns of our nation's young women and how these concerns affect their educational experiences.
A separate program for parents will review concerns and ideas relating to the theme. It will be held concurrently in an adjoining room during the last part of the S2S session.
Success of this project depends upon contributions and support from our community; to encourage a diversity of attendees from throughout the county, we do not charge a registration fee.
We hope that you will want to contribute to this project. You may help in several ways: Sister to Sister sponsorship of the participants at $25.00 each; items for us to include in participation packets for each of the young women, or a general contribution (form enclosed). You can also help by spreading the word to friends and associates about S2S.
2020 Programming
January Meeting – Members Learn Recycling, Reusing and Conserving
With guidance from branch member Carol Thombs, a dedicated environmentalist and former science teacher, thirty of our members learned to discern what materials can be recycled, what can be reused, what is safe for the environment and what products should be avoided.
The program, held January 23 at the home of Cheri Ingraham, was a "hands-on" learning experience for all. Thombs assigned people to groups, and armed them with a bag (reusable) with various kinds of trash items from "paper" plates to wrapping paper. and take-home containers. They were to decide how these products would be classified and record data on their whiteboard. They considered paper with/without coatings, stamped recycle markings on the bottom of the product, shape and condition.
On hand to answer questions on what is being recycled locally was Beth Biggins-Ramer, Solid Waste Coordinator at Medina County Solid Waste District. "Recycled items are commodities, and as such are bought and sold so they need to conform to certain standards," she stated.
Thanks to Carol Thombs for preparing the program, Beth Biggins-Ramer, Solid Waste Coordinator, Cheri Ingraham for hosting in her lovely home (she used regular plates and table service and cloth napkins) and to the members who provided snacks/ treats with no single-use plastics.
2019 PROGRAMMING
DECEMBER MEETING- AAUW Medina Branch December Diversity Dinner
Thank you to everyone who generously gave money or gift cards to The Children's Center last month. The final total, $530, helped provide Christmas presents for children served by the Center during the holiday. Our members really came through again!
Guest presenters with the International Student Exchange program – Garance Deret, from France, and Pareeda (Beam) Techawongprasert, from Thailand—were welcomed at the branch Diversity Dinner, held Dec. 10 at the lovely holiday decorated home of President Alanna Arnold.
Deret, enrolled as a senior at Medina High School, is from Joinville de Pont, France,
a commune in the SE suburb of Paris. She has a special interest in graphic art and has taken Advanced Drawing and 3-D Art and Design as courses this year. Outside of school, she was enrolled in ballet at Medina Centre for Dance Art and was preparing for an upcoming recital. She has four siblings and has been studying English since grammar school, with the hopes of teaching English. Duret is staying with Kate Owen and family on East Washington St. in Medina.
From a city with a metro area population of over 14 million persons, Pareeda (Beam) Techa- wongprasert calls Bankok, Thailand home. Beam, as she likes to be called, is being hosted by the Lorton Family and is a senior attending Wadsworth High School. Her favorite subjects are math and science and she is considering a career in engineering. She, too, is interested in dance, and has had training in traditional Thai dances.
She commented about her new "American look" –blonde hair, which she has been trying out, and which her parents would be surprised at. "Our schools are more strict back home; kids wear uni- forms and cannot change their hair color."
American kids more dependent on using cell phones, the girls stated, saying that in their home schools, electronic use was more regulated. Both young women are finding Americans friendly and hospitable and have enjoyed being a part of the international experience. They were looking forward to school vacation and getting to participate in more activities, including some opportunities to travel out- side the area.
The ISE has been bringing together ex- change students and volunteer host families for nearly 40 years. Students arrive in August for the 10-month program and stay through the school year, Hamilton has been with ISE since 2007 and currently has 12 exchange students that she is responsible for in Medina and Summit County.
The branch thanks Alanna and Jack Arnold for generously opening their home for the dinner meeting and Jill Heck and her assistants for setup and prep work: Mary Lou Euse, Donna Hamilton, Jill Morton, Jeri Penn, Judy Smith and the Arnolds. Moravian Star table favors were made by Euse.
NOVEMBER MEETING
No Meeting. Enjoy your Thanksgiving holiday with family and friends.
OCTOBER MEETING
Celebrate the Centennial of Women's Right to Vote.
During 2019 and 2020, Americans will celebrate the 100thanniversary of the ratification of the 19thAmendment which legalized women's right to vote. The AAUW Medina Branch is celebrated this occasion by holding a special local event.
AAUW member & re-enactor, Kathy Krause, portrayed Victoria Woodhull, a leader of the suffrage movement. Ms Woodhull was the first woman to start a weekly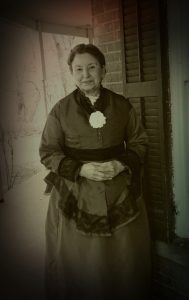 newspaper and the first woman to own a brokerage firm on Wall Street, but Woodhull is best known for being the first woman candidate for President of the United States.
Kathy was joined by AAUW member, Annette Barzal, and members of the Sharon Center Historical Society portraying  suffragettes, campaigning for equal rights for women.
Luncheon, for members only, began at 12:00 p.m. The program followed the luncheon at 1:00 p.m. and was free and is open to the public.
SEPTEMBER MEETING
"Breaking the Glass Ceiling", a panel discussion featuring five women in positions of prominence in business and non-profit organizations kicked off the programming for the chapter for this year,  Thursday, September 26 at the Medina Library.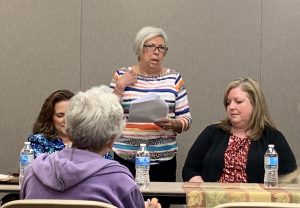 The program offered insights into how these women rose to their current positions, their thoughts on how to be successful in engaging men and women to find solutions and meet goals, and their views on trends regarding female leadership in Medina County. 
AUGUST MEETING
We kicked off our year with a lovely picnic held at the Pavilion at Bunker Hill. While enjoying the great food, this year's BeWISE campers, Adrienne Raglow and Sarah Keller, and family members were our special guests, describing

their experiences at the week-long STEM camp held at Kenyon College in June. BeWISE camp was started in 1989 by members of the board of directors of AAUW Ohio to encourage girls' interest in science, technology, engineering and math, and was one of the first of its kind in the country.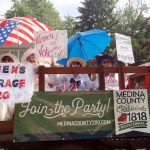 JULY 4TH – AAUW branch members dressed as "Suffragettes" for the Medina City Annual Parade. We rode in an antique truck from the Historical Society waving banners.  At right, photo from last year's parade.
JULY 28 – (SUNDAY) – Annual Nate Vermote Run to Freedom, on Medina Square. Both 5-K run and 1-mile walk; start time 9 am. Benefits Medina County Coalition Against Human Trafficking.
 MAY ANNUAL MEETING AND BANQUET
The last meeting of the 2018-19 year was Thurs. May 23, our Annual Meeting and Banquet. at The Tasting Room,  Wadsworth.  For more on the evening, including our election of officers and announcement of our 2019 scholarship winners, see Programming 
NEWS
Hold the Date: Saturday, January 25, 2020 for
Medina County Human Trafficking Awareness Day
To be held in Wadsworth. More information to be announced
Kinky Boots has closed on Broadway, and Baldwin Wallace is the only college that has been given permission to perform this Award winning musical. "Kinky Boots" features a joyous, Tony-winning score by Cyndi Lauper and a hilarious, uplifting book by four-time Tony-winner Harvey Fierstein."
Wednesday, November 20, 2019 at 7:30
p.m.
Baldwin Wallace Kleist Auditorium
$25.00
Carpooling available leaving Medina at  6:15 p.m.  (details later)
Make your reservation by Tuesday October 29 by 5:00 p.m. by calling Lee Nichols at 330 952 2445  or emailing her.  Lee will reserve the tickets.
Money is due by Tuesday, November 5, 2019.  Send your money to Mary Lou Euse at 4155 Shurell Pkwy, Medina, Ohio 44256. If you make a reservation, you will be required to pay for a ticket. This is a great opportunity to see this outstanding musical!
SCHOLARSHIPS
Medina County Branch offers two scholarships each year to eligible "non-traditional" women students working on completing their college/ university degree. Deadline for applying for the 2019-2020 academic year was in April. See our winners, here: For information see: Scholarship/ BeWISE
---
THANK YOU TO ALL OUR PATRONS WHO CAME TO PURCHASE BOOKS AT THIS, OUR 26TH ANNUAL USED BOOK SALE!  YOU HELPED PUT US OVER THE TOP IN SALES — OUR BEST YEAR EVER!

We had a whole room for children's and young adults' books. A "kitchen" full of cookbooks. Tables and crates filled with books from best selling authors to classical poets; from woodworking to inspirational books, and photography to Star Trek.
Profits from sales go towards our non-traditional woman student scholarships  and sponsorship of two campers at the BeWISE STEM Camp.
See our Book Sale Page for more information and photos. We will be back next April and will be collecting books beginning in February, 2020.
---
CULTURAL INTEREST – PROGRAMS/ PROJECTS
See A&E page  for more information on scheduled opportunities for attending movie screenings and excursions.
---
PUBLIC POLICY
AAUW's policy work connects and rallies advocates at the local, state, national, and global levels

to empower women and girls. Locally AAUW uses grassroots efforts to push forward policies that break through educational and economic barriers for women. Learn more about the Start Smart/Work Smart initiative and other issues on our Public Policy page.
RECENT EVENTS 2018-2019
BALDWIN WALLACE MUSICAL ARTS EXCURSION, April 7. For story and more photos, see Programming
SISTER-TO-SISTER CONFERENCE FOR GIRLS, March 10
The 20th Sister-to-Sister Conference was held at Medina Hospital. With co-sponsorship from eight other organizations, this year's program focused on  the theme, Confidence  Is Key. Featured presenters were Samantha Ponomarenko, founder of Buckeye Blanket Bu
ddies project, and Susan Russell, Psychologist, certified trainer and PiYO instructor. See Sister-to-Sister
FEBRUARY PROGRAM
The 17th Annual Black History Month Program was held in partnership with Second Baptist and Fellowship Baptist Churches on February 21.  The program celebrated African-American culture in song, dance and personal contributions. The middle school choir, a "pick up choir", a praise group and little dancers highlighted the evening.
JANUARY 2019 BRANCH MEETING/ PROGRAM
We met at the home of member Alanna Arnold to hear about "The WOW of Wetlands." Carol Thombs, branch member and retired science teacher, presented an interactive session on the importance of these natural resources in maintaining global balance.
---
2018 YEAR IN REVIEW:
THE 8TH BIENNIAL AGENT OF CHANGE AWARD
was presented at the Awards Luncheon, November 8, 2018 at Rustic Hills Country Club to co-recipients Jan Householder and Thomas Sigel.  Householder is founder of the far-reaching "Giving Doll" project which makes and distributes soft, fabric dolls to children undergoing health crises or severe changes in their lives. Sigel is founder of ORMACO (Ohio Regional Music Arts Cultural Outreach) a non-profit with the mission of making music, arts and culture accessible to all, with a focus on underserved, disadvantaged and rural populations.
Medina Branch sponsored two camperships to BeWISE Camp, a week-long math and science camp for girls entering seventh and eighth grade in the fall of 2018, on the campus of Denison University, June 10-15.  Winners were Madison Penvose and Kayla Kerstetter. See Scholarship/ BeWISE page.
SISTER-TO-SISTER, the half-day conference for girls ages 11-14, was held March 11 at Medina Hospital Conference Center.  See Sister-to-Sister page for a wrap up and photos of the event.
Medina Branch has awarded two $1500 COLLEGE SCHOLARSHIPS FOR NON-TRADITIONAL WOMEN STUDENTS for the 2018-2019 academic year.  Congratulations to our recipients: Jeanne Merchant, of Brunswick, and Susan Toth, of Seville. See Scholarship/ BeWISE page.
THANK YOU FOR SUPPORTING the 25th Annual Used Book Sale! We had a tremendously successful sale this year: members did fantastic job setting up, book contributions from the community were excellent and our customers went away with lots of new reading material. See our Book Sale Page for photos.
RECOGNITION: Medina County Branch received honors at the AAUW Ohio Annual Convention held in Chillicothe at the beginning of April.  We were one of two in the state recognized as best "Overall Communications – Newsletter, Website, Facebook"; we earned the "Daffodil Diversity Award", a philanthropy award for contributing to Tech Savvy Funds and the Starz Award for branch practices with a maximum number of "glitter points" earned for twelve straight years. We also were acknowledged for achieving outstanding membership growth with the most number of new members in the state. "It's been a good year!" commented Kathy Kraus, branch president, "And Medina Branch has much to be proud of."
EVENT JOURNAL
September 27, 2018. , We met at the University of Akron's Medina County University Center to learn more about how AAUW's national outreach efforts "START SMART" and "WORK SMART" are improving women's lifetime economic status.
The Annual Meeting and Spring Banquet on May 17, was the last meeting of this fiscal year.  Programming featured Beverly Jones, Master Gardener, on "Gardening Like Monet" at the Rustic Hills Country Club. Recipients of the AAUW Non-Traditional Women Scholarships were introduced; officers were elected.
"Testing Orion: The World's Next Crewed Vehicle" , an overview of how the project came about and is moving forward, was presented in March by local Cloverleaf alumna and NASA Senior Project Manager Nicole Smith. 
The 16th Annual Black History Month program sponsored by AAUW Medina Branch an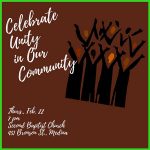 d Second Baptist Church, drew a record crowd of over 300 enthusiastic persons of all ages. The "Celebrate Unity in Our Community" theme was highlighted by musical presentations from the Diversity Choir, elementary and middle school choirs and drum corps, a local soloist, and several community business persons–all who inspired us to catch the spirit of the evening. More on the Programming page. 
January is HUMAN TRAFFICKING AWARENESS MONTH. Medina Branch is part of the Medina County Human Trafficking Awareness Coalition which sponsored the HUMAN TRAFFICKING WORKSHOP on Jan. 25. See our page Human Trafficking Awareness.
Around 100 persons attended January's popular program, "Ohio Tales of the Titanic," held at Medina Library. Mary Ann Whitley, author of the book of the same title, presented an informative discussion of her research on passengers of the ill-fated vessel who had NE Ohio connection.
Special guest at the December Diversity Dinner was Rhia Matsuzki, a junior at the college of Wooster, who shared her insights on differences between her Japanese culture and what she has experienced of American culture as a student here in the U.S.
---
NON-TRADITIONAL STUDENT SCHOLARS FOR 2018:
Two women received $1500 each for their continuing education towards their college degrees. This year's recipients, who were introduced and awarded recognition at the annual dinner, were Jeanne Merchant, of Brunswick, and Susan Toth, of Seville. Congratulations! Photos and information on scholarship page.
---
BeWISE Camp Scholars

: Two young women received camperships from the branch to attend this math and science Camp at Denison University June 10-15, 2018.
See scholarship page.
---
AAUW-Ohio Convention April, 2018, Chillicothe.
AAUW-Ohio Convention, May 2017:
Medina County Branch was recognized by the state organization with four awards: The STARZ Award, the Daffodil Diversity Award, Philanthropy, and First Place in Communications (large branch). Attending from the branch were Paula Maggio, Jill Morton and Pat Chaloupek.
Read summaries of several breakout sessions at convention here.
The 18th Sister-to-Sister Conference was held March 12, 2017

at Medina Hospital Conference Center. Girls learned how to avoid "road hazards" and find ways to navigate their way through middle school.  Sponsored by AAUW Medina Branch and 10 other community organizations. See photos on the Sister-to-Sister page
---
Black History Month Program was a huge success: a record crowd attended the 15th annual event held on Feb. 23, 2017.
---
How does Medina County score on Title IX compliance? See a commentary from our October 2016 program and panel discussion on Programming page.
---
 
We conducted two one-day STEM (Science, Technology, Engineering and Mathematics) conferences, Tech Savvy –in May, 2016 and in April, 2015 for girls in grades 6-9 at Stark State College, North Canton. Each session had an attendance of over 130 girls, parents and teachers.  Co-sponsored by ALCOA Barberton, Stark State College, and AAUW.
---
The 13th ANNUAL BLACK HISTORY MONTH PROGRAM:  Medina County Branch AAUW and the Second Baptist Church hosted "A Community Conversation: Does Race Matter?" on February 12. At the end of the program, a number of persons expressed interest in continuing the dialogue. Branch member Pamela Miller and the Rev. Cornell Carter met with community members. From these sessions, the "Medina Diversity Project" was conceived. Contact Miller for more information.
 ______________________________________________________________________________________________
The branch offers opportunities to come together monthly to experience programs on topics of interest from NASA space shuttle projects to storytelling, human trafficking awareness to following a student as she re-traced the original "Freedom Ride" of 1961 through the south.  We have active interest groups that discuss pertinent books, visit area museums, exhibits and attractions, and screen current films.
Browse our site and find out how you can be a part of our active organization!
Medina County Branch has a Facebook Page….visit us at http://www.facebook.com/MedinaAAUW to see what people are interested in. Share your thoughts and LIKE us!