Medina County Branch is pleased to have received "Best Overall Communications: Newsletter, Website, Facebook"  at the 2018 AAUW Ohio Convention! Subscribe to our award-winning E-newsletter, The Voice, by contacting the editor: 
In The American Association of University Women (AAUW) is a nationwide network of more than 170,000 members and supporters, 1,000 local branches, and 800 college/university institution partners.
For over 130 years, AAUW members have examined and taken positions on the fundamental issues of the day — educational, social, economic, and political. Our commitment to our mission is reflected in all aspects of our work.
AAUW's Mission
AAUW advances gender equity for women and girls through research, education and advocacy,
AAUW's Vision
Equity for all.
AAUW Values
Non-partisan. Fact based. Integrity. Inclusion and Intersectionality.
AAUW's Diversity Statement
In principle and practice, AAUW values and seeks a diverse membership. There shall be no barriers to full participation in this organization on the basis of gender, race, creed, age, sexual orientation, national origin, disability or class.
Medina County Branch
The Medina Branch was founded in 1964 by a group of women dedicated to declaring their common interests in encouraging educational activities, cultural activities and personal growth. They were leaders in our community and instrumental in developing long-standing institutions in Medina County, including the Medina Arts Council, the Women of Distinction Awards, home tours, candidates' nights, a scholarship fund for non-traditional women students, an annual used book sale, and the Sister-to-Sister Conference for Girls.
---
---
ANNOUNCEMENTS:
Medina County Branch AAUW's eighth biennial
 AGENT OF CHANGE AWARD
will be presented at the special Awards Luncheon, November 8, 2018 at Rustic Hills Country Club. We are now taking nominations for the award to be given to honor a person/ persons who is/ are a resident of Medina County and who has left their mark on our community by effecting positive change for women and/or children. Nomination form and criteria for nomination may be downloaded HERE:  Agent of Change 2018
Medina Branch sponsored two camperships to BeWISE Camp, a week-long math and science camp for girls entering seventh and eighth grade in the fall of 2018, on the campus of Denison University, June 10-15.  Winners have been announced: Madison Penvose and Kayla Kerstetter. See Scholarship/ BeWISE page.
SISTER-TO-SISTER, the half-day conference for girls ages 11-14, was held March 11 at Medina Hospital Conference Center.  See Sister-to-Sister page for a wrap up and photos of the event.
Medina Branch has awarded two $1500 COLLEGE SCHOLARSHIPS FOR NON-TRADITIONAL WOMEN STUDENTS for the 2018-2019 academic year.  Congratulations to our recipients: Jeanne Merchant, of Brunswick, and Susan Toth, of Seville. See Scholarship/ BeWISE page.
THANK YOU FOR SUPPORTING the 25th Annual Used Book Sale! We had a tremendously successful sale this year: members did fantastic job setting up, book contributions from the community were excellent and our customers went away with lots of new reading material. Besides that, we had fun and we were able to add to our scholarship and programming funds. See our Book Sale Page for photos.
RECOGNITION: Medina County Branch received honors at the AAUW Ohio Annual Convention held in Chillicothe at the beginning of April.  We were one of two in the state recognized as best "Overall Communications – Newsletter, Website, Facebook"; we earned the "Daffodil Diversity Award", a philanthropy award for contributing to Tech Savvy Funds and the Starz Award for branch practices with a maximum number of "glitter points" earned for twelve straight years. We also were acknowledged for achieving outstanding membership growth with the most number of new members in the state. "It's been a good year!" commented Kathy Kraus, branch president, "And Medina Branch has much to be proud of."
---
---
2018 -2019 PROGRAMMING: Now in the planning stages; TBA
---
UPCOMING EVENTS
HOLD THIS DATE:
Thurs., September 27, 2018. , Meet with us at 7 pm. at the University of Akron's Medina County University Center, 6300 Technology Lane, Medina, to learn more about how AAUW's national outreach efforts "START SMART" and "WORK SMART"  are improving women's  lifetime economic status. Join us for an information session and discussion. More details to follow.
Thurs., November 8, 2018. Eighth Biennial Agent of Change Awards Luncheon, 11:30 am, Rustic Hills Country Club, Medina. More information as to reservations to be announced. The planning committee is now at work making arrangements for this event that will honor a person or persons who have made a significant contribution in improving the lives of women and/or children. Special guest Angela Huston, noted writer and journalist, will keynote the program and share anecdotes with us. The public is invited to nominate a recipient for this award. Click here for more information and nomination form: Agent of Change 2018
---
Recent programs:
The Annual Meeting and Spring Banquet on May 17, was the last meeting of this fiscal year.  Programming featured Beverly Jones, Master Gardener, on "Gardening Like Monet" at the Rustic Hills Country Club. Recipients of the AAUW Non-Traditional Women Scholarships were introduced; officers were elected.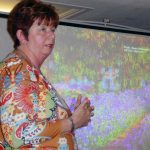 Beverly Jones
"Testing Orion: The World's Next Crewed Vehicle" , an overview of how the project came about and is moving forward, was presented in March by local Cloverleaf alumna and NASA Senior Project Manager Nicole Smith. 
The 16th Annual Black History Month program sponsored by AAUW Medina Branch and Second Baptist Church, drew a record crowd of over 300 enthusiastic persons of all ages. The "Celebrate Unity in Our Community" theme was highlighted by musical presentations from the Diversity Choir, elementary and middle school choirs and drum corps, a local soloist, and several community business persons–all who inspired us to catch the spirit of the evening. More on the Programming page.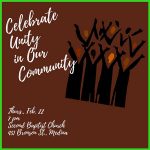 January is HUMAN TRAFFICKING AWARENESS MONTH. Medina Branch is part of the Medina County Human Trafficking Awareness Coalition which sponsored the HUMAN TRAFFICKING WORKSHOP on Jan. 25. See our page Human Trafficking Awareness.
Around 100 persons attended January's popular program, "Ohio Tales of the Titanic," held at Medina Library. Mary Ann Whitley, author of the book of the same title, presented an informative discussion of her research on passengers of the ill-fated vessel who had NE Ohio connections.
Special guest at the December Diversity Dinner was Rhia Matsuzki, a junior at the college of Wooster, who shared her insights on differences between her Japanese culture and what she has experienced of American culture as a student here in the U.S.
---
NON-TRADITIONAL STUDENT SCHOLARS FOR 2018:
Two women received $1500 each for their continuing education towards their college degrees. This year's recipients, who were introduced and awarded recognition at the annual dinner, were Jeanne Merchant, of Brunswick, and Susan Toth, of Seville. Congratulations! Photos and information on scholarship page.
---
See A&E page (CULTURAL INTEREST – PROGRAMS/ PROJECTS) for more information on scheduled opportunities for attending movie screenings and excursions.
Members visited the Special Exhibit Jazz Age at the Cleveland Museum Of Art: on Wed., Nov. 1.
---
BeWISE Camp Scholars

: Two young women received camperships from the branch to attend this math and science Camp at Denison University June 10-15, 2018.

See scholarship page.
---
EVENT JOURNAL
AAUW-Ohio Convention April, 2018, Chillicothe.
AAUW-Ohio Convention, May 2017:
Medina County Branch was recognized by the state organization with four awards: The STARZ Award, the Daffodil Diversity Award, Philanthropy, and First Place in Communications (large branch). Attending from the branch were Paula Maggio, Jill Morton and Pat Chaloupek.
Read summaries of several breakout sessions at convention here.
Medina County Coalition Against Human Trafficking — of which AAUW is a participating member–held its annual HT Awareness Workshop in April.
Read about it here.
The 18th Sister-to-Sister Conference was held March 12, 2017

at Medina Hospital Conference Center.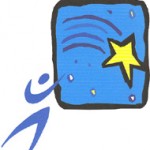 Girls learned how to avoid "road hazards" and find ways to navigate their way through middle school.  Sponsored by AAUW Medina Branch and 10 other community organizations. See photos on the Sister-to-Sister page
---
Black History Month Program was a huge success: a record crowd attended the 15th annual event held on Feb. 23, 2017.
---
Congratulations to our 2016 Medina County Agents of Change!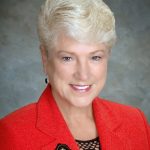 Pat Geissman                                                                                                                  Rhonda Wurgler
These outstanding women were honored at the AAUW hosted Awards Breakfast on November 10. More details here.
---
How does Medina County score on Title IX compliance? See a commentary from our October 2016 program and panel discussion on Programming page.
---
SOME HIGHLIGHTS FROM OUR 50TH YEAR
To the greater Medina Community: Thank you for your support in 2014 –our "Golden Year" — and in the past. We had a fabulous time remembering and celebrating our accomplishments and recognizing our heritage throughout the year with special activities and programming! See 50th Anniversary Page for photos and notes on the luncheon and program. Our featured speaker was Dr. Jerry Sue Thornton, President Emeritus, Cuyahoga Community College.
---
 
We conducted two ONE-DAY STEM (Science, Technology, Engineering and Mathematics) CONFERENCES –in May, 2016 and in April, 2015 for girls in grades 6-9 at Stark State College, North Canton. Each session had an attendance of over 130 girls, parents and teachers.  Co-sponsored by ALCOA Barberton, Stark State College, AAUW. See photos from the event.
---
Two local women received MEDINA BRANCH AAUW SCHOLARSHIPS FOR NON-TRADITIONAL WOMEN STUDENTS:

see Scholarship page.
---
The 13th ANNUAL BLACK HISTORY MONTH PROGRAM:  Medina County Branch AAUW and the Second Baptist Church hosted "A Community Conversation: Does Race Matter?" on February 12. 
At the end of the program, a number of persons expressed interest in continuing the dialogue. Branch member
Pamela Miller
and the Rev. Cornell Carter met with community members. From these sessions, the "Medina Diversity Project" was conceived. Read about the project in this link with the Medina Gazette. Contact Miller for more information
.
 ______________________________________________________________________________________________
The branch offers opportunities to come together monthly to experience programs on topics of interest from NASA space shuttle projects to storytelling, human trafficking awareness to following a student as she re-traced the original "Freedom Ride" of 1961 through the south.  We have active interest groups that discuss pertinent books, visit area museums, exhibits and attractions, and screen current films.
Browse our site and find out how you can be a part of our active organization!
Medina County Branch has a Facebook Page….visit us at http://www.facebook.com/MedinaAAUW to see what people are interested in. Share your thoughts and LIKE us!